Trump Administration Distances Itself From Blackstone CEO Stephen Schwarzman Amid Call For Recusal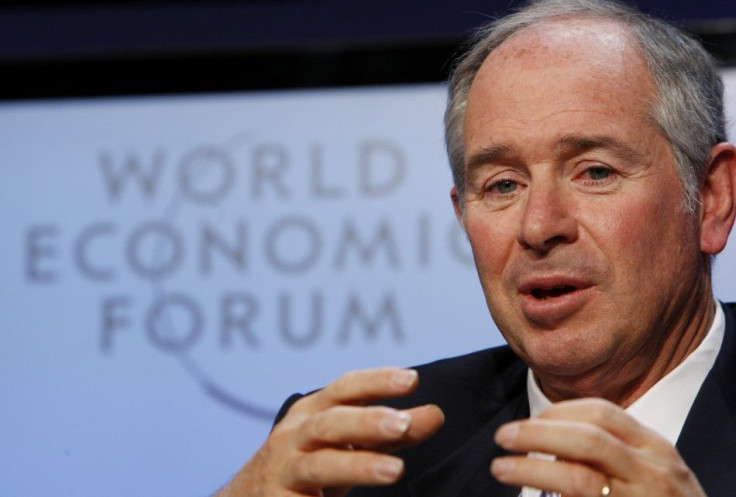 Wisconsin Democratic Sen. Tammy Baldwin became the first federal lawmaker to call for Blackstone CEO Stephen Schwarzman to recuse himself from helping to shape Trump administration policy that affects Schwarzman's private equity firm. Another influential Democrat joined in — and the White House, under fire Friday, began to distance itself from the billionaire adviser, just a day after Schwarzman touted the Trump administration's regulatory efforts to Blackstone's investors.
The Donald Trump administration now argues that even though Schwarzman chairs the White House Strategic and Policy Council — the members of that panel are appointed by Trump — the Blackstone CEO is not working for the White House in any official capacity, and is merely operating his own outside group.
The criticism, call for recusal and abrupt moves by the White House followed an International Business Times report that detailed how Schwarzman's White House panel is overseeing regulatory, energy and infrastructure policies that could enrich Blackstone.
Read: This Billionaire Has A Dream — And A Friend In The White House
In December, Trump's transition team announced the creation of the Strategic and Policy Forum, whose members "will be called upon to meet with the President frequently to share their specific experience and knowledge" and "to provide direct input to the President" on policy matters. Trump himself appointed the members of the panel and named Schwarzman as chair. The group has convened meetings at the White House; Cabinet officials have presented policies to the group for review. Trump and Schwarzman led a session of the Strategic and Policy Forum at the White House earlier this month.
Facing mounting questions about the intersection between Trump administration policies and Blackstone's business, White House officials Friday asserted to IBT that the Strategic and Policy Forum is not a White House or Trump-linked organization. Instead, a White House spokeswoman asserted that the forum operates unofficially, as merely an informal, Schwarzman-organized group — one of a number of outside groups the White House routinely meets with.
"The President's Strategic and Policy Forum is not a council that exists nor was initiated by the White House; the Schwarzman group is an independent group whose members will periodically meet with the President and the Office of American Innovation," White House spokeswoman Lindsay Walters told IBT.
The new designation allows the White House to argue that Schwarzman is not subject to federal ethics laws. Those statutes in general aim to bar government officials from working on issues in which they have a financial interest. Under the White House's new interpretation, the administration argues that Schwarzman can continue working on Trump administration policies that affect Blackstone, and that Schwarzman is not required to recuse himself on any issues.
Baldwin had told IBT that Schwarzman should be prevented from working on matters that could involve his firm.
"President Trump said he would drain the swamp, yet time and time again he breaks that promise, granting wealthy Wall Street insiders more access, power and influence in Washington," said Baldwin in a statement to IBT. "Mr. Schwarzman should submit to federal ethics laws and recuse himself from influencing public policy that enriches his own bank account. The last thing we need in Washington is more billionaires making a rigged game worse."
Her criticism was echoed by the senior Democrat on the Senate Banking Committee, which oversees many of the economic issues Schwarzman has been working on with the Trump administration. Ohio Democrat Sen. Sherrod Brown, who was on Hillary Clinton's vice presidential short list and has been rumored as a possible challenger to Donald Trump in 2020, also had harsh words for Schwarzman.
"Private individuals have every right to make their views known on public policy issues," Brown said in a statement to IBT. "But it is flat wrong to give anyone special access and influence to advance their own financial interests rather than the public interest."
Schwarzman declined to answer IBT's questions.
The controversy over Schwarzman's overlapping business and political maneuverings emerged a day after the Blackstone CEO touted the Trump administration and his governmental meetings to Blackstone investors. According to a transcript of the company's earnings call, Schwarzman said that on regulatory affairs, things are proceeding "with a lot of enthusiasm." As his company seeks to expand its infrastructure business, he said of federal policy that "there is a lot of very productive work being done in infrastructure or in terms of how to debottleneck the system which now has great difficulty building things." He noted that he is speaking with governmental officials across the globe — though it is not clear if those are in his capacity as CEO or as the chair of the White House Strategic and Policy Council.
"I've had meetings in the last two days with sort of 30 senior regulators from around world," he said. "They're always saying that they think U.S. is tight, that we've overregulated."
He said officials had told him that regulation is "slowing down growth in the United States and it's starting to affect their countries as well because some of the kind of regulatory enforcement and Justice Department impact has scared people around the world ... I think there is a sense that we've tightened this thing up awfully tight and that we're consistent with what the new administration is talking about. They just want to know how loose you're going to make it, but you're sort of in the right direction."
For her part, Baldwin has repeatedly expressed concern over Wall Street's influence in the Trump White House. In February, Baldwin and Sen. Elizabeth Warren, D-Mass., sent Goldman Sachs CEO Lloyd Blankfein a letter requesting he disclose any involvement Goldman employees had in drafting two of Trump's early executive orders.
The senators also asked Blankfein to disclose relevant lobbying efforts and to estimate profits Goldman expected to gain from the orders, which would begin to roll back Dodd-Frank regulations and review the implementation of the fiduciary rule, a Labor Department rule requiring financial advisers act in the best interests of their clients.
"Goldman Sachs would be a major beneficiary of these efforts to deregulate the financial industry; the company's stock rose by almost 5 percent, increasing your company's market capitalization by $4.1 billion the day of President Trump's announcement," the senators wrote.
After taking office, Trump appointed Goldman president Gary Cohn as director of the National Economic Council and picked former Goldman executive Steven Mnuchin to serve as Treasury secretary.
Baldwin also targeted the financial industry in 2015 when she introduced a bill in the Senate that would close the carried interest loophole that allows the government to tax profits given to hedge fund and private equity managers at the 20 percent capital gains rate. Critics say those profits should be taxed as income, which would subject those profits to income tax rates that top out at 39.6 percent. The bill has yet to make it out of committee, much to the relief of Blackstone. The company said in a February SEC filing that the elimination of the loophole would impair "our ability to recruit, retain and motivate our current and future professionals."
Trump promised to close the carried interest tax loophole on the campaign trail, but has not addressed the issue since moving into the White House. The loophole is just one of the issues that would directly affect Schwarzman's bottom line. Halting the implementation of the fiduciary rule would also allow money managers to funnel client money to hedge funds like Schwarzman's. And Schwarzman has been an outspoken critic of Dodd-Frank financial regulations, which Trump has indicated he is committed to dismantling.
Update 4/21, 6:10 p.m.: This story has been updated to include Schwarzman's comments to Blackstone investors during the company's April 20th earnings call.
© Copyright IBTimes 2022. All rights reserved.
FOLLOW MORE IBT NEWS ON THE BELOW CHANNELS