Republicans Boost Wall Street Donors, Help Finance Industry Stop States From Offering Retirement Assistance To Workers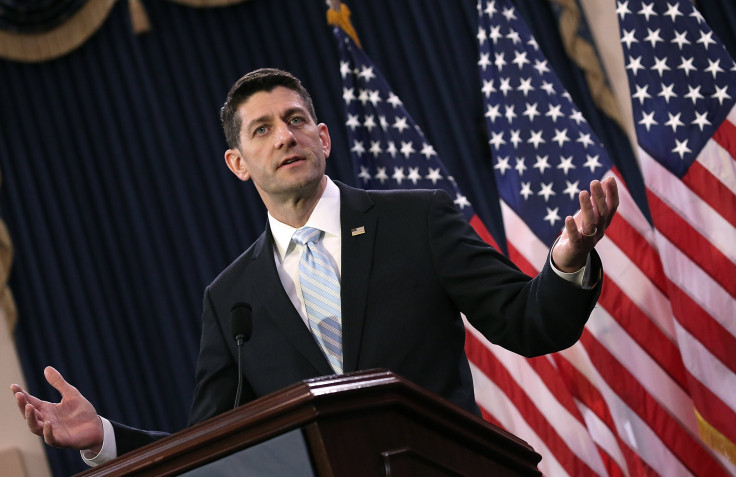 Republicans have long campaigned on "states rights" promises -- but in the opening days of the new Congress, GOP leaders are working to help the party's financial industry donors try to block states from providing workers with low-cost retirement savings options.
This week, Republican Reps. Tim Walberg (MI) and Francis Rooney (FL) introduced legislation to rescind a recent federal rule that helps states create retirement savings accounts for workers whose employers do not already provide such benefits. The repeal initiative is part of a larger legislative barrage by House Speaker Paul Ryan and his Republican caucus to rescind Obama-era regulations.
"Our nation faces difficult retirement challenges, but more government isn't the solution," Walberg said in a statement announcing the legislation. "A better way is to reduce costly red tape and make it easier for small businesses to band together to offer retirement plans for their employees. I urge my colleagues to support these resolutions, which are part of a broader agenda to ensure more Americans can retire with the financial security and peace of mind they need."
The rule was enacted in August of 2016 despite objections of opponents in the investment and insurance industries, which could lose out on lucrative fee-generating business if governments provide a low-cost alternative for retirement savings. Eight states have already created some form of retirement savings programs. The rule provides new legal protections for those programs and for other states to create their own.
Walberg's involvement in the repeal legislation is significant, because he is the chair of a powerful panel overseeing retirement policy. According to data compiled by the Center for Responsive Politics, contributors in the insurance and investment industries have delivered more than $515,000 of campaign cash to Walberg, making those industries collectively among his top donors during his congressional career. Financial industry donors have also been among the biggest source of campaign cash for Rooney, who ran an investment firm before becoming a lawmaker.
Both lawmakers were supported by the National Republican Congressional Committee, which received more than $16 million from the investment industry in 2016 -- making it the single largest industry donor to the group. The investment and insurance industries are also together the largest donors to lawmakers on the House committee that will oversee the legislation.
In all, an International Business Times review of campaign finance data and comments on the original rule found that major corporations groups that criticized the measure made more than $2.7 million worth of campaign donations to GOP candidates for federal office in 2016. Those corporations and groups included State Street, BlackRock, Voya Financial, the Financial Services Roundtable and the U.S. Chamber of Commerce.
The new Republican legislation to repeal the rule would act on those donors' criticisms by invoking a law that allows Congress to quickly rescind recently passed federal regulations without a hearing. Proponents of the state retirement plans say Congress should get out of states' way and let them go forward with the retirement savings plans.
"As laboratories of change, states are often more willing and able to test creative solutions to improve the retirement security needs of their workforce while respecting the unique characteristics and demographics of each jurisdiction," said a letter to federal lawmakers from AARP, which is the largest lobbying group representing retired Americans. "The lack of options to save for retirement at work is a persistent problem that demands action today. States desire flexibility to move forward with innovative reforms -- Congress should not curtail state efforts to promote retirement savings."
State Attempts To Address A Retirement Crisis
State efforts to expand retirement savings options have emerged amid two trends: fewer workers with adequate retirement savings, and ever-higher fees for those who do have such nest eggs. A recent survey from GoBankingRates found that roughly one third of Americans have no retirement savings at all, and more than half have only $10,000 or less. Meanwhile, a 2014 study by the Center for American Progress found that the typical worker would pay roughly $70,000 in fees to financial firms over the life of a standard 401(k) plan.
With congressional Republicans blocking Democratic efforts to expand Social Security benefits and a federally administered 401(k)-style retirement option, states have tried to move into the breach. In recent years, California, Illinois, Oregon, Connecticut, Washington, New Jersey, Maryland and Massachusetts have passed some form of legislation designed to provide a publicly administered retirement savings option to private sector workers.
The plans are voluntary and run the gamut: some automatically enroll workers in the savings option and allow them to opt out, others merely create a standardized marketplace -- like the Affordable Care Act insurance exchange -- that help workers choose a plan. None of the plans involve taxpayer or employer contributions to retirement benefits: They simply allow workers to invest in a retirement savings option.
For years, state lawmakers faced a potential federal roadblock to creating such retirement savings options: the landmark Employee Retirement Income Security Act (ERISA) could have effectively preempted and prevented the plans' creation.
"While ERISA offers many consumer protections, it also involves significant reporting and disclosure requirements and stringent conduct standards for plan fiduciaries," wrote researchers at Boston University's Center for Retirement Research. "Several states have indicated that if employers in their plan were subject to ERISA regulations, they would not proceed."
But in 2015 and 2016 the political terrain abruptly shifted, as President Obama's Department of Labor issued a rule and interpretative bulletin declaring that such voluntary plans are not subject to that law. The agency explicitly said the move was designed to create regulatory certainty for states to begin implementing their plans.
"For workers without access to savings arrangements through their employers, this rule means a new way to secure their financial futures," said then- Secretary of Labor Tom Perez. "More access to retirement investments equals more saving and a bigger piece of the American dream for workers and families in the decades ahead."
Threat To Financial Industry Profits
Because many initiatives create a government-run not-for-profit investment option, they threaten to cut into financial industry profits generated by mutual funds, insurance products and investment brokers. Trade associations representing those industries have fought the state proposals, as has the Heritage Foundation -- a powerful conservative think tank in Washington.
Rather than explicitly lamenting the finance industry's potential loss of profits in today's $4.4 trillion 401(k) market, those players have instead sought to focus the debate on what they say are structural problems with the policies -- and inadequate protections for consumers and taxpayers.
"It could lead to as many as 50 different systems across the country with different eligibility requirements, different default investments, and different withdrawal requirements," wrote the Securities Industry and Financial Markets Association (SIFMA), which represents financial firms, in comments to the Department of Labor opposing the rule. "Implementing the type of plan detailed in the proposed rule would add significant costs to the states to operate the program, while simultaneously crowding out the private market."
Only weeks after Republicans won the 2016 election, the Heritage Foundation foreshadowed the new GOP push to repeal the rule with a report arguing that state plans could strip retirees of critical protections that ERISA provides.
"ERISA was established for a reason: to protect workers' retirement savings," wrote Rachel Greszler, the organization's senior policy analyst. "If workers in private retirement plans need ERISA's protections, why do workers in state-based retirement plans not need those protections?"
That argument has been echoed by the Republican lawmakers now aiming to repeal the Obama-era rule.
"Unlike private-sector retirement plans, workers enrolled in these public-sector plans would not be afforded the important protections provided by ERISA," said the GOP press release announcing Walberg and Rooney's repeal legislation. "Working families may have less information about the management of their plans and fewer consumer protections if their savings are mismanaged."
Heritage and Republican lawmakers touting consumer protections in an effort to help the finance industry repeal the state retirement plan stands in stark contrast to those players' long push for financial deregulation. Heritage has criticized a separate federal rule that would create consumer financial protections and impose fiduciary restrictions on private retirement advisors. Similarly, only four days before Walberg lamented state plans' alleged lack of consumer protections for retirees, he issued a press release praising President Donald Trump's executive order to repeal the fiduciary rule designed to solidify such protections.
In a recent essay, Boston University's Alicia Munnell said the arguments about a lack of consumer protections at the state level are unfounded.
"I agree that it is extremely important that states do their due diligence in constructing their programs to contain adequate protections," wrote Munnell, who runs the school's retirement research center. "But states already have laws to ensure that employer contributions for things like tax withholding make it to the right place and that money in individual accounts is not misplaced. The states involved are working to ensure these laws are used so that the auto-IRAs have protections similar to employer plans."
FOR FREE to continue reading
✔️ Unlock the full content of International Business Times UK for free
offer available for a limited time only
✔️ Easily manage your Newsletters subscriptions and save your favourite articles
✔️ No payment method required
Already have an account?
Log in
© Copyright IBTimes 2023. All rights reserved.