Why Is This Mega-Donor Spending Millions To Defeat Tammy Baldwin?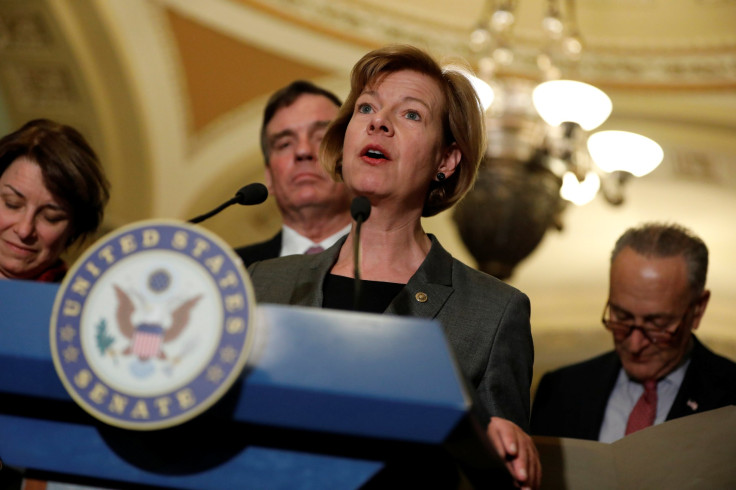 Sixteen months before Wisconsin Democrat Sen. Tammy Baldwin will have a Republican opponent in the 2018 Senate race, more than a million dollars worth of TV and radio ads attacking her have already run across the state. The ads were paid for by two out-of-state super PACs funded almost entirely by one man: conservative mega-donor Richard Uihlein, who seems to have made it a personal mission to defeat Baldwin in next year's election.
The ads represent just a fraction of the millions of dollars Uihlein has spent on conservative causes and candidates. Uihlein is the founder of Uline, a distributor of shipping and industrial supplies, with offices across North America, and since 2010, a corporate headquarters in Wisconsin. Uihlein and his wife Elizabeth, UIine's president, spent $23.5 million supporting conservative candidates, PACs, parties and organizations during the 2016 election cycle, according to the nonpartisan Center for Responsive Politics. The couple contributed more money than George Soros gave to liberal groups and nearly the same amount that Trump-backer Robert Mercer spent on last year's election, according to the Center.
Read: Elizabeth Warren Says Barack Obama Must Veto Budget If It Includes Anti-Transparency 'Dark Money' Provision
Uihlein did not respond to IBT questions or requests for comment.
The barrage of ads in Wisconsin -- a quintessential swing state -- suggests Republican donors are gearing up earlier than ever as they head into an election featuring ten Senate Democratic incumbents trying to win reeelection in states that voted for Trump.
Baldwin is one of those top targets for Republicans. She is running for a second Senate term in 2018 and is one of only two Democrats elected to statewide office in a state that has turned sharply to the right since 2010, the same year the Supreme Court's Citizens United decision gave wealthy mega-donors like Uihlein outsize influence on the nation's politics.
"It's unfortunate that you have this multi-millionaire out-of-state donor trying to impact the election so early," Scott Spector, Baldwin's 2018 campaign manager, told International Business Times. "You have millionaires trying to buy a Senate seat."
An IBT review of Federal Election Commission (FEC) filings found spending against Baldwin, almost all of it coming from Uihlein-backed groups, is unusual.
In total, FEC records show outside groups have spent $1.58 million in 2017 on ads opposing 2018 Senate candidates. All of that money has been spent attacking Democratic candidates, and $1.34 million of it, or 85 percent, has been spent on attacking Baldwin specifically.
Two Uihlein-backed groups, Americas PAC and Restoration PAC, spent a total of $1.19 million attacking Baldwin in 2017. That number comprises 75 percent of all funds spent on opposing Senate candidates this election cycle, according to FEC filings.
While Baldwin has been a champion for the "Buffett rule," which would ensure the mega-rich like Uihlein are taxed at an effective tax rate of 30 percent, Uihlein's early attacks might be less of an indication of personal animosity and more of a window into how the conservative donor class and Republican party are looking to extend their majority in the Senate by targeting Democratic senators in red states.
The Senate Leadership Fund, a conservative super PAC that spent $114 million in the 2016 cycle, has already spent more than $30,000 on web ads opposing Sen. Claire McCaskill of Missouri and Sen. Joe Manchin of West Virginia. That sort of spending is sure to ramp up in the coming months, and sure to coalesce in places like Wisconsin, where conservatives see in Baldwin a progressive senator representing a state that is shifting to the right.
"She's incredibly vulnerable," Alec Zimmerman, a spokesman for the Republican Party of Wisconsin, told IBT. "Wisconsin's hard-working families want a reformer who will fight for them, not a liberal insider who will protect the status quo in Washington."
While no Republican front-runner has emerged to oppose Baldwin in next year's election, Uihlein has already spent millions to draft a relatively unknown candidate to face Baldwin. In March, Uihlein made a $2 million donation to a newly formed super PAC for the express purpose of encouraging Kevin Nicholson, a political newcomer, military veteran and management consultant, to join the race. (Nicholson did not respond to multiple requests for comment).
Wisconsin political observers see this as just the beginning of outside money pouring into the state to unseat Baldwin.
"Tammy is going to be hit with millions upon millions of dollars worth of dark money ads," Matthew Rothschild, executive director of the Wisconsin Democracy Campaign, a nonprofit that tracks money in the state's politics and advocates for campaign finance reform, told IBT. "I think for Republican strategists the idea that they could take down the last high-level Democratic official in Wisconsin has them licking their chops."
But while Democrats see outside money helping fuel the state's shift to the right, a shift that was helped by Gov. Scott Walker's successful effort to curtail the power of public sector unions in the state, Republicans see a vulnerable incumbent and a Democratic party that is increasingly out-of-touch with the state's voters. Baldwin is one of the last Democrats standing in a state that last year voted for a Republican presidential candidate for the first time since 1984.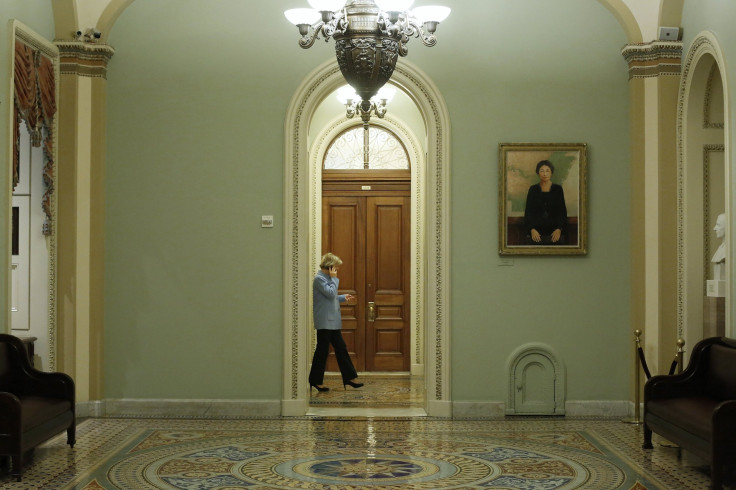 "I'm Not One To Hide"
Uihlein founded Uline in 1980 and still serves as its CEO. He built his company into a major player in the shipping supply industry; it has over 5,000 employees across North America, according to the company's website. But while the family-owned company is unequivocally a success story, Uihlein's career is hardly a from-the-bootstraps tale. His great-grandfather founded Schlitz Brewing Company, and his father co-founded General Binding Corp., one of the leading plastic binding manufacturers in the U.S.
Uihlein's political spending, like that of other deep-pocket donors, has grown rapidly over the election cycles that followed the Citizens United decision in January 2010, which removed limits on the amount of money individuals, unions and corporations can give to super PACS — political action committees that cannot coordinate with candidates, campaigns or parties.
"Since Citizens United, mega-donors are providing more and more of the funding in American elections, in both dollar terms and percentage terms," said Ian Vandewalker, who has studied spending in Senate elections as senior counsel at NYU's Brennan Center Democracy Program.
In 2010, Uihlein contributed just $300,000 to conservative groups. In the 2012 election cycle, he and his wife, who writes partisan political op-eds on Uline's website, contributed $3 million to conservative political groups. Their giving doubled by 2014 to $6.1 million, roughly a quarter of what they would give in 2016.
"I'm a conservative Republican, and I'm trying to help people who believe as I do in limited government and free markets," Uihlein told Crain's Chicago Business Journal in 2013. "I'm not one to hide from that."
Uihlein was an early backer of Wisconsin Gov. Scott Walker and Illinois Gov. Bruce Rauner; he and his wife donated $5 million to the Unintimidated super PAC that fueled Walker's 2016 presidential bid. After Walker dropped out of the race, Uihlein joined many other mega-donors in backing Ted Cruz (with a $1 million donation to the senator's super PAC) and opposing Trump. In March 2016, Uihlein gave $2 million to Our Principles PAC, a super PAC formed to prevent Trump from securing the Republican nomination.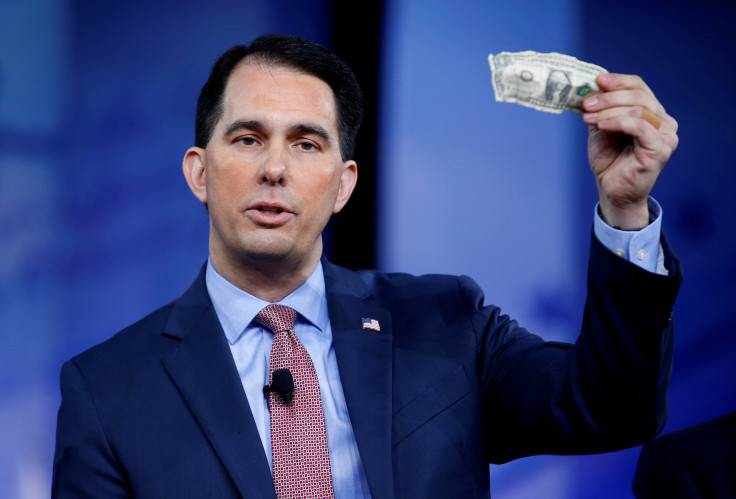 But any animus toward the future president appears to have been short-lived. In May 2016, Elizabeth Uihlein became the vice-chair for the Republican National Committee's fundraising efforts. Her husband gave $100,000 to a pro-Trump super PAC in October 2016. After Trump's victory, the couple contributed $500,000 to the president's inauguration committee.
Now it appears Uihlein's money is being spent in Wisconsin, a state that once had publicly funded elections. The rise of Wisconsin mega-donors like Diane Hendricks, John Menard and Uihlein, all major backers of Walker and his anti-union fight, have changed the state's political environment.
"Everybody knows that Richard Uihlein is a big donor," Vandewalker told IBT. "I'm sure everybody on the Republican primary side is trying to get a meeting with him and trying to get him on their side and telling him what he wants to hear, as opposed to staking out policy positions that the average voter in Wisconsin wants to hear."
"I'm Giving You Millions Of Dollars, You're Going To Do What I Say"
The two super PACS that have run ads against Baldwin, Americas PAC and Restoration PAC, are bankrolled almost entirely by Uihlein. In the 2016 election cycle, Iowa-based Americas PAC raised $1.95 million, of which $1.91 million, or 98 percent, was from Uihlein. Restoration PAC, which is located in Uihlein's home state of Illinois, raised $4.06 million during the 2016 election cycle, with Uihlein contributing $3.75 million, or 92 percent of the total.
The first anti-Baldwin ads were radio spots in April, paid for by Americas PAC. The ads attacked Baldwin for failing to respond quickly enough to whistleblower complaints of opioid abuse at the scandal-plagued Tomah, Wisconsin, Veterans Affairs Medical Center. Baldwin has been criticized for sitting on a report that detailed problems at the facility, and calling for an investigation only after media reports in January 2015 revealed a veteran died from an overdose at the facility. Baldwin disciplined her own staff for mishandling the complaints.
The ads were quickly condemned for misleading listeners about the nature of the deaths of three veterans who were treated at the facility. The ad features a clip of Baldwin admitting "mistakes were made," followed by a narrator intoning: "Deadly mistakes. Three disabled veterans died."
After lawyers representing Baldwin contacted local radio stations, some of the spots were pulled, but Americas PAC replaced them with a nearly identical spot that did not contain the phrase "three disabled veterans died."
Americas PAC is run by Tom Donnelson, who told IBT he prepared two versions of the ad because he predicted Baldwin's lawyers, who are from Perkins Coie, a D.C. lobbying firm listed as the address for at least two dark money groups, would object to the first regardless of content. He said the ad never claimed Baldwin was directly responsible for the veterans' deaths.
"The point we made is she had this info, she sat on the info and she admitted that she made a mistake," Donnelson told IBT. "We asked a logical question: Would she make a mistake down the road when dealing with China or Russia? We were very careful as to how we phrased it."
In the beginning of May, the ads moved to television, where a narrator told Wisconsinites Baldwin was "slow to protect our heroes, but quick to protect herself."
Donnelson said Americas PAC targeted Baldwin simply because his group understood Wisconsin media and not because of Uihlein's connection to the state.
"We made decisions based on the fact that we know the market really well and we had success there last election," Donnelson told IBT. "This was not because of any particular donor."
"We've had loyal donors for a decade, Dick included," Donnelson said. "He's not the only one."
But campaign finance experts like Vandewalker said that mega-donors have been exerting more and more control over the PACs they fund in recent years. After Citizens United first freed them from contribution limits, donors wrote big checks to Washington consultants and trusted they knew how to spend the money. But after Barack Obama's successful re-election campaign in 2012, that changed, according to Vandewalker.
"I think a lot of people thought they didn't get their money's worth. What we saw in 2016 was much more donor control across the culture of big spenders," Vandewalker said. "I do think there's been a move nationally toward greater donor control. These donors saying, 'I'm giving you millions of dollars, you're going to do what I say.'"
In terms of Uihlein's sway over how Restoration PAC and Americas PAC spending their (or his) money, "I would assume there's significant donor control when there's large amounts of money coming in, especially from a single donor," Vandewalker said.
Uihlein also seeks to advance his conservative worldview through his nonprofit foundation, a strategy pioneered by the Koch brothers. The New Yorker's Jane Mayer described the alignment of nonprofit and political activity, an arrangement which has been utilized by the Bradley Foundation in Wisconsin, in her 2016 book "Dark Money."
"What made the Koch family's growing financial role in American politics extraordinary…[was how it] merged all forms of political spending — campaign, lobbying, and philanthropic — into one investment aimed at paying huge future dividends to the donors," Mayer wrote.
Uihlein is the director and president of the Ed Uihlein Family Foundation, which IRS records show handed out $11 million in grants and contributions in 2015. These disbursements included millions to "pro-liberty," free-market and libertarian groups, including the Koch brothers' Americans for Prosperity Foundation; the Liberty Justice Center, which filed suit challenging campaign finance limits in Illinois; the Heartland Institute, a fossil fuel industry-funded think tank that pushes climate change denial; and Sons of Liberty, a group founded by Christian rock-n-roll minister Bradlee Dean, whose "You Can Run But You Cannot Hide" ministries was labeled an anti-LGBT hate group by the Southern Poverty Law Center.
"She's Above Water, But Not By A Lot"
It's not yet clear whether Uihlein's spending will decide the 2018 election.
Baldwin was first elected to the Senate in 2012, becoming the first openly gay person to win a U.S. Senate seat and the first female senator from Wisconsin. It was the most expensive Senate race in state history until Republican incumbent Ron Johnson defeated former Sen. Russ Feingold last year. That race, a rematch of the 2010 election, was the third most expensive Senate race in the nation in 2016.
Since her election, Baldwin has staked out a position as one of the Senate's most liberal members, according to multiple rankings, and by any measure she is the most liberal senator from a state that went red in 2016. But despite the dearth of Democratic elected officials in Wisconsin, where Republicans control both houses of the legislature, the governor's mansion and the majority of the state's congressional delegation, Baldwin should be a slight favorite in 2018, according to Barry Burden, director of the Elections Research Center at University of Wisconsin-Madison.
"She's above water, but not by a lot," Burden told IBT. "She's done her work traveling the state, going to smaller communities, especially in the northern part of the state, and not limiting herself to her home base in Madison and other urban areas… She's been emphasizing issues that don't have any liberal or conservative content at all, like 'Buy American' and supporting dairy farmers."
"She's been smart in that way politically," Burden said.
Wisconsinites have a 40 percent favorable and 35 percent unfavorable view of Baldwin, with 24 percent lacking an opinion, according to the latest Marquette University Law School poll. Those splits are similar to those of the most visible Wisconsin Republicans, such as Sen. Ron Johnson, House Speaker Paul Ryan and Gov. Scott Walker.
In 2012, Baldwin ran behind Obama in the state, but did beat a popular four-term former governor in Republican Tommy Thompson. She's not new to big-money politics and has already amassed a $2.4 million war chest for the battle ahead. She is also sure to be a beneficiary of national liberal groups and out of state donors, some of which have already spent on 2018 Senate races.
In April, for example, a liberal dark money group called Majority Forward spent $500,000 on radio ads in Missouri praising Sen. Claire McCaskill for defending rural healthcare in the state. The group didn't have to submit an independent expenditure filing with the FEC because the ad didn't expressly advocate voting for McCaskill.
But Baldwin might not be able to survive the coming flood of outside spending that conservative mega-donors like the Koch brothers and their allies have promised.
In January, the brothers met with their network of 550 conservative donors in Palm Springs, California, and pledged to spend between $300 and $400 million dollars on the coming midterm election, more than the $250 million the network spent on the 2016 election. Sean Lansing, the COO of Americans for Prosperity, the Koch brothers' main political organization, explicitly singled out Baldwin as a target.
"I can't imagine she will vote the way we think she should on health care, taxes, spending, potentially the Supreme Court," Lansing told CBS News in January. "So there's going to be ample opportunity to educate people in Wisconsin on her record — which I would say is already pretty terrible."
Uihlein's money has spurred the start of that education, as well as a Senate campaign that could easily be the most expensive in the state's history. Regardless of who faces off against Baldwin, and who ultimately will represent Wisconsin as the state's junior senator in 2019, it's hard to imagine voters want a longer, more expensive campaign.
"Traveling around the state, I certainly don't hear people saying they want to see more political ads earlier," Spector, Baldwin's campaign manager, told IBT.
FOR FREE to continue reading
✔️ Unlock the full content of International Business Times UK for free
offer available for a limited time only
✔️ Easily manage your Newsletters subscriptions and save your favourite articles
✔️ No payment method required
Already have an account? Log in
© Copyright IBTimes 2023. All rights reserved.