Portland Downs San Antonio To Avoid Series Sweep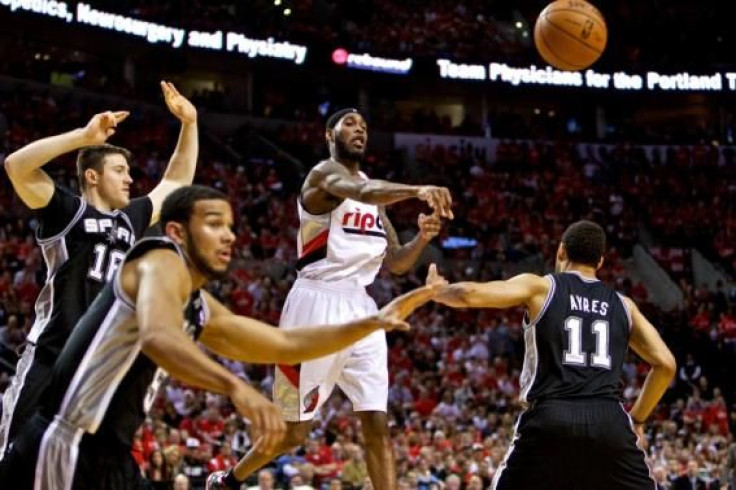 The Portland Trail Blazers kept their season alive for at least one more game with a 103-92 home victory over San Antonio on Monday to prevent a Western Conference semi-final sweep at the hands of the top-seeded Spurs.
Having been outclassed in the first three games, Portland came alive to cut the best-of-seven series deficit to 3-1 but still face a mountainous task to avoid elimination.
Damian Lillard recorded 25 points and five assists for his best game of the second round, while Nicolas Batum put up 14 points, 14 rebounds and eight assists.
Batum also played tough defense on fellow Frenchman Tony Parker, who led San Antonio with 14 points, his lowest scoring outing of the series.
"I thought Batum was big, he gave them a boost. He was everywhere," Parker told reporters of his countryman turned opponent.
"We'll have to regroup and play better. They're not going to give up."
The Spurs were looking to breeze into the West finals after being pushed all the way in the first round against Dallas, but Portland had other ideas on Monday, and a 35-20 third-quarter advantage set them on the way to their first win of the series.
Batum sparked the Blazers after halftime by scoring seven straight points - a four-point play, then a three-point shot - to give them a 72-61 advantage. The Blazers extended the margin to 85-68 entering the final period.
Portland's bench was also critical, as reserve Will Barton chipped in 17 points.
Tim Duncan got 12 points and nine rebounds for San Antonio but the Spurs starters played limited minutes as the game got away from them.
San Antonio is still in ideal position since no NBA team has ever come back from 3-0 deficit to win a seven-game series.
"Why not us?" Batum asked. "We know it's never been done before. We know it won't be easy against this team. We're a young team. We were loose."
The series shifts back to San Antonio for Game Five on Wednesday where the Spurs will be confident of wrapping up proceedings in front of their home fans.
© Copyright IBTimes 2023. All rights reserved.