President Barack Obama Plans For Corporate Tax Reform, Keystone XL; Will 'Work With' Congress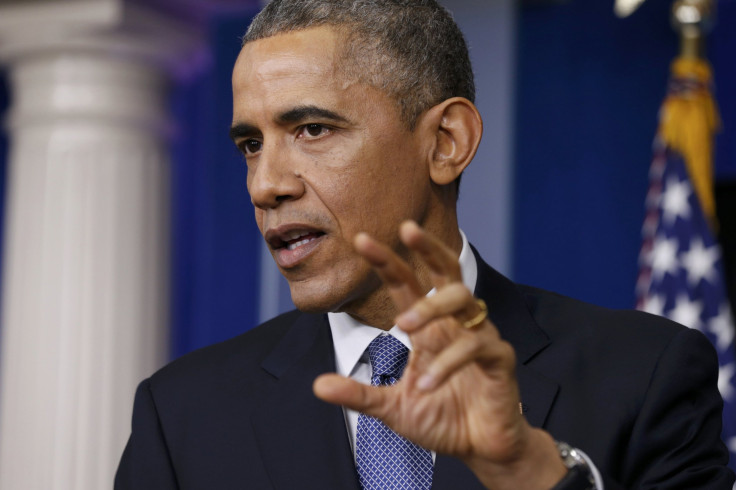 WASHINGTON -- President Barack Obama has two years left to finish building his legacy. "I'm energized, I'm excited about the prospects of the next couple of years," Obama said at a press conference on Friday. "My presidency is entering the fourth quarter. Interesting things happen in the fourth quarter."
Former President Bill Clinton actually uttered the words "I am relevant" at a press conference months after his party lost control of the House in the 1994 midterm election. Obama didn't make an identical declaration, but the similarities are unmistakable.
Clinton's "relevant" line came after he was asked at a prime-time press conference about the fact that only one of the major television networks was carrying it. Obama too is just coming off being snubbed by the news networks, which refused to preempt their regular programming to carry his announcement last month that he would be taking executive action on immigration. (Notably, Obama didn't take a single question from a television network during his Friday press conference.)
Clinton said he was working in "good faith" with Republicans on welfare reform. Obama said he was taking Republicans at their word that they could work together. He predicted negotiations next year on corporate tax reform. Clinton was even engaged in a fight with the Senate over his nominee for surgeon general, Henry Foster, who was under fire for having performed abortions. Obama finally got his surgeon general nominee, Vivek Murthy, whose confirmation had been held up by opposition from the NRA.
Clinton went on to win re-election and worked with Congress to pass welfare reform.
Now, Obama is looking to prove he can stay relevant, too. With his recent moves on immigration policy and Cuba diplomacy, he has demonstrated how dramatically he can act on his own.
Using executive orders will be a simple, even if controversial, way to continue to influence policy. On Friday Obama said he is awaiting a report he has requested about making changes in community policing policies. The policy review comes in the wake of nationwide protests after the non-indictments of white police officers involved in the deaths of black men in Ferguson, Missouri, and New York City. Obama said if necessary, he will use executive orders to ensure as many of the recommendations are instituted as possible.
But there are some issues -- like overhauling the corporate tax code -- that are going to require him to stay involved with the GOP-controlled Congress. "I'm being absolutely sincere when I say I want to work with this Congress," Obama said Friday.
If he wants to see an example of a lame duck president getting tax reform done, he can look to Ronald Reagan and the 1986 income tax overhaul. Reagan's party still controlled the Senate, but, with Democratic support, the government put through a massive overhaul of rates and tax shelters.
Obama also said he would stay engaged with Congress as they debate his decision to relax the embargo against Cuba. To actually lift the embargo, Obama needs Congress -- and is unlikely to get the support. But he made clear that he won't just sit back.
Obama also hinted at the way he could play the biggest role in the legislative process: by using his veto pen. Asked about the Keystone XL pipeline, a controversial proposal to build a connector from Canada to the Gulf Coast, Obama offered his most negative comments on the pipeline to date. He said the pipeline wouldn't actually help Americans seeking lower-priced gasoline, but would help only the Canadians. He didn't explicitly promise to veto the pipeline, but his tone more than hinted that he would.
Obama's growing opposition to Keystone won't have to wait long to play out. Sen. Mitch McConnell, R-Ky., who will become Senate majority leader in January, has vowed to make authorizing the pipeline the first bill the Senate votes on.
A veto of Keystone would remind Washington how very relevant the president still is.
FOR FREE to continue reading
✔️ Unlock the full content of International Business Times UK for free
offer available for a limited time only
✔️ Easily manage your Newsletters subscriptions and save your favourite articles
✔️ No payment method required
Already have an account? Log in
© Copyright IBTimes 2023. All rights reserved.