Prince Harry Shares How Alleged Phone Hacking Made Him Doubt People He 'Trusted The Most'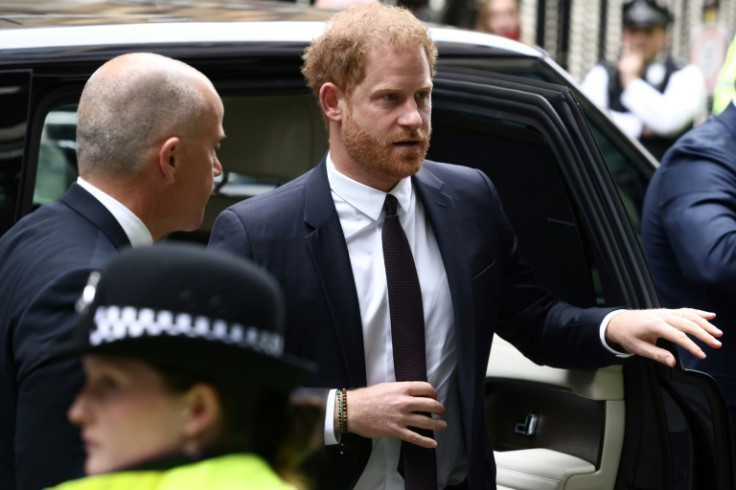 KEY POINTS
Prince Harry recalled inviting Caroline Flack to join his "poker night" at his friend Mark Dyer's apartment
He said photos from the night ended up in the press despite only the three of them knowing about the meeting
Prince Harry said he started to doubt Flack and Dyer and even stopped talking to his pal "for a while"
Prince Harry opened up about how alleged unlawful information gathering by journalists tainted his relationships with people he trusted.
The Duke of Sussex returned to London's High Court Wednesday to continue his testimony in his phone hacking lawsuit against the Mirror Group Newspapers (MGN), the publisher of the Daily Mirror, The People and the Sunday Mirror.
In his written statement, Prince Harry alleged that MGN "unlawfully" gathered information about and images of himself and those around him, including the late Caroline Flack, who died by suicide in 2020. The duke said they had been friends since 2009 and attended a number of "social events" together.
Prince Harry cited as an example The People publishing photos of him and Flack in April 2009 and claiming that he "dashed" from his helicopter training in Lincolnshire, England, to be with her. The story also alleged that the pair "left the house after midnight" and that an "onlooker" reported that they "looked very happy together."
"I remember this article, and these photographs, so clearly because at the time, I was so shocked — and livid — that the two photographers from IKON Pictures knew where we would be and were already there, waiting for us to arrive," Prince Harry alleged, Us Weekly reported. "They were hiding underneath a car. These photographers became known to me as there were numerous highly suspicious, and often dangerous, incidents involving them."
He explained that the photos had been taken outside his pal Mark Dyer's apartment, where Prince Harry had invited Flack to join his "poker night."
Prince Harry said he had been in contact with Flack for about two weeks at that point. As the TV personality was also "often hounded" by media outlets, they had expected that their meeting at Dyer's home would be "lowkey and private," according to the Invictus Games co-founder.
He claimed that he and Dyer had exchanged voicemails about the night they had planned and that "there's no way I could have been followed coming down from Lincolnshire," so he did not know how the meeting ended up in the press.
"Only Marko, Caroline and I knew of the plans, there was only a couple of other people invited and I don't think they knew that Caroline would be joining us," Prince Harry claimed. "Given the fact only the three of us knew the plan, I was highly suspicious and convinced someone had leaked the information to the press. I was angry. I hadn't told anybody."
Prince Harry claimed that he started to doubt Flack and Dyer's trust in keeping their plans private. He added that he and his older brother, Prince William, even "stopped talking" to Dyer "for a while" after the story was published.
However, he said he now believes that the information may have been obtained through alleged phone hacking and interception of voicemails.
"We just couldn't understand how stories about us meeting privately with him ended up in the papers, or how photographers would end up outside his apartment," Prince Harry continued in his statement. "I now believe this information had come from our voicemails — mine, Marko's or Caroline's. The impact these kinds of stories had on my relationships cannot be underestimated. Even those I trusted the most, I ended up doubting."
Prince Harry had also claimed on the first day he took the stand that the "prying eyes of the tabloids" allegedly put a strain on his relationship with ex-girlfriend Chelsy Davy and were the "main factor" in their split.
Prince Harry submitted as evidence 33 articles published in the Daily Mirror, Sunday Mirror or The People that he alleges were the result of phone hacking or unlawful information gathering over a 15-year period.
MGN denies that 28 out of the 33 stories involved unlawful information gathering and does not admit the remaining five articles.
But in court documents published last month, the publisher did apologize to Prince Harry for one instance of unlawful information gathering nearly 20 years ago.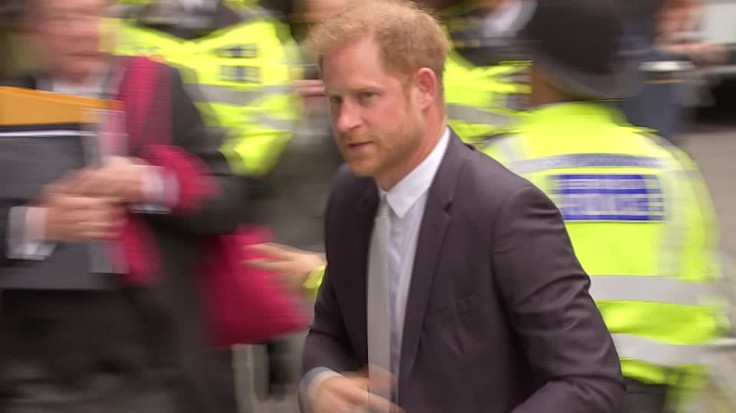 © Copyright IBTimes 2023. All rights reserved.