Prince William Praised For Reaction To Patient's Cheeky Comments About Kate Middleton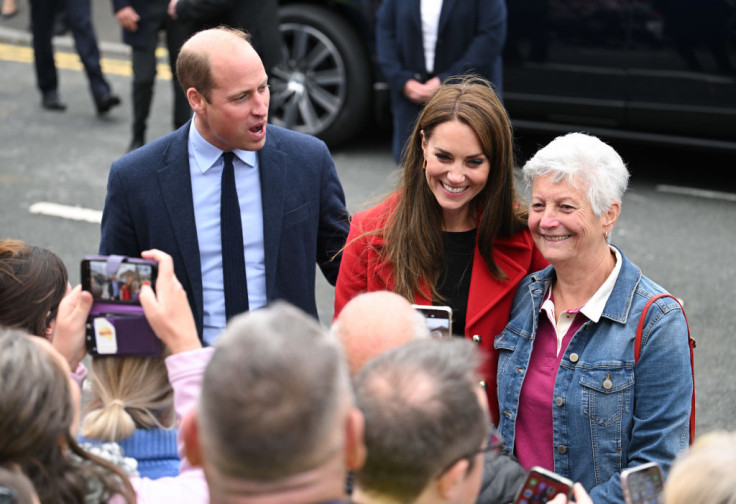 KEY POINTS
Prince William visited the new Oak Cancer Center at the Royal Marsden Thursday
The Prince of Wales spoke with a patient who said that the royal's wife Kate Middleton is "not bad"
Royal fans praised Prince William's humor and work as a royal
Prince William met a "chatty" patient who made cheeky comments about his wife Kate Middleton during a royal outing this week.
On Thursday, the Prince of Wales attended the opening of the Oak Cancer Center at the Royal Marsden, a new cancer research and treatment center in London. During his visit, the royal met a man who has been treated at the facility and his wife.
"You're a tall bugger, aren't you?" the man joked to the future king after they shook hands, as seen in a video uploaded by The Royal Family Channel on YouTube.
"I have heels on," Prince William quipped in response.
The man's wife could be heard in the video praising the U.K.'s National Health Service (NHS) for taking care of her husband for 10 years before the patient interjected saying, "See these people here? Ugly, but they're good."
The patient's sense of humor had everyone in the room laughing, including the Prince of Wales.
The man then turned the conversation to Middleton and gave Prince William's wife his seal of approval.
"And your wife's not bad," he said. "She's a nice lady."
Prince William agreed before laughing and joking, "He's a chatty one. The nurses have got their eye on you."
Royal fans and social media users praised Prince William for his interaction with the patient, his sense of humor, and his work as a royal.
"So lovely, bringing joy and laughter while highlighting such crucial work. Well done, Prince William!" one wrote, while another person commented, "I love how Prince William handles himself; answering cheek with good humor and aplomb."
"The compassion and humor of his dear mum. He looks so much like her!" a third commenter wrote, referring to Prince William's mother Princess Diana.
"Love their humor. Also, [I] definitely can [see] Diana in William," a different user added.
"I adore Prince William. He reminds me so much of his mom," another royal fan wrote, while a sixth person said, "And that is what Princess Diana teach them to do. Well done, William."
According to People, it wasn't the first time someone let Prince William know that they admire his wife.
In 2020, during a visit to Ireland, Angela Moran told People that she gushed over the Princess of Wales to the future monarch.
"I said to him that I really admired him and Catherine, and he said, 'Thank you very much,'" Moran recounted. "I said, 'I love her,' and he said, 'I do too — nice of you to say so.'"
Prince William's visit to the cancer care center was part of his role as the president of The Royal Marsden, a title previously held by Princess Diana.
In a speech, the Prince of Wales said he was "delighted" to be there "to celebrate the opening of a remarkable treatment and research facility that will transform the lives of cancer patients."
© Copyright IBTimes 2023. All rights reserved.