Pro-Israel Media Watchdog: New York Times 'Whitewashed' Terrorism By Refusing To Say It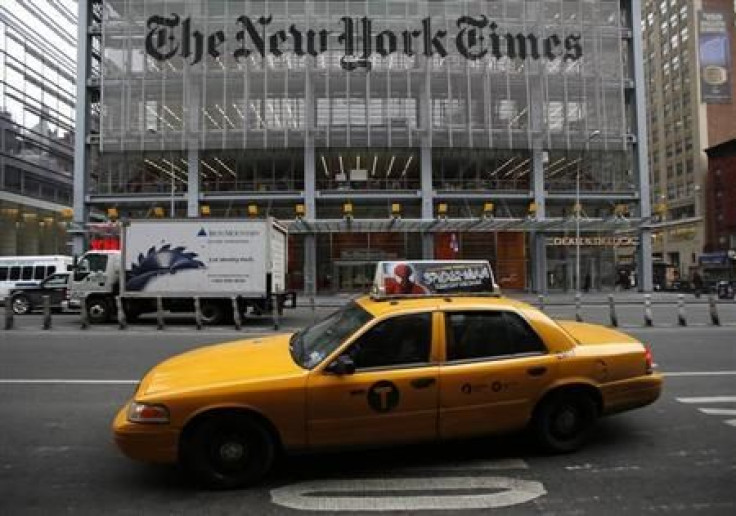 A pro-Israel media watchdog is once again lashing out at the New York Times. The Committee for Accuracy in Middle East Reporting in America, or Camera, ran a full-page advertisement Friday criticizing the Times for a March 15 magazine feature story that centered on residents of the West Bank village of Nabi Saleh. The ad, appearing in New York-area daily tabloids such as amNew York and Metro, claimed the Times article "glossed over" a 2001 suicide bombing at a Sbarro pizzeria in Jerusalem: The bombing was partially planned and carried out by Ahlam Tamimi, a resident of Nabi Saleh.
The attack led to the deaths of 15 people, including seven children, one of whom was 15-year-old Malki Roth. Roth's death resulted in the creation of the Malki Foundation, which provides services to children in Jerusalem with disabilities. As Camera describes it, the article whitewashes the attack, avoiding the word terrorism in lieu of "euphemisms" throughout the piece: "The suffering of Malki Roth and the agony of her family are not even a footnote in a recent New York Times Magazine cover story, which romanticizes what the author describes as 'resistance' against Israel from the West Bank town of Nabi Saleh."
Friday's ad coincided with the 12th anniversary of the attack.
The group claims the article is part of a wider trend of New York Times reporting that is overly sympathetic to the Palestinian cause. In 2011, Camera conducted a six-month study in which it claimed to reveal "disproportionate, continuous, embedded indictment of Israel that dominates both news and commentary sections" in the paper. The study is available for purchase at Amazon.com.
A representative of the New York Times Co. (NYSE:NYT) did not respond to a request for comment.
The attack-ad method is nothing new for Camera, nor is the criticism. A San Francisco Chronicle article in 2002 noted the group had recently run a full-page ad in the Minneapolis Star-Tribune, criticizing that paper for refusing to use the word "terrorist."
As the national newspaper of record, the New York Times gets it from both sides. No shortage of critics over the years have charged the paper with propagating a pro-Israel bias, including Veterans Today, the Arab Studies Institute's e-zine Jadaliyya and Adbusters co-founder Kalle Lasn via Mondoweiss.
In Camera's latest ad, the group calls on readers to ask Times publisher Arthur Sulzberger Jr. to report the "full truth." See a portable-document-format, or PDF, version of the ad here.
© Copyright IBTimes 2023. All rights reserved.