Pro-Lifer Herschel Walker Paid For Ex-Girlfriend's Abortion Without Regret: Report
KEY POINTS
Herschel Walker's son lashed out at him after reports said he paid for an abortion in 2009
Walker's campaign has falsified the claims
Walker is also father to an adult daughter, a 13-year-old child, and a 10-year-old son
Herschel Walker, the football legend and Georgia Senate-hopeful who likened abortion to murder, allegedly got his ex-girlfriend's pregnancy terminated in 2009, maintaining that it was "not the right time" for him to have a baby.
An unidentified woman, claiming to be his ex-girlfriend, shared the receipts of the procedure, The New York Times reported. She seemingly decided to open up about her experience in response to Walker's anti-abortion stance.
"I just can't with the hypocrisy anymore," she told The Daily Beast on conditions of anonymity. "We all deserve better."
In conversation with the outlet, the woman also shared a copy of the $700 personal check from Walker, a $575 receipt from the abortion clinic, and a "get well' card from the aspiring politico. The woman's close friend, who took care of her after the procedure, also corroborated the story.
Walker and his ex had mutually agreed on the off-timing of the pregnancy. However, the woman was shocked to learn that Walker had fathered a child out-of-wedlock earlier that year.
The woman further revealed Walker didn't express regret over the decision. IB Times couldn't verify the report.
Meanwhile, Walker's campaign was quick to falsify the claims.
"This is a false story," said Robert Ingram, a lawyer representing both Walker and his electoral campaign. He added anonymous sources had told him that these claims were bogus.
"All you want to do is run with stories to target Black conservatives," he said. "You focus on Black conservatives."
Walker also issued a statement on Twitter on Tuesday, calling the report a "latest Democrat attack" against his campaign.
"This is a flat-out lie - and I deny this in the strongest possible terms. This is another repugnant hatchet job from a democrat activist disguised as a reporter who has obsessively attacked my family and tried to tear me down since this race started," the statement said.
"He's harrased friends of mine, asking if I fathered their children. He's called my children 'secret' because I didn't want to use them as campaign props in a political campaign. Now they're using an anonymous source to further slander me," he added.
"They will do anything to hold onto power. It's disgusting, gutter politics." Walker concluded.
Walker is the father of four children, out of whom two were not publicly acknowledged until 2018 when he filled an appointment form for former President Donald Trump's Council on Sports.
The form eventually listed the names of his four children, including 22-year-old son Christian, a 10-year-old son, a 13-year-old child, and an adult daughter.
His son Christian also lashed out at Walker amid the ongoing controversy.
"I know my mom and I would really appreciate if my father Herschel Walker stopped lying and making a mockery of us. You're not a 'family man' when you left us to b--g a bunch of women, threatened to kill us, and had us move over 6 times in 6 months running from your violence," he tweeted Tuesday.
"I don't care about someone who has a bad past and takes accountability. But how DARE YOU LIE and act as though you're some 'moral, Christian, upright man.' You've lived a life of DESTROYING other peoples lives. How dare you," Christian said in another tweet.
He further revealed that Walker's family asked the former footballer not to run for Senate because of his past. The warning was evidently ignored.
In a recent feud with singer Kehlani, Christian labeled the Black Lives Matter (BLM) movement "ghetto," "terrorist organization," and "KKK in Blackface." It resulted in the social media platform, TikTok, banning his account. He further lashed out at the platform, terming it a race issue.
His opinions have time and again faced heat on Twitter and this time was no different.
"Christian walker going off about his dad? Funny but not surprising. People suddenly forgetting about the hate and misinformation and complete bullshit he has been posting and spreading for months and months? F--k that!! He does NOT get a pass now," one of the tweets read.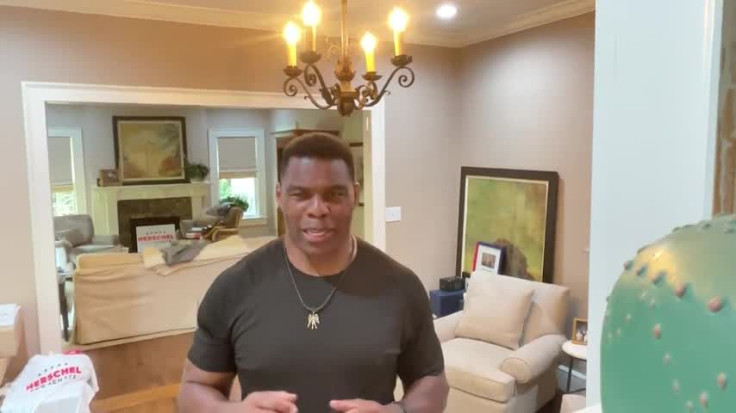 © Copyright IBTimes 2022. All rights reserved.
FOLLOW MORE IBT NEWS ON THE BELOW CHANNELS