Prokhoroz Sees Nod for Gold Listing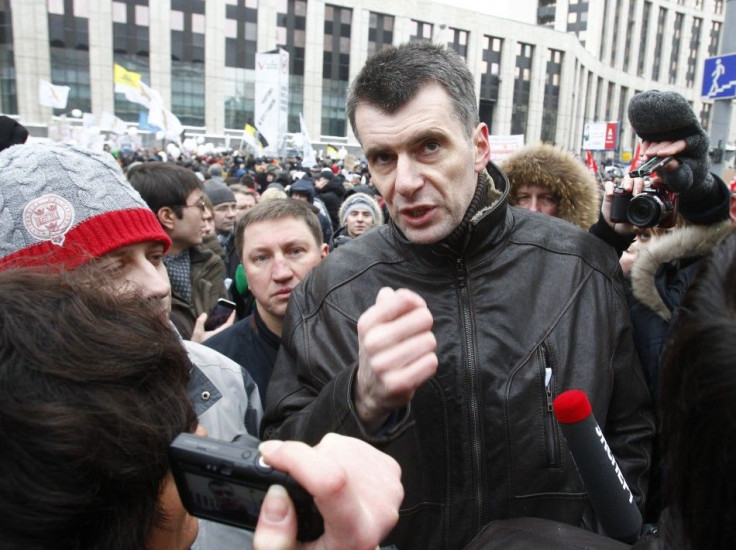 (REUTERS) -- Billionaire Mikhail Prokhorov, challenging Vladimir Putin for the Russian presidency, sees no risk to his vast business interests from his foray into politics and expects to list his gold business in London soon.
Prokhorov, ranked Russia's third-richest man by Forbes magazine with a fortune of $18 billion, owns aluminium, gold and banking assets, the New Jersey Nets basketball team, and is developing a hybrid passenger car.
In an interview with Reuters, Prokhorov made it clear he was still keeping a close eye on his businesses and was confident that Polyus Gold would get approval from the Russian government to seek a so-called 'premium' listing in London.
I am sure that in the nearest future we will have this authorisation, Prokhorov told The Freeland File on reuters.com at his headquarters on a central Moscow boulevard.
For Polyus, in which Prokhorov owns a 37 percent stake, to follow Russian peers Polymetal and Evraz into the prestigious FTSE 100 index, it needs a green light from a state commission chaired by Putin.
That approval was not granted at a commission meeting in December, raising concern that Polyus, the largest gold producer in Russia and Kazakhstan with a market value of $9.7 billion, may be a hostage to Prokhorov's political fortunes
I think it's a technical problem of regulation of our government. There is not any political aspect, I am sure, said Prokhorov, who also foresaw no problem for his businesses as a result of his political activity.
Once the listing goes through, Polyus would target a merger deal, Prokhorov said, although he declined to comment on market speculation that a tie-up with Kinross Gold Corp of Canada could be in the works.
We have a list of partners but I am not involved in any negotiation, Prokhorov said, stressing that he no longer played an active role in managing his investments and it was impossible that he would get personally involved in any deal.
Prokhorov showed astute market timing when he sold out of his partnership with metals oligarch Vladimir Potanin before the 2008 market crash, and has stepped back from direct management of his Onexim investment vehicle to focus on politics.
Despite flaming out as leader of a small liberal party last year, Prokhorov has thrown his hat into the presidential ring, touting a pro-business programme that he hopes will capture the vote of the growing urban middle class in the March 4 election.
His candidacy is widely viewed as a long-shot, but popular protests over alleged ballot fraud in a Dec. 4 parliamentary election have ratcheted up uncertainty over whether Putin can secure a return to the Kremlin in the first round of voting.
LOANS FOR SHARES
Other oligarchs such as oil tycoon Mikhail Khodorkovsky have fallen foul of the Kremlin over political ambitions. Khodorkovsky, once Russia's richest man, was arrested in 2003 and is now serving a jail sentence.
Prokhorov stressed that he had given up an active role in running his business to focus on politics, avoiding the pitfall he believes Khodorkovsky fell into by combining the two, and said he had explained the situation to his partners.
It's true that I had some tough discussions with my partners in some businesses, but we reached an agremeent, he said.
Prokhorov, 46, got his start in big business in Russia's controversial 'loans for shares' privatisations of the 1990s when he and Potanin snapped up Norilsk Nickel, the world's top nickel and palladium miner, at a knock-down price.
After falling out with Potanin, Prokhorov sold his one-quarter stake in Norilsk for an estimated $14 billion in cash and stock to Rusal, the world's largest aluminium company, controlled by tycoon Oleg Deripaska.
That deal has not worked out for Rusal, with Potanin and Deripaska fighting a protracted battle for board control at Norilsk and Rusal turning down a series of offers from Norilsk to buy out its stake for as much as $13 billion.
As a former chief executive at Norilsk Nickel, I have a personal opinion that it is better to sit at a table and to make an agreement - who is leaving - or to make a merger of Norilsk Nickel and Rusal, Prokhorov said.
He said, however, that he had not discussed the matter with Deripaska in recent months; nor had they discussed his political ambitions.
Rusal, meanwhile, is struggling under an $11 billion debt burden at a time of falling global aluminium prices and has asked its banks to renegotiate loan covenants agreed in a post-crisis debt restructuring.
The company, which floated in Hong Kong in early 2010, has suffered a 62 percent fall in its share price since last April and, note analysts at Troika Dialog, around 80 percent of its market capitalisation is accounted for by the Norilsk stake.
Prokhorov dismissed suggestions, however, that he might be a seller of his 17 percent stake in Rusal, now worth $1.7 billion.
Of course, aluminium prices were hit by the crisis, he said.
But still I believe that it's the biggest low-cost producer of aluminium, and we look for the future, for the medium term. Everything will be great.
© Copyright Thomson Reuters 2023. All rights reserved.