Protesters Continue to Occupy Frank Ogawa Plaza in Oakland, Ignore City Order to Vacate (PHOTOS)
Hundreds of demonstrators protesting economic inequality continued to occupy Frank Ogawa Plaza, outside Oakland's City Hall early Saturday, ignoring a city order to vacate.
According to Karen Boyd, a spokeswoman for the mayor, demonstrators were welcome to protest in the plaza between the hours of 6 a.m. and 10 p.m., but it broke the laws occupying the plaza overnight.
As the 10 p.m. time of the city's ultimatum passed Friday night, music blasted from the plaza and it was obvious that the protesters who were occupying Frank Ogawa Plaza have no intention to depart. Moreover, more protesters came bringing dozens of tents to join the protestors there as midnight approached.
Boyd said Friday that the protesters had shown themselves incapable of self-governance.
As a collective, they cannot maintain the plaza in a safe condition, she said.We're here to address the issues that have been raised in terms of public health and safety -- graffiti, urination, vandalism and making specific requests as to what the need to do as to address those issues, Boyd told ABC News station KGO-TV in San Francisco.
Many protesters claimed that they have no plan to discontinue the encampment, even though the city proclaimed Thursday that it can no longer ensure public health and safety at the site.
As the encampment in the plaza had quickly grown from a few dozen tents to more than 150, overcrowding and tension showed up.
Earlier on Wednesday, Oakland authorities had claimed that the city was committed to allowing free speech and allowed demonstrators to camp on the Frank Ogawa Plaza, as Mayor Jean Quan proclaimed that sometimes "democracy is messy."
However, in the following days, the city cited numerous penal and civil code violations which were related to safety, sanitation and public heath issues, ordering the demonstrators to discontinue their overnight occupation and remove their tents and personal belongings from the plaza. In addition, public urination and acts of violence were also cited as reasons for them to evacuate.
We've known from the beginning that this is an illegal occupation in the eyes of the city, protester Ali Hakimi told the San Francisco Chronicle. We're just taking it day by day. We're consumed with people being fed, that they're safe, and outside of that, I don't know how far ahead we're thinking.
Despite the demonstrators' violation of the order to leave the park, there was no indication of significant police presence early Saturday.
The problem of pending eviction isn't unique to Oakland. Protesters in several cities in the United States were arrested for defying order to evacuate.
Eleven protesters in San Jose, Calif. were arrested on Friday, having been occupying an area near city hall for nearly four week. The protesters have been camping outside City Hall since Oct. 2, but no arrest came up until Friday.
Five protesters protesting economic inequality were arrested in San Francisco on last Sunday night, when police raided an Occupy SF encampment on Justin Herman Plaza, near the Ferry Building.
The Occupy Wall Street movement, which original showed up in New York City on Sept. 17 to protest economic inequality, has spread to more than 1,500 cities to date.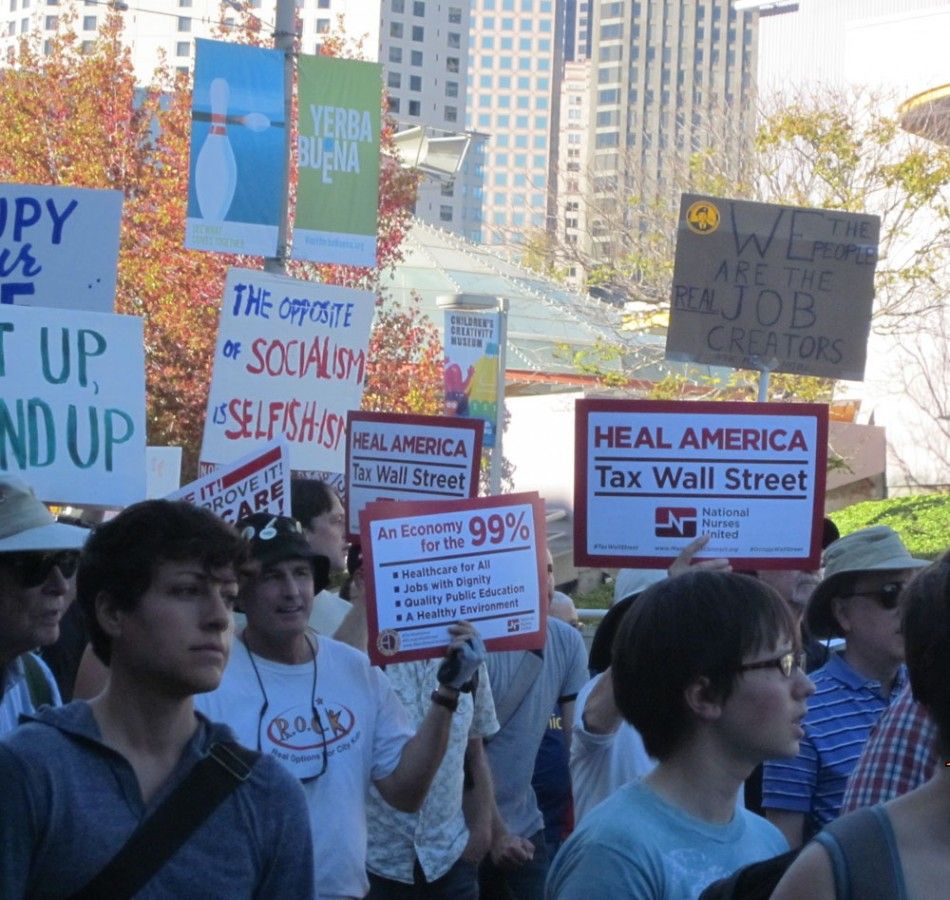 © Copyright IBTimes 2023. All rights reserved.