Protesters Crash Bill Clinton Speech In Philly; Former President Goes Off On Race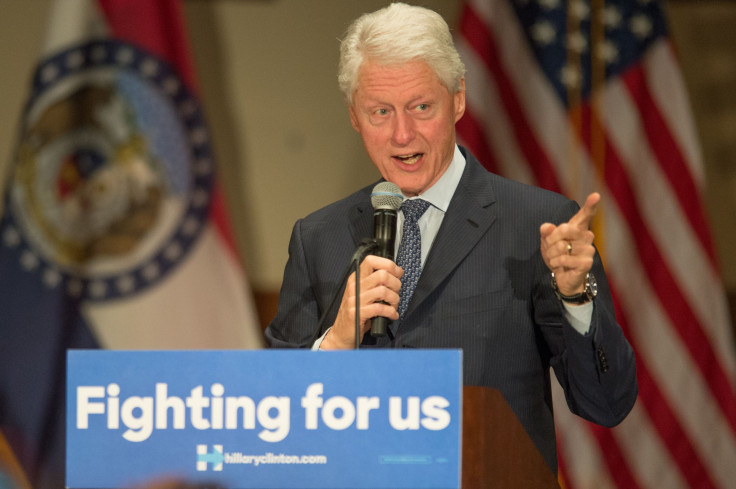 At a rally for Hillary Clinton in Philadelphia on Thursday, former President Bill Clinton found himself facing a small but determined group of protesters who forced him to defend his and his wife's record on race.
He ended up sticking up for his own legacy on welfare reform and crime — two legislative issues that defined his presidency — not to mention the statements from Hillary regarding what she once described as young black "superpredators."
Clinton, speaking at the Dorothy Emanuel Recreation Center at 8500 Pickering Ave., dismissed the cries coming from the band of demonstrators, according to video from the event initially posted to Twitter.
"Gang leaders got 13-year-olds hopped on crack and sent them out in the street to murder other African-American children," Clinton said.
"Maybe you thought they were good citizens; she didn't," he snapped, to cheers from the pro-Clinton attendees.
In an election where Hillary Clinton and the former president are defending themselves not only from their Republican nemeses but also from progressives, Clinton's remarks are yet another defense of his administration's 1994 crime bill and 1996 welfare reform.
Critics argue that the crime bill, which both Clintons defended at the time, was a major foundation of the system of mass incarceration that Hillary has attempted to rail against during her 2016 campaign.
Many have called out Clinton for her remarks from 1996 on "superpredators," i.e., young black male criminals whom she characterized as fueled by crack cocaine.
Defenders of Clinton respond that the legislation was imperfect but reasonable in the face of a genuine crisis.
Bill Clinton's apparent outburst over the race issue echoes moments from his wife's 2008 campaign, in which he was widely derided as a loose cannon on the trail. Most notably, he notoriously compared then-Sen. Barack Obama to another onetime black candidate, Jesse Jackson.
"Jesse Jackson won South Carolina in '84 and '88. Jackson ran a good campaign. And Obama ran a good campaign here," Clinton said at the time.
© Copyright IBTimes 2022. All rights reserved.
FOLLOW MORE IBT NEWS ON THE BELOW CHANNELS