Pumpkin Shannon Announces Family's Hollywood Meet And Greet Sans Mama June
KEY POINTS
Pumpkin Shannon promoted her family's upcoming meet and greet with fans on Instagram
Mama June Shannon is not part of the official lineup for the West Hollywood fan meet
Pumpkin's newborn twins and her other kids will be joining the weekend gathering
Lauryn "Pumpkin" Shannon and Alana "Honey Boo Boo" Thompson will come to Hollywood this weekend to meet up with fans, but Mama June won't be joining them.
The 22-year-old "Mama June: Road to Redemption" star took to Instagram Wednesday to share the official poster for her meet and greet with her younger sister and the rest of her family.
"Come and see your idols! Meet & Greet with Alana Thompson a.k.a. Honey Boo Boo, Lauryn 'Pumpkin,' Josh and family [on] Sunday, July 10th at Hollywood Burger 6250 Hollywood Blvd., West Hollywood, [California], from 12 p.m. to 3 p.m.," the poster read.
The promotional material also indicated that tickets for the event start at $25. Fans will get the chance to take photos with the family and get their signatures. Their official merch will also be up for grabs at the venue.
"Y'all come out this Sunday to meet us and hang with the family. … We can't wait to see everyone," Pumpkin captioned her post.
Fans quickly flooded Pumpkin's post with comments expressing their excitement for the upcoming event. Several also voiced their desire for the reality family to come to their area.
"Got my tickets!!! Can't wait! My daughter is going to be soooo happy," one wrote.
"We are coming!!!! So excited," another added.
"Oh my god, how I wish … but I'm sure you guys will make it to New York one day… I'll [definitely] be at that one," a third user commented.
"Please come to New York. Would love to meet [you]," a different user stated.
According to the official event description posted on Eventbrite, aside from Alana, Pumpkin and Josh's kids, 4-year-old Ella Grace, 1-year-old Bentley Jameson and their newborn twins Sylus Ray and Stella Renae, will be there as well.
Alana's boyfriend Dralin Carswell, 20, who officially made his small-screen debut in the ongoing season of "Mama June: Road to Redemption," will also be part of the meet and greet.
Last month, the youngest daughter of Mama June made headlines for sporting a diamond sparkler on her left ring finger. The 16-year-old was rumored to have gotten engaged to her older boyfriend in secret.
However, a representative for the former "Toddlers & Tiaras" star quickly debunked the rumors, saying her new accessory was "just a ring" and not an engagement band.
There's no mention of why Mama June won't be joining her daughters for the fan event, but it can be noted that she recently lost custody of Honey Boo Boo after a Georgia judge granted Pumpkin sole custody of her younger sister.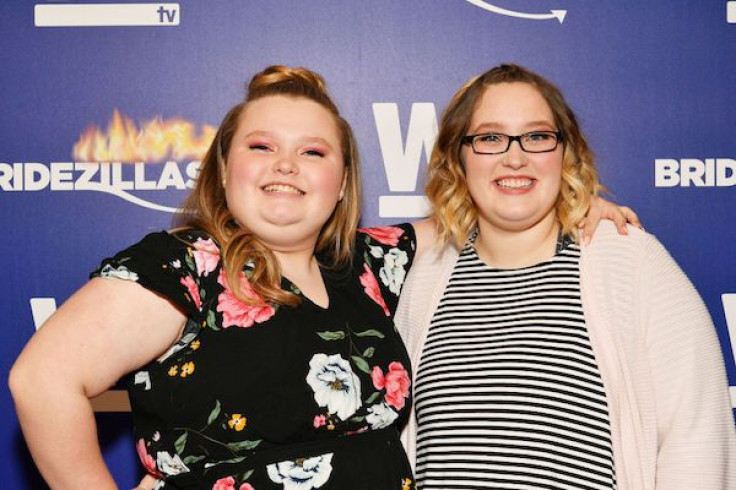 © Copyright IBTimes 2023. All rights reserved.