Putin-Prigozhin Truce Falling Apart? Latest Developments Suggest Kremlin 'Dropped' Deal: Expert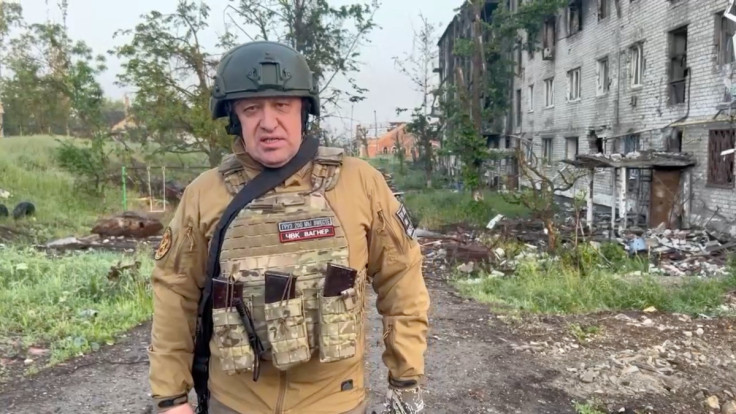 KEY POINTS
An expert noted that allowing Prigozhin's exile was different from Putin forgetting his insurrection
Putin said Monday that the mutiny's 'organizers' betrayed their country
Prigozhin's whereabouts are unknown and he has yet to confirm the deal Lukashenko supposedly brokered
Wagner Group chief Yevgeny Prigozhin abandoned plans to march into Moscow and overthrow Russia's military, and Belarus claimed to have brokered a deal between the warring parties, but experts now say that the latest developments suggest the truce may be on the verge of a collapse.
"Whatever agreement they made over the weekend, [President Vladimir] Putin has now dropped it," said Martin Kragh, deputy director of the Stockholm Center for Eastern European Studies, Time reported.
"It's one thing to allow [Prigozhin] to leave the country and never show his face; it's another thing to say that Putin is going to forget about this," Kragh added.
Kragh went on to note that Putin may reverse the supposed truce with Prigozhin, considering how 15 Russian servicemen were reportedly killed when Prigozhin's Wagner Group staged the weekend uprising.
Prigozhin accused Russia of attacking and killing a "huge number" of Wagner troops Friday. He vowed to retaliate and ranted against Russian military leaders.
Putin called out the Wagner chief for his "betrayal," saying "internal turmoil is a deadly threat to our statehood and to us as a nation." He publicly accused Prigozhin of treason and vowed to block the rebellion.
Prigozhin then announced that his fighters would march into Moscow after calling for a rebellion against the Russian army and claiming to have seized the city of Rostov-on-Don. Reuters noted that Rostov is a key commodity hub where several huge oil and gas pipelines cross its territory.
Belarusian President Alexander Lukashenko later said he brokered a deal between Prigozhin and Moscow for the Wagner leader to relocate to Belarus, The Washington Post reported.
Prigozhin reportedly said in a Telegram audio message that he was pulling out his troops to prevent the shedding of Russian blood. His announcement was made after Lukashenko's claim of a truce.
Dmitry Peskov, the Russian government's spokesman, told reporters that the criminal case initiated against Prigozhin would be dropped and Wagner fighters who took part in the mutiny would not be subject to any action, considering their service to the country in the past years.
By Monday, things seemed to have changed as Prigozhin took to Telegram, saying he doesn't regret initiating the "march of justice" to Moscow. He did say he regretted shooting down a Russian military aircraft.
"We went to demonstrate our protest, not to overthrow the government," Prigozhin said as per Insider. He explained that his uprising's intent was to make a point, adding that he was left with no choice but to shoot down the Russian aircraft because they "were dropping bombs and launching missile strikes."
Also on Monday, the Russian president criticized the "organizers of the rebellion," accusing them of "betraying their country, their people," CNN reported.
In his speech, he did not mention Prigozhin but said the rebellion's organizers encouraged "fratricide" – the killing of one's sibling – that "Russia's enemies wanted."
Analysts have since expressed their thoughts on what Wagner Group's future may be following the latest comments from both sides.
"Putin created the beast that is Prigozhin – he's undoubtedly going to insulate himself better from the downside of mercenary groups," said military analyst Sean Bell, as per Sky News.
Bell added that even Wagner Group may likely rebrand itself and bring in new leadership and probably a new name after the fallout between Prigozhin and Putin.
Political commentator David Frum likened the "deal" between Prigozhin and Putin to the assassination of Julius Caesar, whose assassins voluntarily went into exile after an amnesty was negotiated. "Caesar's supporters promptly reneged, revoked the amnesty – and hunted the assassins to death," Frum tweeted.
After his latest Telegram post, Prigozhin's whereabouts are unknown.
Retired U.S. Army Maj. Mike Lyons told CNN that he believes some Wagner forces "will splinter off," but also noted that "those people are loyal to the man, Prigozhin, not to the country, not to the mission."
As for Putin, House Speaker Kevin McCarthy, R-Calif., said the Russian leader is now "like a different person" after Prigozhin's insurrection. "Regardless of what happened here, Putin is much weaker," he said.
"If I were Putin, I would be worried about those people on the streets of Rostov cheering the Wagner people as they leave," said Jill Dougherty, CNN's former Moscow bureau chief.
Meanwhile, Wagner Group mercenaries are reportedly "recovering, eating and repairing their gear after the military march." While Prigozhin's fighters reportedly have no knowledge of what the future holds for them, "they are still fully armed."
Prigozhin has yet to confirm the details of the supposed truce deal Lukashenko brokered for him and his men.
© Copyright IBTimes 2023. All rights reserved.