Rare Eminem Selfie Fuels New Album Release Rumors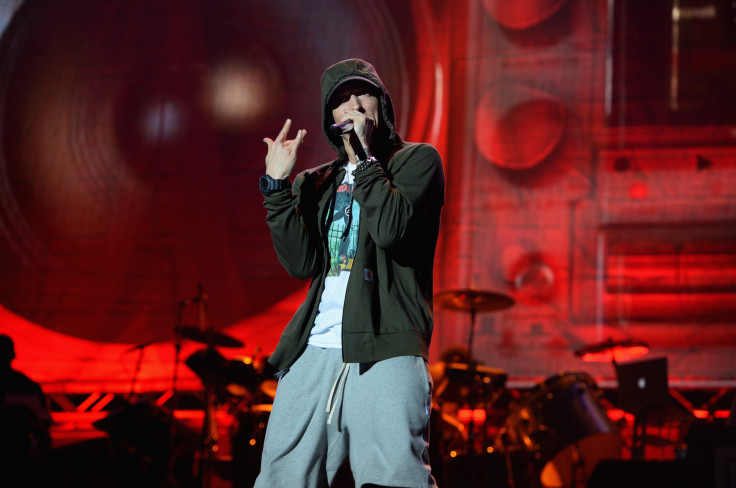 Eminem is not often seen out in public, so when his longtime manager, Paul Rosenberg, posted a photo of the two at 7-Eleven on Tuesday, Slim Shady's fans were understandably sent into a frenzy.
The photo itself isn't anything too crazy — it features Eminem with his hands up and mouth agape behind Rosenberg — but it's the rarity of the selfie that has fans of the "Rap God" thinking a new album could be on the way, especially with a caption that read, "It's been a long time."
As many fans oftens do, they also started looking into the picture for clues and found something scribbled on Eminem's hand. Taking a close look at the picture reveals the rapper has something written on the palm of his right hand and some fans think it reveals an album release date. "Finally… His hand says April 9… Thanks Paul," wrote one Twitter user.
In October, the Detroit rapper released a new song called "Campaign Speech" and revealed he was working on a new project. "Don't worry I'm working on an album!" he tweeted. Eminem's last solo album was 2013's "The Marshall Mathers LP 2." In 2014, he released the "Shady XV" compilation and worked on the "Southpaw" soundtrack in 2015.
Since then, Eminem has stayed pretty low-key, appearing on Big Sean's "No Favors" this year where he blasted President Donald Trump. On the song, Eminem raps, "I'm anti, can't no government handle a commando / Trump's a [expletive] / I'll make his plan go under."
© Copyright IBTimes 2023. All rights reserved.