'Rare Mushroom' Found In China Turns Out To Be Sex Toy [VIDEO]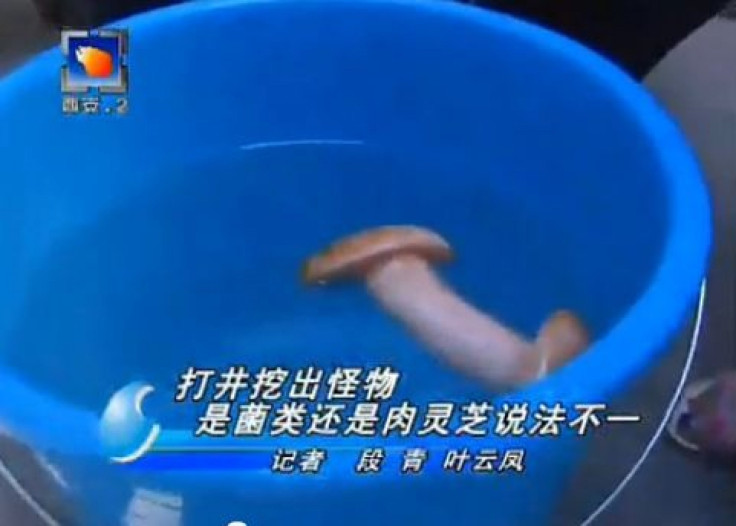 As a villager in western China drilled a well, he came across an oddly shaped fungus-like object, which he thought to be a rare mushroom. After he summoned TV crews to document its unearthing, it was finally revealed as nothing more than a sex toy.
Villagers in the outskirts of Xi'an, China, called the investigative journalism program Xi'an Up Close, which has been become a laughingstock as it aired a report on the mystery mushroom, without even the slightest suspicion that it could be a sex toy.
When we dug down to about 80 meters deep, we fished out this long, fleshy object. It's got a nose and an eye, but we have no idea what it is! one villager told the program, according to Shanghaiist.com.
Reporter Ye Yunfeng gave a very vivid description of the object on the show. As we can all see, this looks like a type of fungus, on both ends of which you'll find mushroom heads, she said. On this side, you can see what looks like a pair of lips, she adds. And on that side, there is a tiny hole which extends all the way back to this side. The object looks very shiny, and it feels really fleshy and meaty too.
Ye went on to identify the object as a rare lingzhi mushroom found underground in the Shaanxi region. But once the report was aired on television, many viewers correctly identified the rare-mushroom as a sex toy with an artificial vagina on one side and an artificial anus on the other.
The channel issued an official apology, translated by the Shanghaiist:
An open letter to all netizens and viewers: Hi everyone, one of our news reports which aired last night has made everyone laugh. This incident has been widely followed, shared and commented on. As our reporter was still very young and unwise to the ways of the world, this report has brought great inconvenience to everyone. We'd like to take this opportunity to thank everyone from the bottom of our hearts for your criticism and correction. Please forgive our oversight!
The video report has attracted a stream of comments on YouTube:
That mushroom gives new meaning to aphrodisiac. But how on earth did someone not look at that and go hmm that looks awfully similar to a.... The guys I might understand *maybe*; but that's a female reporter, writes Zweihanderi.
LOL ...Chinese mindset full of imagination, says wjwong888.
© Copyright IBTimes 2023. All rights reserved.