Redskins Playoff Chances: How Washington Can Win The Wild Card With A Loss to The Dallas Cowboys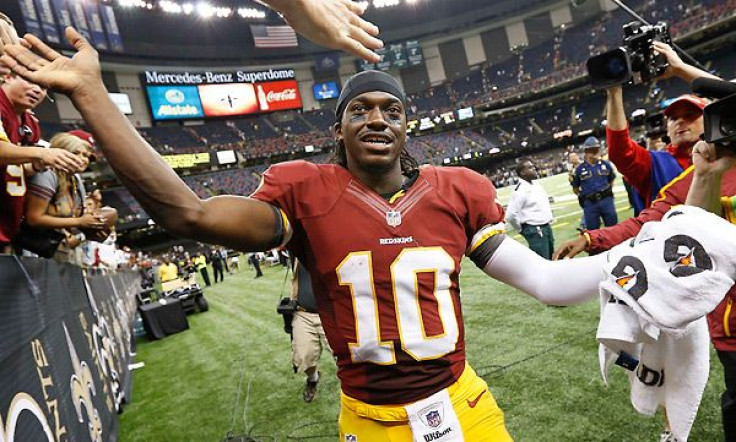 After a rough start to their 2012 season, the Washington Redskins are on the verge of making the playoffs for the first time in five years.
Washington currently has a one-game lead in the NFC East, and can put the division away with a win on Sunday night. The Redskins are scheduled to host the Dallas Cowboys in the final game of the regular season. The winner will take home the division title and the No.4 seed in the NFC.
The Redskins are expected to win their first NFC East championship since 2005. They are three-point favorites at home.
In the first matchup between the two teams, Dallas was unable to stop Robert Griffin III. The rookie threw four touchdowns on Thanksgiving Day to give the Redskins the 38-31 victory.
Even if Washington loses for the first time since Week Nine, the Redskins will still have a chance to make the playoffs.
Dallas can only make the postseason by winning the NFC East. If the Cowboys win in Week 17, that leaves the Redskins, New York Giants, Minnesota Vikings and Chicago Bears in contention for the last wild card spot.
Minnesota and Chicago both share Washington's 9-6 record, but the Redskins superior conference record gives them the tiebreaker. If all three teams come up short on Sunday, Washington wins the wild card race.
The Vikings have won three straight, but they aren't expected to win their Week 17 matchup. They'll host the Green Bay Packers, who are going for their 12th win on the year.
The Bears will visit the Detroit Lions. The Lions have lost their last seven games, but they are just three-point underdogs to Chicago.
The Redskins have come a long way from the start of the season. They went 3-6 in their first nine games, and seemed destined for a last place finish. Since then, the Redskins have gone undefeated, even winning when Griffin missed a game due to injury.
© Copyright IBTimes 2023. All rights reserved.