10 Ways To Reassure Customers As You Reopen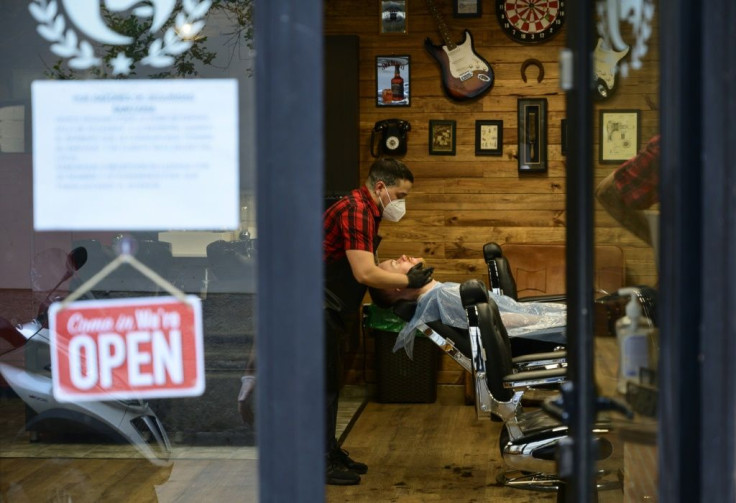 As the nation's businesses begin reopening, retail SMBs need to consider how they will attract consumers back to their stores. A large part of the effort will involve convincing customers that it's safe to come back. It will not be an easy task given the fact overall consumer confidence, as measured by the Conference Board, stood at 86.9 at the end of April 2020, down from 118.8 in March. (The benchmark, 100, was achieved in 1985.)
Traditionally, consumer confidence reflects consumer attitudes and willingness to spend, tempered by the job market and job security. With real unemployment currently standing at 22.8% and maybe as high as 25%, according to Treasury Secretary Steve Mnuchin, those measures still ring true. Add to that the anxiety consumers feel about their overall safety when it comes to a full reopening of the economy and it's clear that as a retailer you need to take consumer sentiment into account. Reopening won't be a simple matter of turning on the lights and flipping over the "Sorry We're Closed" sign.
How Consumers Feel
The Gartner Consumer and Culture Insights Team recently conducted an analysis of consumer sentiment that reveals how consumers feel in general. For starters, the analysis reveals, the coronavirus outbreak reinforces many social and cultural anxieties already in place. These concerns include everything from climate change to a potential recession to racial tensions. This combination creates in consumers a higher sense of vigilance, collapse in trust, increased polarization, and the desire to create a protected, sheltered environment.
All this results in an increased longing for relaxation, safety, serenity, security and simplicity, according to Gartner. To the degree you can be mindful of these concerns, you will be giving consumers what they most want during these trying times.
Consumers' Biggest Worries
Anxieties are a form of objections, just on a much more emotional level. Another area of insight revealed by the Gartner analysis has to do with what consumers worry about now and for the future. Near the top of the list is a concern that others won't act in the interest of the community as a whole. Examples of selfish behavior could include failing to follow mask-wearing and social-distancing procedures, not practicing good hygiene, or even hoarding.
Other worries that more specifically apply to businesses include running out of products, unfair price hikes, and the overall safety of physical store locations. As with big-picture concerns, these more focused worries are worth keeping in mind as you plan to reopen.
Know the Rules
For starters, you need to know how reopening will work in your state and, if applicable, in your locale. The U.S. Chamber of Commerce state-by-state business reopening guidance is a good place to begin. There you can obtain the latest information about state reopening rules including sector-by-sector guidance.
Have a Reopening Safety Plan
Once you are familiar with and, more importantly, are sure you can comply with reopening rules, formulate a plan that puts health and safety first. This plan includes knowing and adopting general hygiene guidelines from the Centers for Disease Control and Prevention (CDC), following CDC recommendations for workplace cleaning and disinfecting, Personal Protective Equipment (PPE) mandates from your state, employee screening and social distancing requirements.
Communicate Safety to Employees
In addition to the mechanics of reopening, make sure employees know what is required of them and, more importantly, what they should do to make customers feel safe when they come back. Discuss not only the mandates they must follow but also the fact customers will notice and be reassured by little things like wiping off counters, using hand sanitizer, and observing social distancing.
Get in Touch With Customers
Let your regular customers as well as potential new ones know when you will be open, especially if the days and hours are different from what they are accustomed to. Share your concern for them and how you plan to address their worries. Explain any new policies you plan to adopt, such as whether employees will wear masks and gloves and what expectations are for customers in that regard. For example:
Will you open with a limit on the number of customers allowed at one time?
Will business be by appointment only?
How will you address the issue of social distancing?
Think of all the questions you would have and answer them for your customers.
Stay in Touch
Email and texting, along with Facebook and Twitter, are best for ongoing communication. Use them to continue communicating as the reopening takes place. Be honest. If an employee or customer comes down with COVID-19, let your customers know (before social media posts do it for you). Provide up to date information on shortages as well as popular items that are in stock. Continue to communicate guidelines including social distancing, one-way aisles, as well as any new services you offer (like online ordering), curbside pickup or delivery. Include an opportunity for customers to provide feedback about your efforts regarding their safety and comfort. And make sure you respond to that feedback as soon as possible after you receive it.
Post Information Signage
Communication does not stop with an email or social media post. Customers are coming back after a hiatus and even under the best of circumstances many things about the shopping experience will be different. Signs at the entrance should include only the important highlights; this is not the place to let everyone know you are out of salted-in-shell peanuts (unless you're a nut shop). It is a place to welcome customers, advertise your mask or screening policy, call attention to any taped markings on the floor (for social distancing), and the usual promotion of sale items. This would also be a good place to note purchase limits (if appropriate).
Post Reassurance Signage
Within your place of business post easily readable notices that outline how you keep things sanitary. This includes deep cleaning, how often you do it, location of bottles of sanitizer for customer use, and whether you will provide masks if requested. Don't forget to offer a way that customers report any problems they see so you can attend to them right away.
Offer Additional Shopping Options
Consider ways you can allow customers to shop with less contact. Consider opening an online channel for placing orders or asking questions. Is there a way to allow self-checkout or increase your capacity in that regard? Offer a drive-thru option if possible and if not, curbside pickup. Of course, delivery is another option to consider. Also, think about special hours for seniors or other "at risk" customers.
Practice In-Store Safety
In addition to any additional cleaning and disinfecting measures you can take (and advertise) consider some other ways to reassure customers and help them feel you have gone "above and beyond" when it comes to safety. If your business involves shopping carts, post an employee with carts (in a mask) to wipe down the cart as the customer approaches. Instruct cashiers to wipe down the counter at their station after every customer.
Think of ways to keep aisles less crowded, i.e., marking them one-way, removing displays in the middle of an aisle, and avoiding restocking (and blocking aisles) during store hours. As referenced above, mark floors with signs to help patrons maintain social distance guidelines.
Be Flexible
Finally, keep in mind that COVID-19 affects every business and every locale differently. If your area has a high incidence of coronavirus cases, consumers are going to be even more concerned about their personal safety than those in an area that has seen little illness. Flexibility is key. If, for example, you can't easily enforce social distancing, you may need to erect barriers. Seek advice and guidance from employees and customers alike and don't be afraid to use it. Your ability to adapt to a changing environment on an ongoing basis will be the difference between failure and success.
FOR FREE to continue reading
✔️ Unlock the full content of International Business Times UK for free
offer available for a limited time only
✔️ Easily manage your Newsletters subscriptions and save your favourite articles
✔️ No payment method required
Already have an account?
Log in
© Copyright IBTimes 2023. All rights reserved.