RG3 Injury Report: Will Griffin Play Sunday Against Cleveland Browns?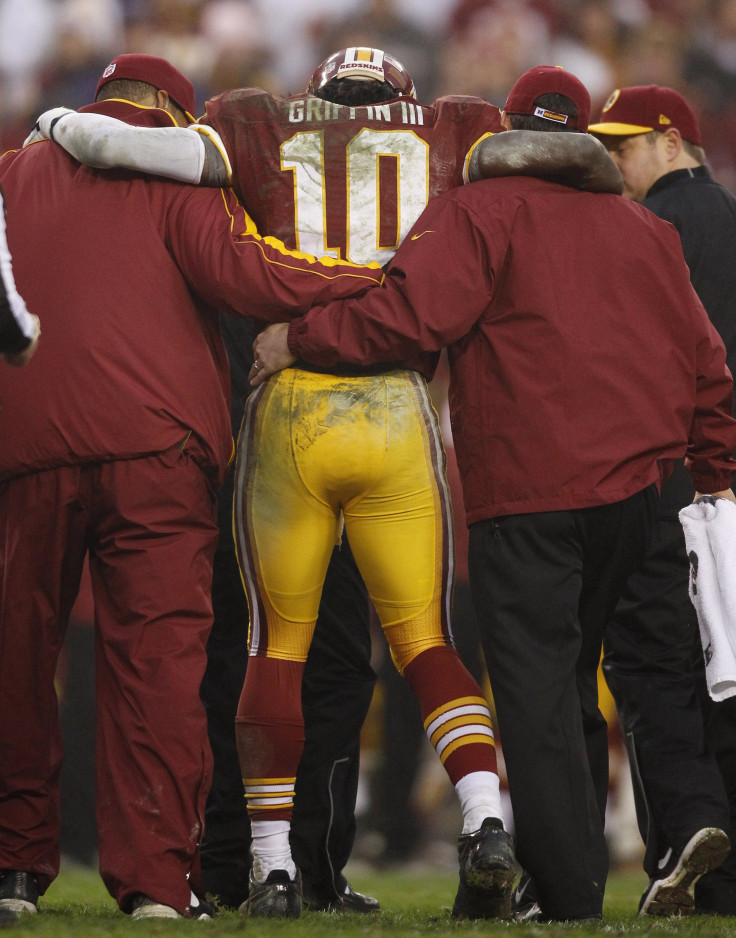 Fans of the Washington Redskins got a major scare on Sunday afternoon.
Robert Griffin III left the team's game against the Baltimore Ravens with a knee injury. He was hit by Haloti Ngata at the end of a 13-yard run in the fourth quarter. The quarterback came back onto the field after sitting out a play, but eventually had to leave for good.
The Redskins went on to beat the Ravens 31-28. Kirk Cousins replaced Griffin in the final minutes of the fourth quarter and overtime.
Fortunately for Washington, Griffin did not suffer an ACL injury, like many had feared. Cleared of any severe ligament damage, he will avoid season-ending surgery, with what is being diagnosed as a knee sprain.
"I'm not a doctor, but I know what an ACL feels like, and it doesn't feel like an ACL," said Griffin. "If I felt that, I'd be pretty nervous. But we won the game. Everybody's praying for me, I feel pretty good right now about the whole situation."
Even though an x-ray didn't show any major damage, the rookie is not out of the woods yet. He underwent an MRI on Sunday night, and head coach Mike Shanahan said on Monday that the quarterback's status is "day by day."
There's still no definitive word on whether or not Griffin will play on Sunday against the Cleveland Browns. A source tells ESPN's Adam Schefter that there is "no guarantee" that the quarterback will be able to suit up.
While the team has yet to make an official announcement, some oddsmakers don't seem to think Griffin will play next week. The sports betting Web site vegasinsider.com has the Browns as seven-point favorites for their matchup with the Redskins.
No matter how serious the injury is, the incident might leave Washington somewhat concerned. It's the second time this season that Griffin couldn't finish a game because of an injury. He suffered a concussion on Oct.7 against the Atlanta Falcons.
Griffin's style of play makes him might make him more susceptible to injuries than any other quarterback. He leads all signal callers with 748 rushing yards on the season.
The Redskins can ill-afford to lose Griffin. They have won four straight, and sit just one game behind the New York Giants in the NFC East.
Even though Cousins helped lead Washington to victory on Sunday, Griffin has been the biggest reason for the team's success. He leads all quarterbacks with a 104.2 passer rating, and has been discussed as a possible MVP candidate.
© Copyright IBTimes 2023. All rights reserved.