RG3 Injury Update: Griffin Ahead Of Schedule After Knee Surgery? Will Start Week 1 Next Season? Team Doctor James Andrews Stresses Long Term Health, Career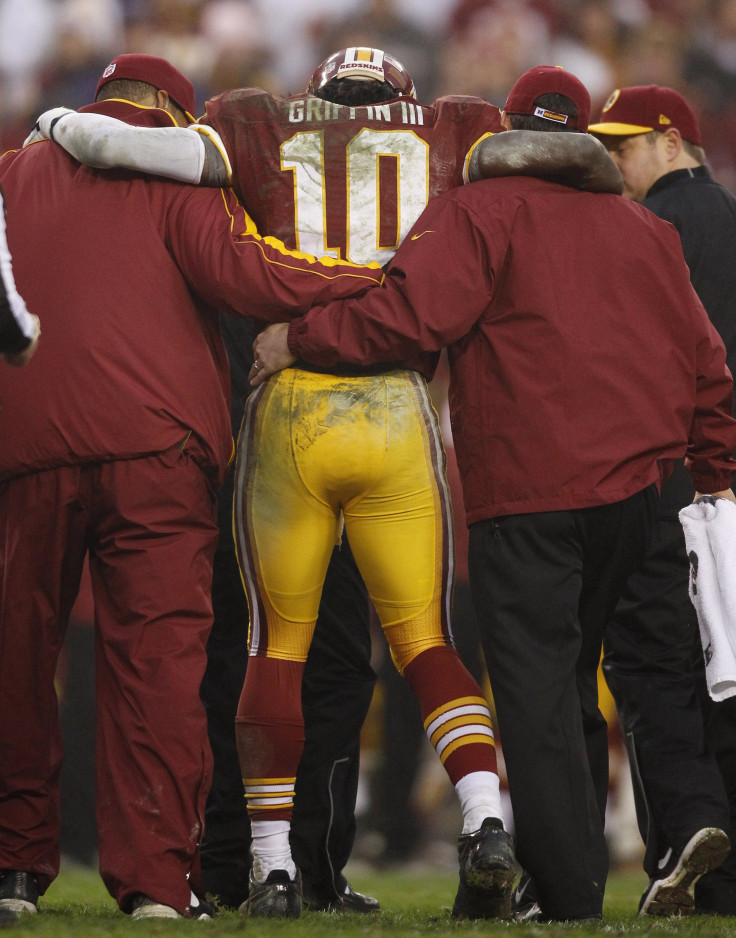 If Washington Redskins quarterback Robert Griffin III approaches rehabilitation for his reassembled right knee like he did his rookie season, then fans won't have to worry.
The 23-year-old became the biggest sensation in the NFL in 2012, but a crushing knee injury ended his run, and Griffin underwent major surgery last month to repair tears in his ACL and LCL.
The first question many asked was if the former Heisman winner would be ready for Week 1 next season, but Washington team doctor and world renowned orthopedic surgeon Dr. James Andrews stressed he is focusing on Griffin's long term health.
"We've got him well on his way," Andrews said to NFL Network. "He is an unbelievable athlete as you well know. His recovery is way ahead of schedule so far. We don't have to do much but try to hold him back, if you want to know the truth. Our whole mode for him, though, is to do what is best for his career, not necessarily what is best for the first game next season. So all of that has to be put on hold and let him get well."
Washington would be wise to handle Griffin's recovery with caution, as he is already one of the most efficient and complete players in the league. In his rookie year, Griffin led all quarterbacks with 815 rushing yards, was third in the league with a 102.4 passer rating, and fourth in completion percentage.
If he doesn't return by Week 1, fans may point to Vikings running back Adrian Peterson, who also suffered a horrific knee injury, and came back less than a year later to win the NFL MVP. But Peterson has proved the exception to the rule, and Washington won't risk their next decade, or Griffin's, by pushing him too soon.
Griffin originally suffered a knee sprain against eventual Super Bowl Champion Baltimore in Week 13, and later the Redskins said he may have returned to soon. His total carries dropped noticeably, as Washington tried to limit the big hits and preserve their talented signal caller.
The No. 2 overall pick in last year's draft re-aggravated his injury in the NFC Wild Card round last season against the Seattle Seahawks. He was seen hobbling late in the game, but stayed in before a nasty twist ended his season. To his credit, Griffin played through the pain and led two scoring drives against Seattle.
That kind of determination should be a positive sign to the Redskins and the NFL.
© Copyright IBTimes 2023. All rights reserved.