'Rise': Robbie Walks Out From Rehearsal In Season 1, Episode 7 [VIDEO]
Lou isn't satisfied with Robbie's rehearsal performance in this week's episode of "Rise."
According to the synopsis for Season 1, episode 7 of the NBC musical drama series, Lou (Josh Radnor) and Tracey (Rosie Perez) lead the "Spring Awakening" cast through a series of rehearsals that falls short of expectations.
In the trailer for the episode, Lou tells Robbie (Damon J. Gillespie) to give more emotion in his portrayal of Melchior. "Show me game day," Lou tells Robbie. When Robbie fails to reach Lou's expectation, the English teacher gets frustrated and raises his voice at the football player. "There has to be some way you can relate to this," an irritated Lou tells Robbie.
Embarrassed by what Lou did, Robbie furiously hits back. "I lost everything for this stupid play!" Robbie shouts at the auditorium before making his way out.
Feeling guilty by what happened, Lou blames himself. "I told everyone that this [production] was going to be great. [But] I screwed this whole thing up," Lou tells Tracey.
"There are kids out there acting their hearts out. This is not about you," Tracey replies.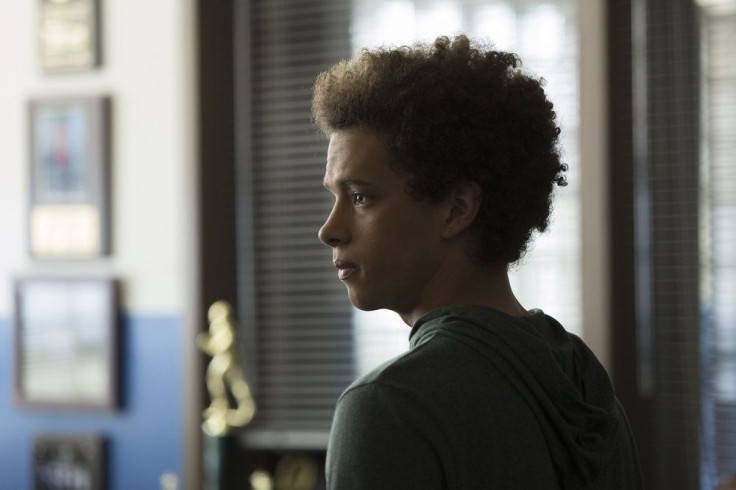 Meanwhile, Maashous (Rarmian Newton) receives potentially life-changing news. In the promo clip, Maashous finds out that his biological mom is now ready to take him back after she was released into custody earlier this year. Uncertain of what he'll do next, Maashous gets a word from Gail (Marley Shelton) that he can continue to stay with them if he wants to. "You're part of this family, Maashous. You're not leaving," Gail tells the lighting designer for the Stanton High drama club.
Elsewhere in the installment, Simon's (Ted Sutherland) personal feelings start to compromise his performance in the musical. Also, Gwen's (Amy Forsyth) familial strife leads to a wild night out, and Michael (Ellie Desautels) tries to reconnect with an estranged friend.
In an interview with Entertainment Weekly earlier this month, Gillespie said that he's looking forward for people to learning more about Michael. "I'm excited for people to see a little bit more of what Michael is about," Gillespie said. "With Michael being transgender it's one of those things where we're shining a light on that story, which is really cool, and Ellie, who plays Michael amazingly, has worked with [series creator] Jason [Katims] and GLAAD to make sure that this was told in a very accurate and positive light. I'm very excited for people to see that."
"Rise" Season 1, episode 7, titled "This Will God Willing Get Better," airs on Tuesday, April 24 at 9 p.m. EDT on NBC. Watch the trailer for the episode below:
​
© Copyright IBTimes 2023. All rights reserved.
FOLLOW MORE IBT NEWS ON THE BELOW CHANNELS