Rock 'n' Roll Fantasy Camp Cranks up the Volume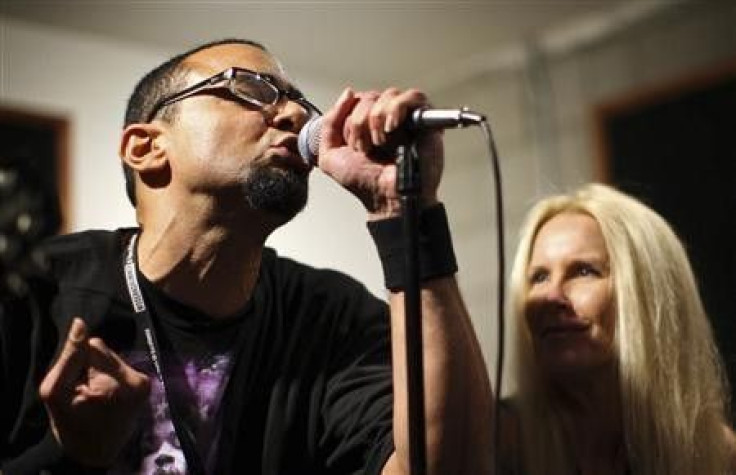 The decibel level in the small, bunker-like rehearsal room is ear-shattering and every loose item in the space is shaking as if an earthquake struck.
But it's no temblor -- just business as usual at the Rock 'n' Roll Fantasy Camp where ex-Runaways guitarist Lita Ford is leading a group of 30-something, would-be rock stars through a bone-jarring version of Roadrunner.
We're doing The Who's version, says 53-year-old rocker Ford, an enthusiastic coach who guides her equally enthusiastic charges -- three guitarists, a singer and two drummers -- through the arrangement.
As befits a Who homage, it's loud. But there's no guitar smashing, scowling or bad attitude. Everyone looks happy.
Other rooms in the Camp's North Hollywood complex feature similar scenes, with other rock teachers -- Kiss singer Paul Stanley, Black Sabbath drummer Vinny Appice and producer-songwriter Mark Hudson -- schooling students on the finer points of hard rock, playing and performing.
But big changes are on the horizon for the camp, now in its 14th year, where people of all ages who dream of rock stardom can bring their axes and learn to shred like Pete Townshend or Guns N' Roses' Slash.
David Fishof, who founded the camp after years as a manager and tour producer for Ringo Starr and The Monkees, estimates that some 7,000 have attended one of the sessions held six times a year at various locations including New York, Philadelphia and London.
It gets bigger every year, he said, and to cope with the demand, Fishof is planning to open a permanent location in Las Vegas. We're in negotiations with a major hotel, and it's going to happen within the next year, he said.
GOING CORPORATE
Fishof also is setting up camp in corporate markets, planning events and performing exercises with executives that focus on successful collaboration and task completion.
We get a rock star like Lita to work with them, rewriting a song they're famous for and tailoring the lyrics specifically to a company sales model or convention, he said.
While the operation has focused exclusively on classic, metal and hard rock so far, Fishof promises other genres are about to get the same boot camp treatment.
He wants to branch into alternative rock music, country and even jazz once they get a permanent location, and they plan to bring in celebrity musicians from each genre.
Fishof says that the camp attracts a cross-section of people, not just aging adults who long ago gave up on a career in music but still harbor dreams of rocking out.
We get mothers, 15-year-old kids, top executives and music fans from all over the country, he said. The common denominator is their love for music, and many of them keep coming back, they love the experience so much.
And that's not only true for fans, but for the rock stars, too. Aerosmith lead singer Steven Tyler worked at the camp last year and is returning again in May to teach. He had a great time and was eager to come back, said Fishof.
It's been a surprisingly rewarding experience, said Ford who freely admits that, back in the '70s and '80s, I'd never have imagined doing this. But I really enjoy teaching people how to overcome their fears.
She cites one young drummer who froze every time he had to do a fill. Ford and a drummer worked with the nervous musician for days with success. The drummer and his group won the trophy for best percussion section at a local showcase.
He came up to me afterward, and was so excited and went, 'I got it! I understand it now!' recalled Ford. It was such a huge pay-off for me, so it's not just about the music and guys living out this rock 'n' roll fantasy. It's about people who come in here, their hands shaking, who can't even look you in the face. We help them face those fears and conquer them -- and have a great time doing it.
© Copyright Thomson Reuters 2023. All rights reserved.