Rockets Vs. Nets Preview: Where To Watch Live Online Stream, Betting Odds, Prediction, Jeremy Lin, James Harden Welcome Brooklyn's Deron Williams, Brook Lopez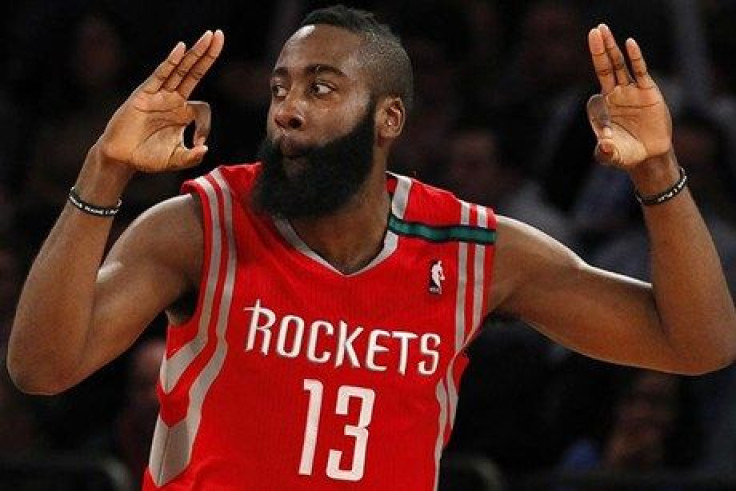 After losing eight of their last nine games, the Houston Rockets have somewhat righted the ship and host the Brooklyn Nets Saturday night at the Toyota Center.
The 23-22 Rockets are clinging to the Western Conference's final playoff spot, but celebrated guard James Harden's addition to the All-Star team with a 100-82 road thrashing of the New Orleans Hornets Friday.
Harden made up for eight turnovers with 30 points and eight assists, while forward Patrick Patterson was an efficient 8-for-11 from the field for 18 points and 18 rebounds.
Point guard Jeremy Lin contributed 13 points and eight assists, and snagged six steals.
As a team, Houston went 11-for-21 from beyond the arc, and held the Hornets to 38 percent shooting.
The Nets were in huge hole after firing Avery Johnson, but have since risen up the Eastern Conference ranks, winning 10 of their last 12 games under new head coach P.J. Carlesimo. Yet Brooklyn garnered no All-Star berths this week, despite a career-year from center Brook Lopez.
One of Brooklyn's recent slip ups came Friday, when the Memphis Grizzlies dominated them in a 101-77 loss. Memphis and center Marc Gasol owned the interior, scoring 62 points in the paint.
Lopez scored a team-high 18 points, but the back court duo of Deron Williams and Joe Johnson went 8-for-20 from the field for a combined 23 points. Brooklyn also shot 17 percent from three-point range.
The game tips off at 8 p.m. EDT and will be broadcast by YES Network and CSN Houston, or you can watch a live stream on line by purchasing NBA League Pass Broadband here.
Betting Odds: Houston is favored by 4 points
Over/Under: 200 points
Prediction: Both teams will show some fatigue, but Brooklyn's frontline should bounce back from a very poor showing against Memphis. Lopez and Williams will lead the Nets offense, but Brooklyn will have no answer for Lin and Harden. Houston should walk away with a win.
Predicted Score: Houston 107, Brooklyn 100
© Copyright IBTimes 2023. All rights reserved.