Rubio Criticism Indicative of Problems GOP Faces with Hispanic Floridians
ANALYSIS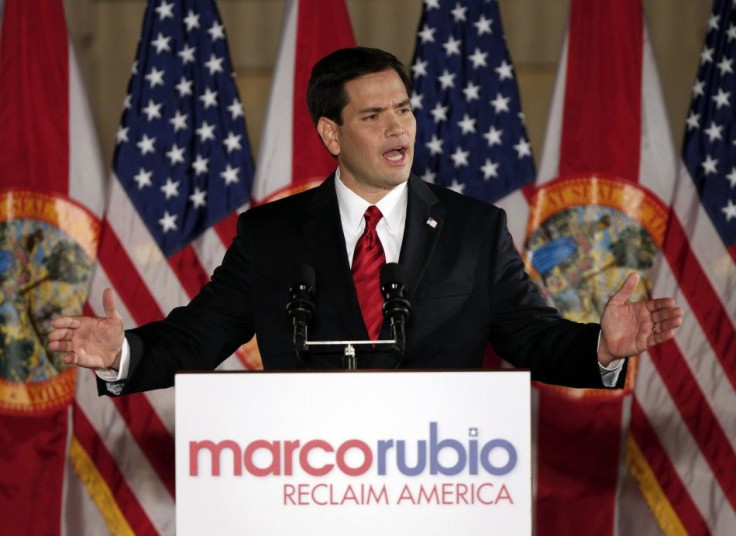 Sen. Marco Rubio (R-Fla) accused President Obama of spewing divisive, class warfare rhetoric during his State of the Union address on Tuesday, arguing that the president's assault on free enterprise are the kind of policies that thousands of Hispanic-Americans fled when they immigrated to the U.S.
Obama renewed his call for the so-called Buffett Rule, calling for a reform to the nation's tax code to ensure middle-class workers do not pay a higher tax rate than those who make at least $1 million a year. The proposal is named after Berkshire Hathaway CEO Warren Buffett, the billionaire who made headlines after announcing he pays a lower tax rate than his secretary because of a tax code that allows him to pay minimal taxes on the long-term investments that constitute a majority of his income.
On Fox News Wednesday, Rubio said Obama's redistributive policies are antagonistic and will not resonate with Florida's GOP primary voters or the Hispanic-American community in general. The Florida presidential primary will be held on Jan. 31.
[President Obama] goes into the State of the Union and basically says that the only way some Americans can do better is if other Americans are worse off, that we have to take from some people and distribute it to others, Rubio said. That's never been our heritage. That's what other countries do, and by the way that's why other people -- including Hispanic Americans -- have left other countries, to get away from that kind of stuff.
Polling data indicates Rubio is not speaking for his constituents as a whole, but for the base of the Republican Party. In September, Gallup found 66 percent of Americans -- including 41 percent of Republican-leaning respondents -- support increasing income taxes on individuals earning at least $200,000 year; in a December CBS News poll, 60 percent of Americans, including 43 percent of GOP primary voters, said Congress should raise taxes on Americans earning more than $1 million. At the time of the survey, 55 percent of the Republican respondents said they did not think a small tax increase on the country's most affluent citizens would have a negative impact on job creation.
The Pew Hispanic Center reports that jobs, education and healthcare are the top issues concerning Hispanic registered voters as the 2012 presidential election approaches, according to December polling data. A third of respondents also said immigration is an important issue to them personally, with 24 percent saying they knew someone who had been deported or detained by the federal government within the past year. The immigration issue will likely be particular concern for Hispanic voters in Florida, who are less likely to be native-born citizens compared to Hispanic voters nationwide.
Rubio's combative language against Obama's economic policies seems to be an appeal to an older Hispanic generation that historically tended to lean toward the GOP. Twenty-five percent of Florida's eligible Hispanic voters are between the ages 18 to 29, according to the Florida Division of Elections, while youth voters only constitute 19 percent of the state's overall eligible voting population. More than a quarter of Florida Hispanics make less than $30,000 a year, while 47 percent earn below $50,000 per year.
Moreover, an increasing amount of the state's Hispanic population has been abandoning the Republican Party in favor of Democrats. As recently as 2006, Republican Hispanics outweighed Democrats in the Sunshine State. By 2008 that balance began sliding in favor of Democrats; now, there are approximately 111,800 more Hispanic Democrats than Republicans.
Granted, Republicans still have a strong base of Hispanic support in the state, particularly in south Florida and among values voters. But, if the Republican presidential candidates continue on with their acidic anti-immigrant rhetoric that number could continue to shrink, according to the organization Latino Decisions, which found that Hispanic voters overwhelmingly trust Democrats to address issues that are important to them.
All in all, Rubio may need to learn more about the issues that are important to his Hispanic constituents before implying that he represents their interests on a national stage. One way may be to actually reach out them -- additional polling information from Pew found that more than half (54 percent) of registered Hispanic Florida voters had never heard of the senator.
FOR FREE to continue reading
✔️ Unlock the full content of International Business Times UK for free
offer available for a limited time only
✔️ Easily manage your Newsletters subscriptions and save your favourite articles
✔️ No payment method required
Already have an account?
Log in
© Copyright IBTimes 2023. All rights reserved.