Ryan Kaji Net Worth: 9-Year-Old YouTube Star Earned $29.5 Million In 2020
KEY POINTS
Ryan Kaji started his YouTube channel, Ryan's World (formerly Ryan ToysReview), in 2015 at 3 years old
He has topped Forbes' list of the highest-paid YouTubers for the third year in a row
Kaji's family owns Sunlight Entertainment
Ryan Kaji's net worth is $50 million. He topped Forbes' list of the highest-paid YouTube stars for the third year in a row in 2020. Here's how the 9-year-old social media sensation built his massive fortune.
Kaji's secret to success is starting young. He started uploading unboxing video content on his YouTube channel Ryan's World — previously called Ryan Toys Review — in 2015 when he was just 3 years old. He has since expanded his content to educational and family-friendly videos such as DIY science experiments and playtime with his twin sisters.
According to his father, Shion, the bond between his son and his viewers is also one of the reasons behind the channel's massive following. As of January, Kaji's YouTube channel has 27.9 million subscribers.
A content creator is paid on the platform in terms of views and the number of subscribers. With Kaji's content attracting viewers of all ages, it comes as no surprise that he earned $29.5 million from 12.2 billion views between June 2019 to June 2020. This is enough to place him at the top of the highest earners on Youtube, according to Forbes.
Though Kaji is earning millions before even turning 10 years old, his success is the product of the hard work of a lot of people. His channel uploads a video daily, and his family now manages a 30-man team called Sunlight Entertainment, which helps them produce content, Insider reported.
Kaji's family was able to leverage their success on YouTube to invest in other ventures. "Ryan's World" is now licensed, which means additional income via royalties from the estimated 5,000 Ryan-themed products that rake in over $200 million each year. On top of that, Kaji also has TV show deals with Nickelodeon, Hulu and Roku.
In total, the Kaji family has earned at least $100 million, while the media empire they manage is estimated to be valued at $500 million.
In 2016 and 2017, Kaji earned $11 million. In 2018, he raked in $22 million in revenue, and a year later, hiked it to $26 million. He became so popular and ingrained in pop culture that a float of Red Titan— his superhero alter-ego — was featured at the Macy's Thanksgiving Day Parade in November, Celebrity Net Worth reported.
By topping the highest-paid list on Youtube, Kaji has beaten other well-known personalities on the platform like Jimmy Donaldson (MrBeast), Dude Perfect, Rhett and Link and Mark Fischbach (Markiplier). Kaji, however, is not the only kid on the list as 6-year-old Anastasia Radzinskaya from Russia ranked seventh with $18.5 million earnings last year.
Kaji and Radzinskaya have proven that child-friendly content can earn a lot of money on YouTube. Now, more content creators produce video game reviews as well as toy unboxing videos.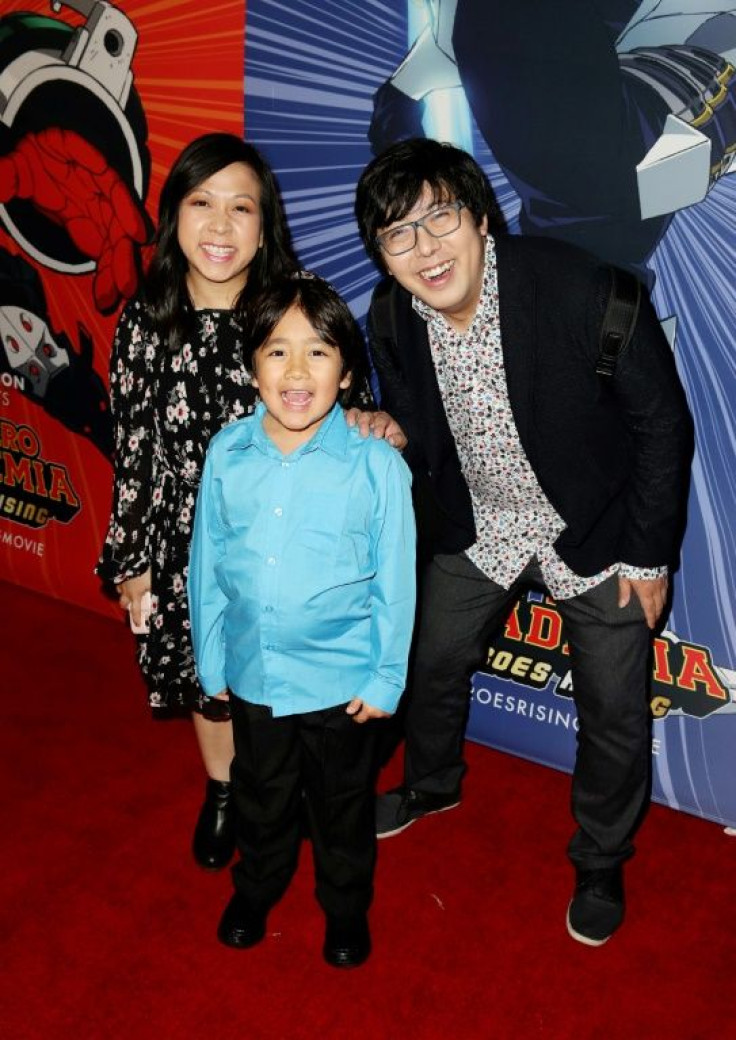 © Copyright IBTimes 2023. All rights reserved.
FOLLOW MORE IBT NEWS ON THE BELOW CHANNELS