Samsung Galaxy S4 Costs $236 To Build: Will Its Bill Of Materials Effect Its Retail Price? [PHOTO]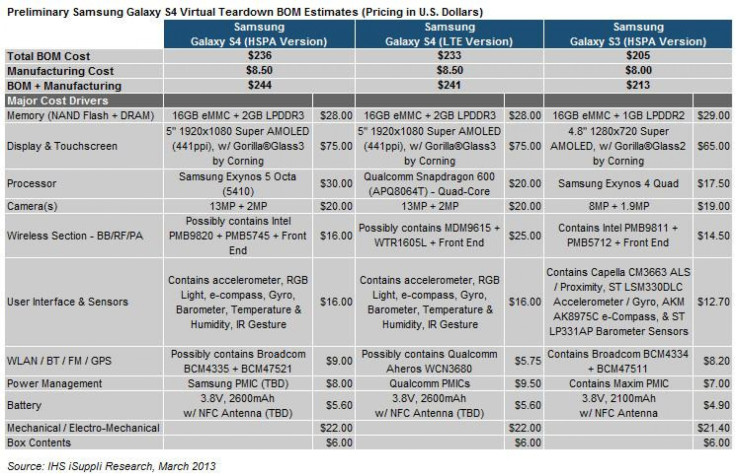 Samsung enthusiasts are aching to know how much they will pay for the soon-to-be-released Samsung Galaxy S4. While the company remains tight-lipped on its pricing plans, recent reports about how much it costs to build a Galaxy S4 may be a good indicator of what consumers can expect to pay for Samsung's flagship smartphone in 2013.
Market research firm IHS iSuppli released an infographic on Wednesday, which detailed the costs of the various components of Samsung's fourth-generation Galaxy S series smartphone. Many may be surprised to learn the Galaxy S4 costs between $233 and $236 for all its various parts.
The firm compared the HSPA+ ($236) and LTE-enabled ($233) models of the Galaxy S4 to the HSPA+ model of the Galaxy S3, which costs $204 to build.
How Does The Samsung Galaxy S4 Compare to the Galaxy S3?
The priciest parts of the Galaxy S4 are its 1920 x 1080 5-inch Full HD AMOLED display boasting 441 ppi -- costing $75 -- and its 1.6 GHz Exynos 5 Octa and 1.9GHz quad-core Qualcomm Snapdragon 600 processors, which cost $30 and $20 respectively; this compared to $65 for the Galaxy S3's 4.8-inch screen, and $17.50 for the Exynos 4 Quad processor on the third-generation smartphone.
These prices may seem like a pretty penny just to build a phone, but considering that prices being suggested for the Galaxy S4 range between $776 and $905 unlocked, its Bill of Materials is actually not that costly.
A product's BOM calculates the prices of all its components to determine how much the device costs to construct. IHS iSuppli has determined that the Galaxy S4's BOM is 15 percent more expensive than that of its predecessor, also noting that $149 worth, or 63 percent of its components were developed by Samsung itself.
What Determines the Price of a Phone?
Tech website Sammobile points out that Samsung is producing most of the components for its device – which is supposedly something other electronics companies cannot do as easily. This actually lowers the cost of the Galaxy S4, at least when it comes to its Bill of Materials. A product's BOM is not a sure indicator of its ultimate retail price.
Android Authority also reminds us that several other aspects go into the final price that consumers see when they go to retail stores and on to websites, including marketing costs, assembly, distribution, licensing and support, as well as app development and support, among many other things. This does not even factor in the fact that Samsung will clearly want to make a profit.
While the company pays what seems like a pittance for the parts of each individual Galaxy S4, it pumps much more money into other aspects of the phone's development, such as advertising. Samsung notably shelled out $11 billion on marketing and $10.6 billion on research and development in 2012, largely surrounding the Galaxy S3, which is now the best and fastest selling smartphone in the world, having sold more than 40 million units since its release in late May 2012.
Since the company increased its marketing presence by 38 percent from 2011 to 2012, we can likely expect Samsung to shell out even more in 2013 and beyond, especially when it has set a lofty goal of selling 100 million Galaxy S4 handsets in the current year.
How Much Will The Galaxy S4 Really Cost?
The retail price of the Galaxy S4 will also be largely determined by which countries and carriers will offer the smartphone. The Galaxy S4 is slated to be released in 155 countries starting in late April. While some countries like Sweden have only indicated prices for the contracts under which the Galaxy S4 will be powered, which start at SEK 220 ($34) a month, other countries like Italy may be selling the smartphone for up to €699 ($905) without a contract.
Some countries like the U.S. and Canada will offer the Galaxy S4 on several carriers who may vary their prices and offer large discounts. Currently, no in-store costs are known for the U.S. variant of the Galaxy S4, but Samsung has recently determined the phone's "Approximate Retail Value" as $650, up from $579; however this may not be the price consumers see when looking to buy the device.
Enthusiasts don't seem to be extremely concerned with the price of the Galaxy S4, as one European retailer reports having quadrupled its pre-sale inquiries for the smartphone compared to amount of interest it received for the Galaxy S3 prior to its release in late May 2012. Overall, the Galaxy S3 garnered 10 million pre-orders in the month prior to its release. The Galaxy S4 is not yet available for pre-order.
Upon its release in the U.S., the Galaxy S3 sold for $599 and $649 for its 16GB and 32GB variants respectively. Most carriers sold the phone for $199 or $249 with a two-year-contract.
Should We Just Keep Guessing?
So what can we use to make an educated guess about the price of the Galaxy S4? Could the S4's components being 15 percent more costly than those for the S3 determine that the device will be 15 percent more expensive than its predecessor? Could prices for the Galaxy S3 determine prices for its successor? Could the ARV be an indicator of the Galaxy S4's actual retail price?
Samsung is likely hoping to build on this heated anticipation in order to sell as many units as possible.
© Copyright IBTimes 2023. All rights reserved.