San Bernardino Gunman Syed Farook Received $28,500 Deposit Two Weeks Before Shooting: Report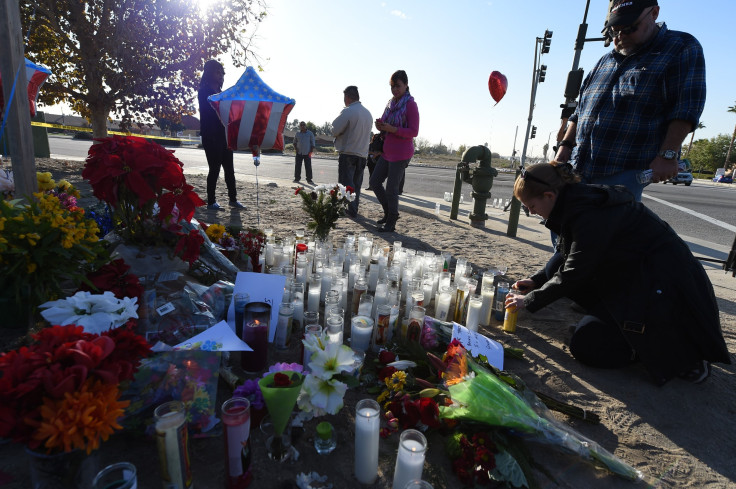 A deposit of $28,500 was made into the bank account of the shooter who opened fire at a social center in San Bernardino, California, just two weeks before the attack, a source close to the investigation told Fox News on Monday. Syed Farook and his wife, Tashfeen Malik, had carried out the onslaught at the Inland Regional Center last Wednesday, killing 14 people and triggering a widespread debate on gun laws in the country.
The transfer into Farook's account was reportedly done through WebBank.com on or near Nov. 18 and about two days later he converted $10,000 to cash, withdrawing the money at a Union Bank branch in San Bernardino. Investigators are probing if the transaction was a loan from the Utah-based bank to Farook who earned $53,000 a year as an environmental health inspector. Just days before the shooting, there were three transfers of $5,000 each from his account to one believed to be of his mother. According to the source, cited by Fox News, the withdrawals could be a "significant evidence of premeditation."
The source added that there was further evidence pointing toward premeditation as there was a charge for an SUV rental processing to Farook's account on Nov. 30, two days before the attack.
The source cited in the Fox News report, which has not been confirmed by authorities yet, said that the investigators are also trying to find out if the $10,000 withdrawn by Farook was handed out to Enrique Marquez, who had bought the two assault rifles involved in the attack. Marquez, who is said to be a close friend of Farook, has not been named as a suspect in the case, but the FBI searched his home on Saturday and he has been questioned by investigators.
"Our major concern is determining how those firearms got from Marquez to Farook and Malik," John D'Angelo, an assistant special agent with the Bureau of Alcohol, Tobacco, Firearms and Explosives, said Monday at a press conference.
A report by the Associated Press (AP) Monday also said, citing the FBI, that Farook and Malik had been radicalized "for quite some time" and that Farook practiced at gun ranges in the Los Angeles metropolitan area. One of the target practice sessions reportedly happened just two days before the shooting. John Galletta, an instructor at Riverside Magnum Range, said in a statement, cited by the AP, that Farook had been there on Nov. 29 and Nov. 30, but there was "nothing was out of the ordinary regarding his behavior."
Neither WebBank.com nor Union Bank responded to specific questions about the Fox News report, according to the news network. However, David Weidman, a spokesman for Union Bank, reportedly said that the bank was working with the FBI and other investigators. "We are cooperating to the full extent of the law with the agencies conducting investigations into this tragedy," Weidman said.
Over the last week, there have been several reports about the life led by Farook and Malik and how the two were radicalized.
While the Islamic State group (ISIS) called the couple its "followers," a federal law enforcement officer said Friday, according to Los Angeles Times, that Farook was in touch with people from al Qaeda-affiliated Nusra Front in Syria and al-Shabab group in Somalia. A report by CNN also said last week that Malik had posted a pledge of allegiance to the leader of ISIS, Abu Bakr al-Baghdadi, on Facebook, through an account under a different name. However, the post was reportedly later removed by Facebook.
In a rare Oval Office address Sunday night, U.S. President Barack Obama spoke about the shooting incident and the ongoing investigation. "It is clear that the two of them had gone down the dark path of radicalization, embracing a perverted interpretation of Islam that calls for war against America and the West. They had stockpiled assault weapons, ammunition, and pipe bombs," he said.
"The threat from terrorism is real, but we will overcome it. We will destroy ISIL and any other organization that tries to harm us," Obama said, outlining an anti-ISIS strategy "designed and supported by our military commanders and counterterrorism experts, together with 65 countries that have joined an American-led coalition" in Syria.
© Copyright IBTimes 2023. All rights reserved.