San Bernardino Shooter Tashfeen Malik's Relatives 'Ashamed And Shocked' By Her 'Gruesome' Act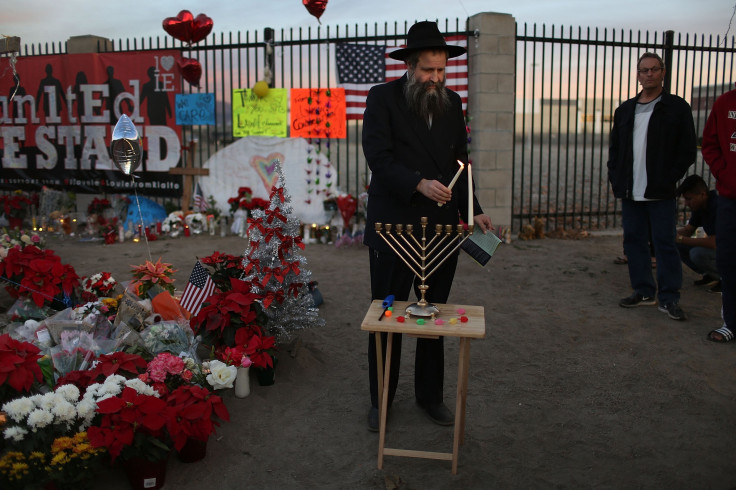 Relatives of Tashfeen Malik, who with her husband opened fire at a social services centre in San Bernardino, California, last week, said that they were ashamed of her actions, Agence France-Presse (AFP) reported Sunday. The couple was shot down by police officers during a gunfight following the attack in which 14 people were killed.
Malik's aunt, Hafza Batool, told Los Angeles Times Sunday that her family was in shock about Malik's actions.
Malik's uncle, Malik Ahmed Ali Aulakh, a former Pakistani provincial minister, said that the shooter's father had grown distant from the family and did not attend the marriages of close family members. Aulakh added, according to AFP, that Malik was born in the village of Karor Lal Esan in the central Pakistani province of Punjab and moved to Saudi Arabia in 1989.
"We are ashamed and shocked about this act done by our niece -- why did she do something so gruesome? We can't believe it," Aulakh said.
Mohammad Jamil, a neighbor of Malik's father, said, according to AFP: "We don't want Muslims to do such things. Such people should be punished, must be punished," adding: "She has dishonored Pakistan."
Malik reportedly returned to Pakistan in 2007 and was set to pursue a degree in pharmacology at the Bahauddin Zakariya University in Multan. "She was not outspoken or ultra-modern but she was religious minded, polite and submissive," Dr. Khalid Hussain Janbaz, chair of the pharmacy department, told AFP.
A fellow student told AFP that Malik lived in the university accommodation for two years before moving in with her mother and her sister. The friend also spoke about Malik's life in the college and claimed that she stayed in touch with some of her friends.
"She would often watch religious TV programs and attended religious lectures," the student said, adding: "She preferred to remain in veil or burqa throughout her stay in the university and provided veiled pictures for all her university documents."
Malik reportedly attended the Al-Huda Institute -- a high-profile religious seminary for women in Multan, Pakistan -- for a two year course, according to another AFP report. However, a source told AFP that Malik did not complete her course. "She was a good girl. I don't know why she left and what happened to her," a female teacher, who gave her name only as Muqadas, told AFP.
Farrukh Saleem, a spokeswoman for Al-Huda Institute, said: "We are trying to establish whether she attended Al-Huda as a regular student or was just a listener," adding: "Government or law enforcement agencies have never suspected us of spreading extremism -- instead we preach the peaceful teachings of Islam and the prophet of Islam."
However two classmates said that Malik changed after she spent her time in the institute. "Gradually she became more serious and strict," one of the classmates said, according to AFP. "She was raised in Saudi Arabia so she became a Salafi. She joined Al-Huda. She married a US Muslim who was influenced by events in the Middle East -- this is the making of an international terrorist in today's world," Badar Alam, the editor of Pakistan's Herald magazine, said, according to AFP.
While the investigation is ongoing into the lives of Malik and her husband, Syed Rizwan Farook, authorities are trying to find more suspects in the shooting. Meanwhile, U.S. President Barack Obama said the U.S. will "destroy" the Islamic State group. Reports Sunday also said that Malik and her husband had planned more attacks.
© Copyright IBTimes 2023. All rights reserved.
FOLLOW MORE IBT NEWS ON THE BELOW CHANNELS