Sarah Palin Headed for Divorce?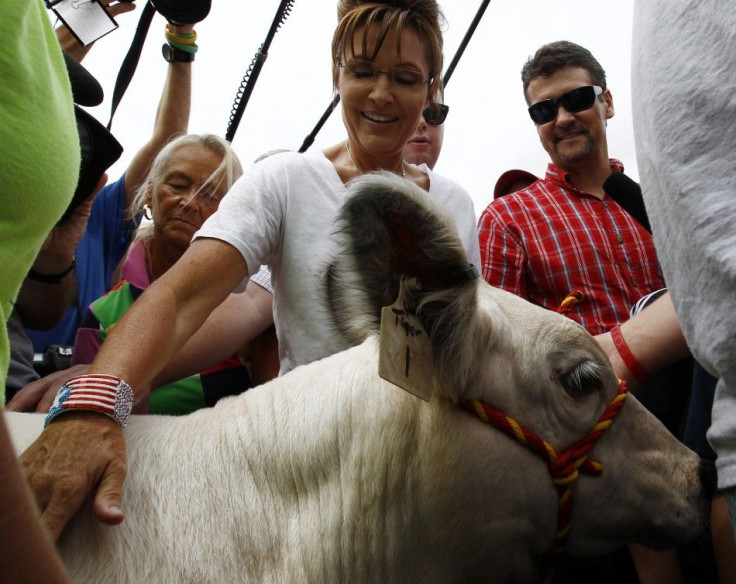 If current rumors hold true, former Alaska Gov. Sarah Palin is set to be a single woman without a shot at the presidency.
The National Enquirer claims that friends close to the politician and her husband, Todd, say he is fed up with the ever-flowing scandals that have plagued their marriage since she ran for vice president in 2008. According to the alleged sources, Todd is ready to file for a divorce, the Daily Mail reported.
It was also alleged that Palin's advisers have warned that making a bid for the White House could be political suicide.
The latest scandal for the Palins has been thanks to a new biography by Joe McGinniss in which he claims that Sarah Palin had a night of passion with former NBA player Glen Rice in 1987, right before her marriage to Todd. The book won't be available on store shelves until Sept. 20, but the Enquirer claims Rice confirmed the relationship to McGinniss.
The book also alleges that she snorted cocaine and had an affair with her husband's business partner.
Sarah Palin has been destroyed by Joe McGinniss' no-holds-barred biography. It exposed all her lies, cover-ups and secrets, a source close to the former governor told the Enquirer. As a result, she has been told by her advisers that it would be political suicide to announce a White House candidacy. The press and her opponents would have a field day digging into the dirty details of her background.
All of these revelations, the National Enquirer source alleges, has culminated in the derailing of her marriage and career aspirations, particularly her relationship, after her brother Chuck Heath Jr. was quoted saying his sister and Todd's marriage was over.
Todd felt as if he was stabbed in the back by his own brother-in-law after 23 years of being married to the guy's sister, and having five kids together.
The source told the Enquirer that Todd feels like he has been made a laughing stock; the Rice tryst became a joke on late night TV and was all over the Internet when it was divulged last week. He is also said to be fuming over the biography's confirmation that his wife had an affair with his business partner, Brad Hanson.
Both parties denied the affair, but Palin's former brother-in-law, Mike Wooten, allegedly confirmed it, saying: Todd and Sarah were headed for divorce, but Sarah got pregnant soon after, so they decided to stay together.
While Palin hasn't publicly commented on the new allegations, her husband released a statement decrying the book through her Sarah PAC Facebook page.
This is a man who has been relentlessly stalking my family to the point of moving in right next door to us to harass us and spy on us to satisfy his creepy obsession with my wife, Todd Palin said in the statement. His book is full of disgusting lies, innuendo, and smears, Todd Palin stated. Even The New York Times called this book 'dated, petty,' and that it 'chases caustic, unsubstantiated gossip.'
© Copyright IBTimes 2023. All rights reserved.