Serial Killer Anthony Sowell Trial: Does He Deserve Sympathy?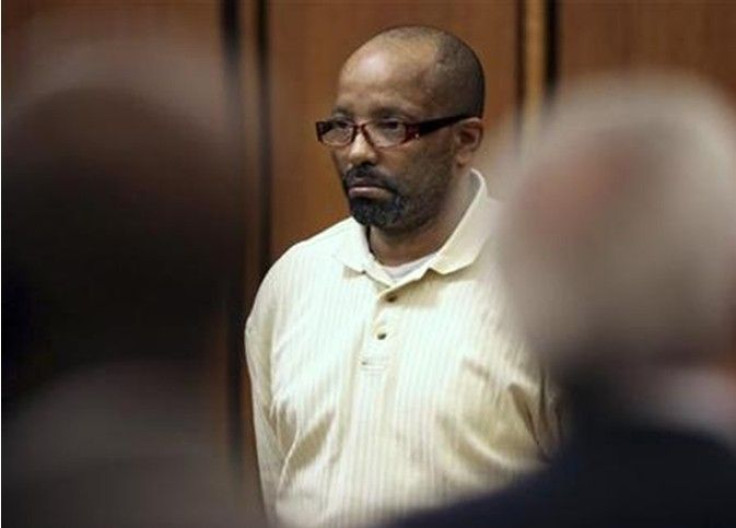 Convicted Ohio serial killer Anthony Sowell, 51, is responsible for the deaths of 11 women and dumping their remains in and around his property. The decomposing bodies of the victims were discovered by police after they came to his house to arrest him for rape and assault.
During the first phase of the trial the jury convicted him of murder. Guilty of being a "violent sexual predator," the serial killer will either be sentenced to life in prison without parole or a death penalty by the same jury.
Defense attorneys called witnesses during the sentencing phase of Sowell's capital trial, which will last four to seven days.
On Tuesday his witnesses testified that he grew up with extremely horrific physical abuse and was already a rapist by the age of 12.
Defense attorney John Parker defended Sowell in his opening statement, describing him as a hard worker who wanted to be a positive part of society but he had a horrible childhood.
"My client was a good Marine. This will not be an easy decision for you," Reuters cited Parker as saying to the jurors.
Leona Davis, 50, testified that Sowell experienced endless physical abuse by his mother and grandmother as a child. Davis, who is Sowell's niece, had previously lived with him, his mother, and grandmother.
Reuters reports that:
"Sowell's mother, Claudia Garrison, would strip the children naked, tie them to poles or banisters and whip them, sometimes with electrical cords. The beatings would occur almost daily and caused Davis to run away multiple times.
Once, after being returned to her aunt's house by the police, she said she was beaten until she bled. "She (Garrison) took a high-heel shoe and hit me on the head," Davis testified under questioning by Sowell's attorney John Parker.
Davis also testified that when she was 10 years old and Sowell was 12, he would fight her until she gave up and then rape her. Davis also said that other male children in the house raped her almost daily.
Davis told jurors her abuse was so bad that she started fires in order to be sent to a juvenile facility. "There I was locked up and nobody would hurt me," she explained."
Jesse Darnell Hatcher, 48, testified that when he was young he was also severely assaulted by Sowell's mother and grandmother. Hatcher, Sowell's nephew, said that he did not know why he deserved such abuse and that there was no reason for it. He doesn't wear shorts due to scarring.
Witnesses and relatives shared his indisputably horrible childhood, marked by abuse and an absent father.
Before Sowell began living in Cleveland in 2005, he previously served 15 years in prison for raping a pregnant woman. The 51 year old Ohio killer murdered 11 women.
What do you think? Does he deserve sympathy?
© Copyright IBTimes 2023. All rights reserved.