Sheldon Adelson's Wife: Meet Miriam Adelson, The Billionaire Widow And Republican Megadonor
Billionaire businessman Sheldon Adelson, who died Tuesday due to complications from non-Hodgkin's lymphoma, drew ample media attention in recent years for his deep-pocket support for Republicans and Israel.
Adelson's wife, who has mostly remained out of public view, is expected to manage her husband's $35 billion fortune.
She already had a big hand in controlling it, according to some.
Miriam Adelson has seldom made headlines on her own, though she saw the spotlight in 2018 when President Trump awarded her the Presidential Medal of Freedom. The decision to give her the highest civilian honor immediately drew controversy because of its transactional nature.
The Adelsons' gift to "freedom," critics argued, was having contributed millions to Trump and conservative causes. In the 2020 elections, the Adelsons contributed $218 million to Republican candidates and conservative causes after giving $123 million in the 2018 cycle, according to the Center for Responsive Politics.
Miriam Adelson, 75, has provided far more than social window dressing during the power couple's reign, according to many who have known them over the years. Sheldon Adelson's second wife has been seen as the chief influencer on the couple's philanthropy, particularly as it related to Israel.
Miriam Adelson was born in Tel Aviv to parents who fled Poland during World War II. Her father was a businessman active in politics. After receiving her medical degree, she worked as a chief hospital internist, married her first husband and had two children.
After their divorce, she attended a medical exchange program in the United States, where she met Sheldon on a blind date. He was 12 years older. They married in 1991. By 2000, the couple had founded the Dr. Miriam and Sheldon G. Adelson Research Clinic in Las Vegas. Although a naturalized U.S. citizen, Miriam Adelson maintained strong emotional and political ties to Israel.
She would play an important role in building her husband's strong commitment to the nation, especially for strong U.S. relations. Reportedly at her urging, Sheldon Adelson pushed Trump to controversially move the U.S. embassy from Tel Aviv to Jerusalem.
Although Miriam Adelson played a crucial role, she has often been cut from the picture, sometimes quite literally. At least one published photo related to the couple's political donations cropped her out entirely, with mainly her spiky blonde hair still visible.
According to Nevada Supreme Court Justice Michael Cherry, a board member for a Las Vegas-based methadone clinic founded by the Adelsons, Miriam has played an underreported and oversized role in the couple's philanthropy.
"Everybody says it's Sheldon, but it's Miriam," Cherry told The Guardian in 2019.
The couple's political donations were given in 50-50 increments with half always coming from Miriam.
Even lesser-known was that she was technically wealthier than her husband, even though only he was the one who appeared on Forbes 2018 billionaire ranking.
"I was a good boy, like when my wife tells me to shut up, I shut up," he once joked in a court hearing, according to the Las Vegas Sun.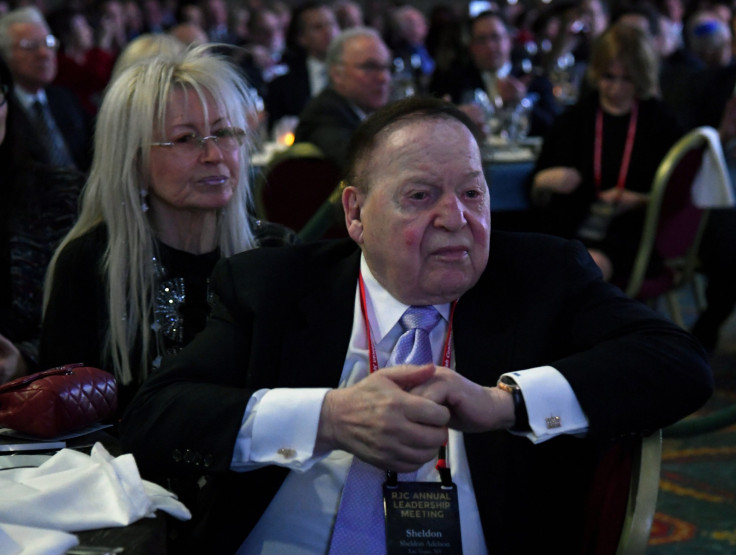 © Copyright IBTimes 2023. All rights reserved.
FOLLOW MORE IBT NEWS ON THE BELOW CHANNELS