'The Sisterhood' Reviews: Nuns React To Lifetime Reality Show's Debut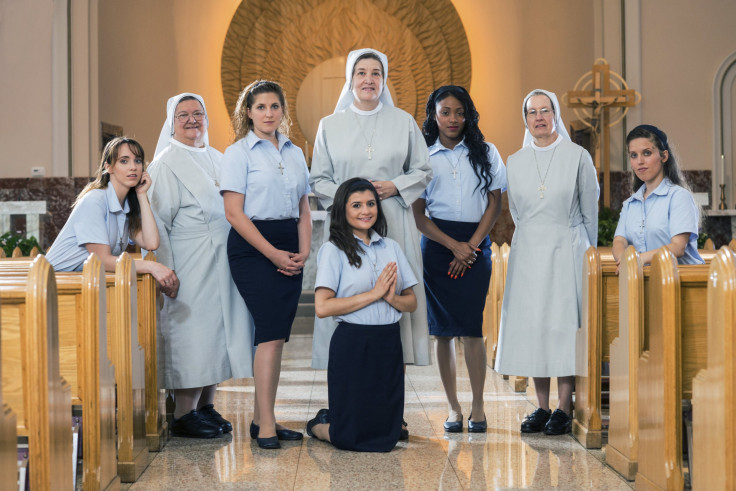 Women from Catholic religious orders watched Lifetime's new reality TV series "The Sisterhood: Becoming Nuns" intently Tuesday night. Some held premiere parties while others blogged and tweeted their reactions to the new show that follows five young women contemplating whether the monastic life is right for them.
For the most part, the show's first episode was met with positive reviews, although some nuns were hesitant about how the show will unfold.
"This is NOT the usual process of deciding to become a sister," Sister Cynthia, who does not reveal her last name, from the Sisters of Mercy wrote in a blog post following the show's premiere. "In real reality it's a long, prayerful process and very much based on the individual woman."
In the show's description by Lifetime, the series is supposed to show young women in the discernment phase of becoming a nun. This process can take up to two years where women pray daily, meet with vocation directors, participate in volunteer service and visit convents. In some cases, postulants go on "nun runs" where they visit several convents to see which religious community is right for them.
Since daily prayer and personal reflection probably wouldn't make for good television, the show takes a different approach to revealing what monastic life is like. Over the six weeks, the five women from the Lifetime series will visit three religious communities: the Carmelites for the Aged and Infirm in Germantown, New York, the Daughters of St. Mary of Providence in Chicago and the Sisters of St. Joseph the Worker in Walton, Kentucky.
"It is more of a 'come and see' program, or an extra-long 'nun run,'" Sister Monica Martin from the Franciscan Sisters of Christian Charity wrote in her blog post.
Sister Marie Paul Curley, a member of the Daughters of St. Paul, agrees. In her blog post she explains that in a typical discernment young women email or speak on the phone with a vocation director before visiting a convent. "And a first visit is typically much, much shorter: an afternoon or a weekend, not a six-week live-in," Curley added.
While Martin was "pleasantly surprised" that the show decided not to focus on the private "initial formation program," she also had concerns about why the young women are considering the convent life. For instance, in this episode cast member Eseni, 23, revealed that she has problems trusting men after her father cheated on her mother and had a child with another woman. Her reasons for contemplating the convent life stem from the idea that sisters "don't have drama. Their life is so complete …. I would love to be at peace," she said.
While this line of reasoning is common among postulants, in reality sisters are not supposed to be running away from anything. "I have met young women who are looking at religious life for that reason, and it is always so sad, because what they really want is to be happy," Martin said. "They will find happiness if they keep working on it and perhaps find a good therapist to talk with, but it won't magically appear within the walls of a convent."
Sister Cynthia echoed this statement. "There's no drama in the convent? Oh, please! We're all human, we struggle, we work it out, and like everyone else we live life large," she said.
The nuns that appear on the show concurred. One said in jest, "It's a miracle there hasn't been any murders."
"I laughed because I've heard that before!" Martin said. "Any time there is a lot of people with varied upbringings, personalities and generations living closely together, there will be rumors, there will be occasional hurt feelings, and the different ways of dealing with conflict are as varied as the sisters themselves."
In another scene, cast member Francesca, 21, was seen struggling with the idea that makeup is not allowed in the convent. Sister Mary Mark explains that this is meant to help the young women concentrate on their inner selves not their outward appearance.
"Honestly, this is a real issue, and I am glad that the editors of the show did not make light of it," Martin said.
For now, the real-life sisters will have to wait to see whether the show will accurately reflect their daily lives – and they hope viewers unfamiliar with their lifestyle will be able to see that despite the show's premise, it still is reality TV.
For Jo Piazza, author of "If Nuns Ruled the World: Ten Sisters on a Mission," the show has the potential to misrepresent the church entirely. "Catholic nuns deserve to be treated like celebrities," she wrote. But the show "only serves to turn nuns into the Kardashians of the Catholic Church."
© Copyright IBTimes 2023. All rights reserved.