Some Fans Weren't Happy With ‪NewJeans' Live Encore Stage At SBS 'Inkigayo' [Video]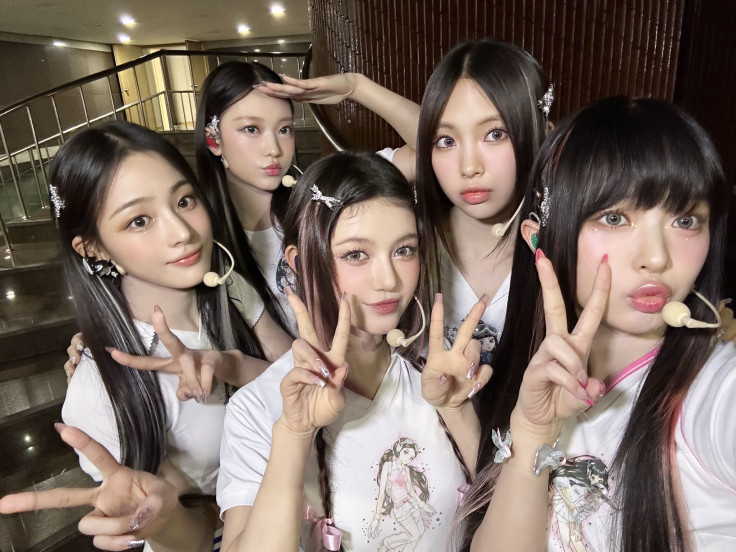 KEY POINTS
NewJeans won on "Inkigayo' with "Super Shy" on Sunday
The girl group performed "ETA," "Cool With You" and "Super Shy" live
The group's live encore stage received mixed reactions from fans and netizens
NewJeans performed "Super Shy" live at the encore stage of SBS' "Inkigayo."
In Sunday's episode of SBS' music program broadcast "Inkigayo," different K-pop groups and idols came together for a fun show and celebration of new K-pop music.
NewJeans, who recently released its second mini album "Get Up," won its third music show trophy for "Super Shy," surpassing BTS' Jungkook's "Seven" and Parc Jae-jung's "Let's Say Goodbye" for first place with 6,994 total points.
The "Super Shy" encore stage video was uploaded by a NewJeans fan account on Twitter and was picked up and reposted on the South Korean online forum theqoo.
Fans and netizens commented on the video, sharing mixed reactions regarding the "Inkigayo" encore performance of the girl group.
"Honestly, they can't sing," commented one netizen, while another stated, "Oh, is this normal? [Laughing out loud]."
"Do you edit a lot of recordings? Where's the live? [I]t's like high school girls singing," commented a third user, while a fourth user said, "How are these guys doing their concerts?"
"Hanni was known to be the best singer, but it seems like I misunderstood. [S]he's the one who did the worst here. Hyein is good, and the other members did fine too," another user opined.
"Honestly, I don't think they did well, but I also don't think they sucked. I don't understand the comments saying they suck at [performing] live," commented a sixth user.
Other fans also came to the group's defense and shared positive comments regarding NewJean's live performance.
"Huh? I found it okay?" stated one fan amid the negative comments. Another fan said, "Honestly, they were doing this while dancing, and they weren't shaky. [T]hey were dancing, and they weren't out of breath either. Actually, it's better that they sing like that, it felt more like a real live [performance]."
Many fans also praised Hyein for her performance. "Hyein is a god baby," commented one fan; another said, "Hyein sounds the same on the album."
In other news, "Get Up"'s pre-release single "Super Shy" earned a perfect all-kill in South Korea by topping Melon's daily and top 100 charts, YouTube Music's top songs chart, VIBE's daily chart, Genie and Bugs' daily and real-time charts, and FLO and iChart's real-time charts on July 16.
"Get Up" also surpassed 1.72 million pre-orders Thursday, according to Soompi. NewJeans' feat for its second mini album doubled the group's previous record of 800,000 pre-orders for its "OMG" album.
NewJeans, composed of members Minji, Hanni, Danielle, Haerin and Hyein, debuted in July 2022 with the song "Attention."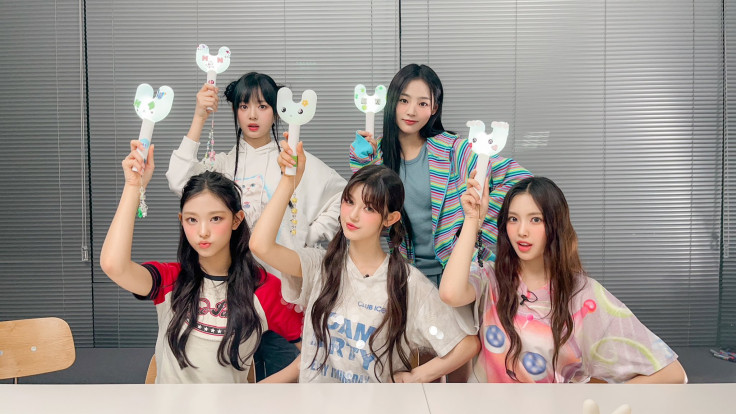 © Copyright IBTimes 2023. All rights reserved.