South Carolina Live Updates 2016: Democratic Primary Results, Polls And Everything Else You Need To Know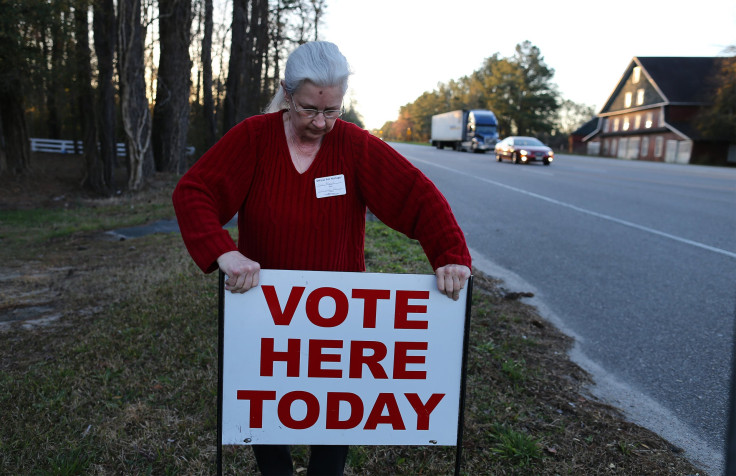 UPDATE: 8:13 p.m. EST — Hillary Clinton is using her victory in South Carolina to raise money.
"We just won the South Carolina primary!! I am so grateful to you. Some may have doubted us, but we never doubted each other. After today's victory, I know we're ready to fight even harder these final three days before SuperTuesday. With more than a dozen contests and more than 800 delegates at stake, this will be our toughest test yet. If you're with me, chip in $1 right now, and let's go win this nomination. This is your campaign," her campaign wrote in an email to supporters. "And I know you're getting involved to do more than just help yourself or your family. More than 800,000 of you are giving your time and chipping in what you can because you believe that every child in this country should have a great education and every family should feel at home in our country -- no matter their race or religion. Meanwhile, any of the Republican candidates -- especially their frontrunner -- would write discrimination into our laws, roll back women's rights, and return us to the tax cuts for the rich that left the middle class in the cold and brought our country to the brink of another Great Depression. I'm not going to let them drag us backward -- and I know you won't, either. We're going to break down every barrier that holds you back, and we're going to build ladders of opportunity in their place, so every American can go as far as your hard work can take you."
UPDATE: 7:54 p.m. EST — Hillary Clinton took on Donald Trump during her victory speech Saturday night in South Carolina. "America has never stopped being great, but we do need to make America whole again. Instead of building walls, we need to be tearing down barriers," she said. Trump's campaign slogan is "Make America Great Again" and he has promised to build a wall along the U.S.-Mexico border.
UPDATE: 7:48 p.m. EST — Hillary Clinton thanked supporters in South Carolina for delivering her a big victory Saturday night. "We are going to compete for every vote in every state. We are not taking anything and we are not taking anyone for granted," she said in a victory speech met with cheers and applause.
UPDATE: 7:35 p.m. EST — Some pundits are calling South Carolina the end of the road for Bernie Sanders if he can't win over black or Latino voters. "To me, there is no state more important than South Carolina," Cornell Belcher, a pollster for President Barack Obama when he won the state in 2008, told the Los Angeles Times. "If, in South Carolina, Bernie Sanders shows an inability to compete for African American voters, he cannot be the nominee."
Bernie Sanders Presidential Candidate Profile | InsideGov
UPDATE: 7:30 p.m. EST — The Bernie Sanders campaign released a statement conceding the primary to Hillary Clinton Saturday night shortly after polls closed.
"I congratulate Secretary Clinton on her victory in South Carolina," Sanders said in the statement. "I am very proud of the campaign we ran. I am grateful for the grassroots supporters who took on the political establishment and stood up for working families. I appreciate the many friendships that Jane and I have forged with people across South Carolina, where I was all but unknown when this campaign began 10 months ago."
Sanders also thanked supporters and looked ahead to Super Tuesday. "Let me be clear on one thing tonight. This campaign is just beginning. We won a decisive victory in New Hampshire. She won a decisive victory in South Carolina. Now it's on to Super Tuesday," he said. "In just three days, Democrats in 11 states will pick 10 times more pledged delegates on one day than were selected in the four early states so far in this campaign. Our grassroots political revolution is growing state by state, and we won't stop now."
He added, "When we come together, and don't let people like Donald Trump try to divide us, we can create an economy that works for all of us and not just the top 1 percent."
UPDATE: 7:10 p.m. EST — Most major news networks called the race for Hillary Clinton immediately after polls closed at 7 p.m. EST.
UPDATE: 6:55 p.m. EST — Bernie Sanders could see a big loss in South Carolina Saturday night after a last-minute effort to win the state. The Sanders campaign spent nearly $2 million on TV/radio advertising, positioned nearly 200 staffers across the state and opened 11 South Carolina offices. But at a rally Friday night, a gymnasium hosting his event was more than half empty -- a sign he hadn't changed many minds, CNN reported.
Meanwhile, Hillary Clinton was getting ready for the results to start coming in with some female friends from her days as first lady. They were waiting in a hotel as polls prepared to close at 7 p.m.
Hillary Clinton Presidential Candidate Profile | InsideGov
UPDATE: 6:37 p.m. EST — Voters in South Carolina believe in Hillary Clinton. Exit polls show more South Carolina voters think Clinton is honest than those who feel the same about Bernie Sanders. Polls across the nation have shown that many voters find Clinton dishonest.
UPDATE: 5:55 p.m. EST — Voting trends across South Carolina were erratic Saturday. Charleston County Board of Elections Director Joe Debney said turnout had been stronger than expected in the state's third most populated county. "In terms of turnout, it's been really good. I was worried that it wouldn't be, but it has been really good," he told The State local newspaper, comparing it to turnout in the 2008 presidential contest.
But in Richland County, Elections Commission Director Sam Selph didn't expect much. "It's just terribly low based on everything that I've seen and I've heard," said Selph of the state's second most populated county.
UPDATE: 5:36 p.m. EST — The South Carolina primary is looking like a referendum on President Barack Obama, and that could be good news for Hillary Clinton, who has campaigned on embracing his policies. Exit polls suggested about seven in 10 Democratic voters support Obama's policies, a higher percentage than voters in Iowa, New Hampshire and Nevada who voiced similar stances. Among black voters, 87 percent said they want to continue the president's policies, CBS News reported Saturday.
UPDATE: 5:22 p.m. EST — Lots of pundits are talking about the black vote in South Carolina, but for Democrats, the black vote is the election. Here's some stats that show just how crucial African American votes are in South Carolina: More than 50 percent of the Democratic presidential primary vote across the state is made of blacks. Whites make up about 30 percent of the total Democratic vote in a general election and 40-45 percent in a contested presidential primary, according to Donald Fowler, the former chair of the Democratic National Committee and former chair of the South Carolina Democratic Party.
"In recent days, the Clinton campaign in its advertising and organizational operations has turned distinctly toward African Americans, committing little attention to the white community except for fundraising. She has widespread support among African-Americans. She also has the vast majority of the white Democratic establishment. Her lead is seemingly insurmountable, although many of her supporters lack enthusiasm and seem to be for her because there is no viable alternative," he wrote last week.
UPDATE: 5:01 p.m. EST — Ahead of her expected victory celebration in South Carolina Saturday night, Hillary Clinton took a side trip to Alabama, where she urged voters to come out for the Super Tuesday election. Addressing a crowd of 2,300 at Miles College, a historically black college, Clinton vowed to help African Americans and the poor, including raising the minimum wage, criminal justice reform and protecting voting rights.
Clinton, the former secretary of state, said she would overhaul the tax code to support businesses that bring manufacturing jobs to America. On health care, Clinton highlighted her work as first lady. "Before there was Obamacare, there was Hillarycare. I worked very hard to get us on the path to universal healthcare coverage," she said.
She decried Republicans for working to overturn Obamacare. "They never tell you what they're going to put in its place, do they?" she said, according to local media reports. "But I'm going to defend [Obamacare] and I'm going to make it better. There's been a concerted effort to try and demean and criticize in every way possible the Affordable Care Act."
UPDATE: 4:40 p.m. EST — A Bernie Sanders supporter got in some trouble Saturday for campaigning too close to a polling place. The woman waved a sign that said: "#DoTheRightThing Spike Lee endorses Bernie."
Under South Carolina law, it is unlawful to campaign within 200 feet of a polling place entrance on an election day. The Sanders supporter told poll workers she had measured the distance before propping the signs against her car. Poll workers asked police to resolve the dispute.
UPDATE: 4:25 p.m. EST — Bernie Sanders will be on a plane without internet access when polls close in South Carolina after 7 p.m. "It wasn't clear Saturday how or when Sanders might acknowledge the South Carolina results," the Washington Post noted.
Important Issues for South Carolina Voters | InsideGov
UPDATE: 4:06 p.m. EST — As South Carolina voters head to the polls Saturday, a relatively unknown candidate will be on the ballot along with Hillary Clinton and Bernie Sanders. So just who is Democratic presidential hopeful Willie Wilson?
"I could have been the Donald Trump of the Democratic party — not beholden to any special interests," Wilson told the Guardian, noting he was not invited to participate in candidate debates. "My only special interest would be for the people."
Wilson, 67, was working as a janitor at a McDonald's when he had a chance meeting with Ray Kroc, who bought the business from its founders. Wilson ended up managing several franchises before founding his own business selling medical supplies. The millionaire ran for mayor of Chicago in 2015 and now wants to be president.
At a town hall event in St Helena Island, South Carolina, Wilson compared himself to God Thursday. "Someone said to me: 'But we've never heard of you.' And I said: 'They had never heard of Jesus either,'" he told the crowd.
He went on: "I'm not bought; I'm using my own money. I am not and will not accept money from any major corporation."
Wilson was able to get on the ballot in 11 states.
UPDATE: 3:55 p.m. EST — Some South Carolina voters say they are backing Hillary Clinton over Bernie Sanders because she spent more time in the state. Clinton has heavily courted South Carolina, the first Southern state to vote, while Sanders, who has struggled to win over the state's large black population, has focused on other states.
"Both of them are good candidates, but I'm leaning Hillary," Marion Roberts, a 65-year-old retiree told Reuters. "Sanders talks good, but I know more about her."
Betty Odom-Bell, a 47-year-old entrepreneur, said she appreciated that Clinton visited her rural town of Denmark this month. "With her, there's a connection. I don't have that with Bernie," she said, describing her surprise at Clinton's stop in the town of 3,500.
UPDATE: 3:36 p.m. EST — Warren Buffett has an answer to Donald Trump's "Make America Great Again" campaign slogan: It's already pretty darn great. Buffett on Saturday slammed the "negative drumbeat" of the presidential campaign in his annual letter to shareholders.
"The babies being born in America today are the luckiest crop in history," the billionaire investor and Hillary Clinton supporter wrote. "For 240 years it's been a terrible mistake to bet against America, and now is no time to start," wrote Buffett, noting the growing earnings of his holding company, Berkshire Hathaway. "America's golden goose of commerce and innovation will continue to lay more and larger eggs."
UPDATE: 3:20 p.m. EST — Hillary Clinton visited a cafe and bar in Charleston, South Carolina, Friday and found herself surrounded by men. Clinton, who accidentally crashed a bachelor party, joked that she loves "having men at my feet," according to the Washington Post.
On a less frivolous note, the New York Daily News called New Jersey Gov. Chris Christie a "MAN WITH A KLAN" on its front page Saturday next to an image of the governor and hooded Ku Klux Klan members. After Christie endorsed Donald Trump Friday, the newspaper wrote: "Just days after ex-KKK leader urges haters to vote for Donald, Christie endorses him."
Hillary Clinton Campaign Contributions by State | InsideGov
UPDATE: 3:01 p.m. EST — The South Carolina Democratic primary Saturday could be a big show of support for Hillary Clinton as she works to fend off Bernie Sanders, but voters in other states are also weighing in. Sanders' home state of Vermont has seen an increase in absentee ballot requests ahead of the Super Tuesday elections.
"We've had about 22,200 absentee requests. About 15,700 of those are on the Democratic side and 6,500 on the Republican side," Will Senning, director of elections and campaign finance in the Vermont secretary of state's office, told Politico. In 2012, there were only 14,000 absentee ballot requests. Sanders is expected to easily win Tuesday against Clinton in Vermont.
UPDATE: 2:48 p.m. EST — Hillary Clinton is the favorite to win South Carolina Saturday, but not everyone is excited about her historic campaign. Former President Bill Clinton was discussing his wife's qualifications for president Friday in Bluffton, South Carolina, when a man who identified himself only as a Marine stood up to fire up the crowd about the deadly 2012 attack on the U.S. diplomatic mission in Benghazi, Libya. "We had four lives in Benghazi that were killed, and your wife tried to cover it up," the man said. The crowd responded with boos.
Meanwhile, Bernie Sanders was working for votes in Texas Saturday ahead of the Super Tuesday elections. During his early-afternoon rally at a Formula One racetrack, he didn't mention the primary in South Carolina, Politico reported. "We were more than 30 points down in Iowa and it was a virtual tie. We were 30 points down in New Hampshire and we won. We were 25 points down in Nevada and we came within five points," Sanders said to a crowd of over 10,000. "And now we move on to Super Tuesday."
South Carolina Profile | FindTheHome
UPDATE: 2:35 p.m. EST — As Democrats voted in South Carolina, former Arizona Gov. Jan Brewer on Saturday endorsed Donald Trump for president, the latest high-profile show of support for the GOP front-runner. "For years I pleaded with the federal government to do their job and secure our border. Today we can elect a president who will do just that — Donald J. Trump," Brewer said in a statement released by Trump's campaign.
Brewer, 71, was governor of Arizona from 2009 until 2015. New Jersey Gov. Chris Christie endorsed Trump Friday after he dropped out of the 2016 race. Trump also has been endorsed by former Alaska Gov. Sarah Palin, a popular Republican personality.
Across the Atlantic, French leader Jean-Marie Le Pen said if he were an American, he'd back Trump. The French politician, who led the far-right National Front party for decades, tweeted Saturday in support of Trump.
UPDATE: 2:10 p.m. EST — Some South Carolina voters are confused by precinct changes, the State newspaper reported. Readers called the newspaper Saturday to note their precinct had been changed and that they didn't know where they should vote. Richland County has added 24 new precincts and consolidated others in recent years, Elections Commission Director Sam Selph said. It's the state's second most populous county.
UPDATE: 12:30 p.m. EST — Voters are considering race, gender, electability and other issues as they head to the polls Saturday. Substitute teacher Regina Duggins of Charleston said she voted for Hillary Clinton partly because it could help elect the first female president. "I like Bernie Sanders, and he also has been doing things to help the black community as well. But I just think we need someone who is more familiar with the government and how the whole system works," Duggins, who is black, told the Associated Press.
Special education teacher Robert Bennett Terry of Mount Pleasant voted for Bernie Sanders, even though he said he didn't think the Vermont senator could beat Donald Trump. "However, Bernie Sanders is certainly someone who will bring change to all the people who need change in this great nation of ours," said Terry, who is white.
UPDATE: 12:01 p.m. EST — Beyond South Carolina, becoming the Democratic nominee is about more than just winning primaries. Of the 2,383 delegates needed to win the nomination, Hillary Clinton already has more than 500, including roughly 450 superdelegates. Bernie Sanders has 71 delegates, including 20 superdelegates, according to the Associated Press.
Clinton has spent more time than Sanders in South Carolina, but he isn't walking away from the fight. On the eve of the primary, Sanders held a Get Out the Vote rally in Columbia. "South Carolina, are you ready for a political revolution?" he said. "Then you have come to the right place, because that's what we are about."
UPDATE: 11:44 a.m. EST — It's a busy day for Hillary Clinton, who has left South Carolina for a rally in Birmingham, Alabama, but is expected to return to Columbia later in the day as polls across the state close. Clinton is looking ahead to Tuesday, when six of 11 Democratic contests held that day will unfold in Southern states with large populations of black voters.
UPDATE: 11:12 a.m. EST — Polls suggest Hillary Clinton will trounce Bernie Sanders in South Carolina Saturday. A Fox News poll showed Clinton leading Sanders 56-28 percent. According to one analysis, Clinton has a greater than 99 percent chance of winning the South Carolina primary, based on 34 polls. Clinton made roughly 14 campaign stops in the state this week.
UPDATE: 11:02 a.m. EST — Here's how the South Carolina Democratic primary works: The state has 53 Democratic delegates at stake and six unpledged superdelegates who can back whomever they want. The state operates as an open primary system. That means voters can participate in the primary even if they're not registered Democrats. The GOP held its primary in South Carolina last week. People who voted in the GOP primary cannot vote in the Democratic contest. At least 350,000 voters were expected to cast ballots.
Original story: Former Secretary of State Hillary Clinton is looking for a decisive victory against Vermont Sen. Bernie Sanders Saturday as voters in South Carolina head to the polls for the nation's first Democratic presidential primary in the South. Black voters could play a crucial role.
Clinton has sought to won over African-Americans for months, embracing issues such as criminal justice reform and gun control, and heralding President Barack Obama's policies. Polls suggest it is a winning strategy. Clinton is ahead of Sanders by at least 20 points in South Carolina and could win by a wide margin.
"I'm really proud to stand with President Obama, and I'm really proud to stand with the progress he's made," she said this week in Kingstree, South Carolina. "I need your help, starting with this primary on Saturday." Clinton suffered a brutal 30-point loss to Obama in 2008 in South Carolina.
Polls opened at 7 a.m. and will close at 7 p.m. The ballot lists four choices: Clinton, Sanders, Martin O'Malley, the former governor of Maryland, who has dropped out of the race, and Dr. Willie Wilson, a Chicago businessman.
Despite a high number of endorsements from black leaders, including director Spike Lee, Sanders has struggled at times to persuade black voters that he understands minority communities. In the Nevada Democratic caucuses last week, he won 22 percent of the black vote, according to entrance polls. Other Southern states with large black populations, including Georgia and Alabama, vote Tuesday.
Voter Paula Catterall said she supports Sanders but sees Clinton as a more practical choice. "I believe out of all the candidates, [Clinton] can work with the other side," she told local reporters. "Bernie's idealism is exciting, but Hillary is more realistic."
Steve Farnsworth said Sanders' democratic socialist platform could cost Democrats the general election in November. "I don't believe Bernie is electable," he said.
South Carolina requires voters to show a government ID. "If you do not have a photo ID and do not have a reasonable impediment to obtaining one, or you simply forgot to bring it with you to the polls, you may still vote a paper provisional ballot," according to the Greenville County website. "However, for your vote to be counted, you must provide one of the photo IDs to the Greenville County Registration & Elections Commission prior to certification of the election [usually Thursday or Friday after the election]."
Check here for live updates and results throughout the day.
© Copyright IBTimes 2023. All rights reserved.