'Spider-Man' 2017 Rumored To Include Robert Downey Jr. As Iron Man And A Battle Between The Two Heroes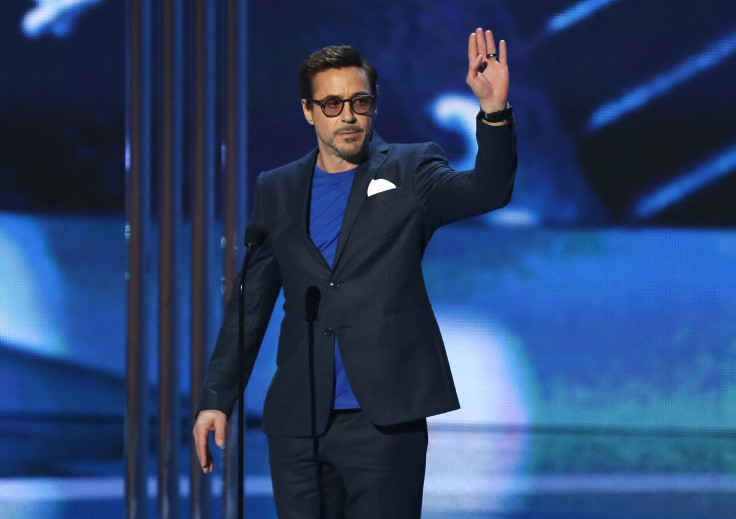 It's been a little less than a month since Sony and Marvel Studios reached a deal that will bring Peter Parker and Spider-Man into the Marvel Cinematic Universe (MCU). Since that time, many have been wondering how the wall crawler will fit into the already storied character universe. Now, thanks to a recent report, it looks like Robert Downey Jr. may lend his star power to yet another Phase 3 film.
It's been revealed that Iron Man (RDJ) will appear in "Captain America: Civil War" alongside Chris Evans. After Marvel and Sony struck their deal, a standalone "Spider-Man" movie was shoehorned into its schedule for 2017. Half the appeal of working Spider-Man into the MCU will be seeing him fight along side, or go head-to-head with, some pre-established characters. Many believed that the studio would roll out some lower-tier super heroes like Hawkeye to bridge the gap between "Spider-Man" and "The Avengers." However, a new report from the Latino Review has many now thinking that Iron Man will throw his helmet into the ring again in 2017.
According to the report, a major part of the first standalone "Spider-Man" film, possibly titled "Spectacular Spider-Man," will [POTENTIAL SPOILERS] have the web slinger battle Iron Man. Following the all-star throw down, Parker will have to pass a sort of "audition" to join the team as an Avenger (in whatever form that looks like post-Civil War).
In order for this to work, Robert Downey Jr. would have to reach another deal with the studio to extend his contract for yet another Marvel movie. This isn't totally out of the question as Variety reports it was his idea to expand Stark's role in "Civil War" to begin with. While many were hoping to see one of the MCU's most popular characters in a fourth standalone film, it's possible that the aging actor will simply be a regular presence in the other movies that the studio has planned through 2019.
In addition, a fight between Iron Man and Spider-Man would make sense. In the comic books, Spider-Man plays a big role in "The Civil War" plotline. As MoviePilot notes, the government decides to force all super heroes to register their secret identities. Spider-Man becomes a spokesperson for Tony Stark's pro-registration faction by revealing himself as Peter Parker. However, when Stark's tactics to round up all the anti-registration heroes, led by Captain America, gets too brutal, Spider-Man switches sides after a small tussle with Iron Man. If the movie version of the "Civil War" follows this plot at all, it would be very easy to see the two characters wanting to throw hands if they met again in the 2017 standalone "Spider-Man" movie.
As of right now, the Latino Post isn't able to cite any official sources for its information, so the idea of Tony Stark joining the cast of "Spider-Man" has to be taken with a grain of salt. Still, the news comes just a few days after RDJ posted a character photo of Iron Man from "Avengers: Age of Ultron" and teased a big announcement coming March 5. While ABC will debut a new trailer for the "Avengers" sequel that day, many believe that the "announcement" in question will be either the casting of a new "Spider-Man" or, now, the announcement of RDJ in the 2017 film.
© Copyright IBTimes 2022. All rights reserved.
FOLLOW MORE IBT NEWS ON THE BELOW CHANNELS