Stephen Colbert Responds To 'Racist' Tweet That Spawned #CancelColbert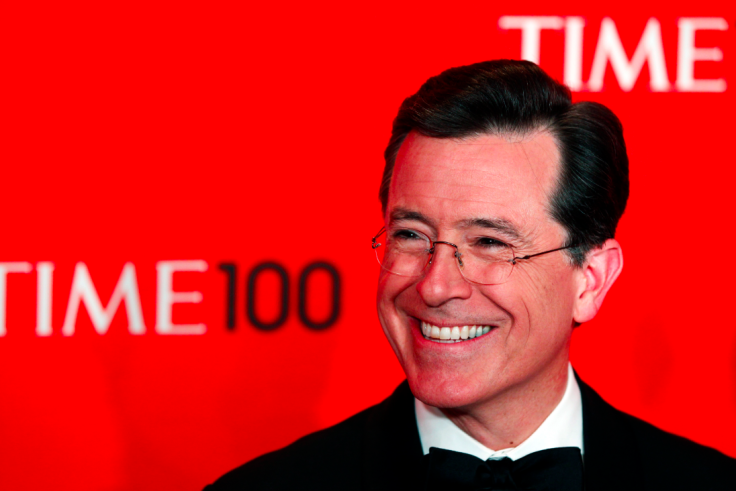 Stephen Colbert responded, nearly two hours after an apparent racist tweet that upset hundreds of people on Thursday night, from his @StephenAtHome Twitter handle.
The message that was sent from Comedy Central's Twitter account was meant as a joke, but most people weren't laughing. In the past, Colbert has said that the host on the Comedy Central show is just a persona, but even if it was the Stephen Colbert character who made the joke, many people were still offended.
The late-night show host upset many by his remark about Asians and the hashtag #CancelColbert soon began to trend. The original post from the @ColbertReport handle read: "I am willing to show #Asian Community I care by introducing the Ching-Chong Ding-Dong Foundation for sensitivity to Orientals or Whatever."
Later, the host took to his @StephenAtHome handle and jumped in on the #CancelColbert trend.
He responded: "#CancelColbert - I agree! Just saw @ColbertReport tweet. I share your rage," he said. But then he distanced himself from the persona on the Comedy Central show, as if to say the rage against him personally was misplaced. "Who is that, though? I'm @StephenAtHome."
The @ColbertReport handle deleted the offensive tweet and didn't address it any further until hours later. It stuck to promoting segments for future shows, but they assumingly realized the #CancelColbert trend wasn't a fluke and addressed the problem by saying Colbert didn't write the message and that the @ColbertReport account is ran by Comedy Central.
In his personal response, Colbert also shared a video of his segment from Wednesday night when the comment originally aired. At the time, practically no one took notice of it because the context of the joke didn't make it seem as offensive. On Twitter, however, it seemed more racist than anything.
Colbert's original comment from his segment was in regard to Redskins owner Dan Snyder responding to criticism about his team name by announcing a foundation to help Native Americans; though he still refused to change the name of his NFL team.
But, going by Colbert's past explanation of his on-screen comments, it would seem he didn't write the tweet with the intent of hurting anyone.
During an interview with the Telegraph in 2011, Colbert explained that the host he plays is just a character and draws inspiration from conservative talk-show hosts that generally appear on Fox News, such as Sean Hannity, Joe Scarborough and, most notably, Bill O'Reilly.
"I do the show in character — and he's an idiot," Colbert said. "He's willfully ignorant of everything we're going to talk about. Disabuse me of my ignorance. Don't let me put words in your mouth."
Colbert's reaction on Twitter prompted comments from followers and those who were put off by his tweet. Some of their responses are posted below:
Follow me on Twitter @mariamzzarella
© Copyright IBTimes 2023. All rights reserved.