Super Bowl 2013 Injury Report: Final Full Practice For Baltimore Ravens, San Francisco 49ers; Aldon Smith Still Battling Shoulder Injury, Ray Lewis Triceps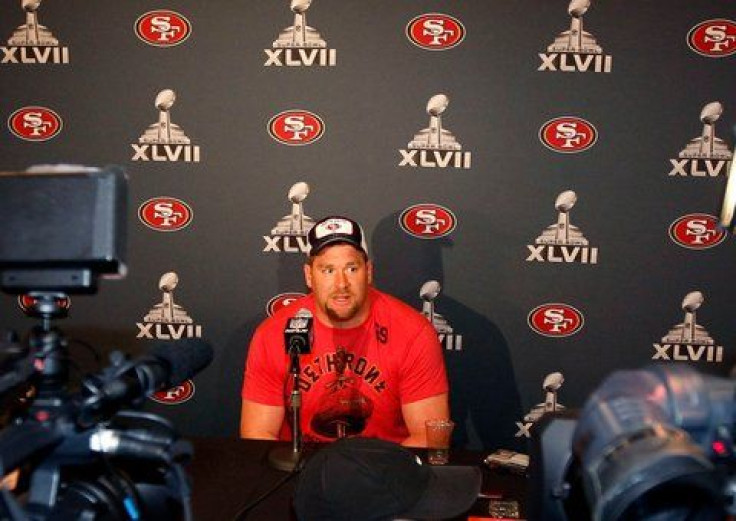 A day removed from the the biggest game of their careers, nothing short of a broken leg would keep a Baltimore Raven or San Francisco 49er off the sidelines of the Mercedes Benz Superdome on Sunday.
Friday was the last full practice for both teams, with light walk throughs scheduled for Saturday.
Only two 49ers were limited in practice, while every Raven was fully active. Every player is listed as probable.
San Francisco's linebackers continue to dominate the injury report. NFL sack leader Aldon Smith was limited all week with a shoulder injury. Since Week 12 Smith has dealt with the injury, and he hasn't recorded a sack since Week 15.
49er defensive tackle Justin Smith has said his triceps injury may require off-season surgery, and that he hasn't been at 100 percent throughout the postseason. Both Smiths have played an integral role in the San Francisco pass rush, and their performance may be a key factor in Sunday's outcome.
The Ravens have spread their injuries around to both sides of the ball, but there were no new notable names to mention. It was the final practice of linebacker Ray Lewis's 17-year career, and perhaps the last of safety Ed Reed's time with Baltimore.
Most of the highlights of the report are below, but you can see the full report here.
Baltimore Ravens
LB, Dannell Ellerbe, toe/back, Probable
LB, Ray Lewis, triceps, Probable
DT, Haloti Ngata, knee, Probable
RB, Bernard Pierce, knee/thigh, Probable
TE, Dennis Pitta, thigh, Probable
S, Ed Reed, shoulder, Probable
CB, Jimmy Smith, abdomen, Probable
LB, Terrell Suggs, achilles/ biceps, Probable
San Francisco 49ers
LB, Ahmad Brooks, shoulder, Probable
LB, Aldon Smith, shoulder, Probable
LB, NaVorro Bowman, shoulder, Probable
RB, Frank Gore, shoulder/ankle, Probable
G, Mike Iupati, shoulder, Probable
RB, LaMichael James, finger, Probable
DT, Justin Smith, elbow/triceps, Probable
LB, Patrick Willis, shoulder, Probable
The game kicks-off Sunday at 6:30 p.m. EDT, and will be shown by CBS.
© Copyright IBTimes 2023. All rights reserved.