Survey: RIM PlayBook Can't Compete With Apple iPad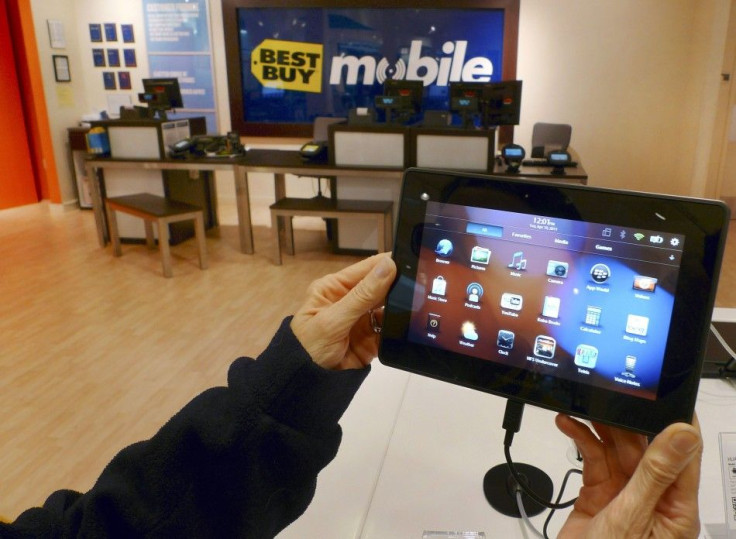 The woes of BlackBerry maker Research in Motion at the hands of Apple continue, as a new survey shows that the company's new PlayBook tablet is barely competing with the iPad.
A Bloomberg survey of analysts suggest RIM may have shipped just one PlayBook last quarter for ever 19 iPads shipped by Apple. The Canadian-based company will report results on Thursday.
RIM's BlackBerry was the most popular smartphone several years ago, but not long after Apple launched the iPhone in 2007, the company's leadership position quickly began to lag. Apple dominates both the global smartphone space with the iPhone and the global tablet space with the iPad. RIM had hoped the PlayBook might help the company regain some footing.
Yet RIM is expected to announce it sold 490,000 PlayBook tablets between June 1 and Sept. 1, the first full quarter of its availability. By comparison, Apple reportedly sold 9.25 million iPads last quarter, and the company is expected to ship 39.2 million iPads for the year.
Analysts, who at one time had appeared convinced RIM might have a winner with the PlayBook, cut estimates for full-year shipments to an average of 2.2 million, according to the survey.
RIM overplayed the PlayBook in terms of its sales and prospects, Charlie Wolf, an analyst at Needham & Co. in New York, told Bloomberg. What this really shows is that the company's prospects will depend on the next generation of BlackBerrys.
RIM remains committed to the PlayBook and it has also launched several new BlackBerry smartphone models this year -- but the company remains in a financial tailspin as product sales decline and the PlayBook continues to fall below expectations.
© Copyright IBTimes 2023. All rights reserved.