Tajikistan's Tough Choice: Central Asia's Worst Dictator, Or Militant Islamist Insurgency?
ANALYSIS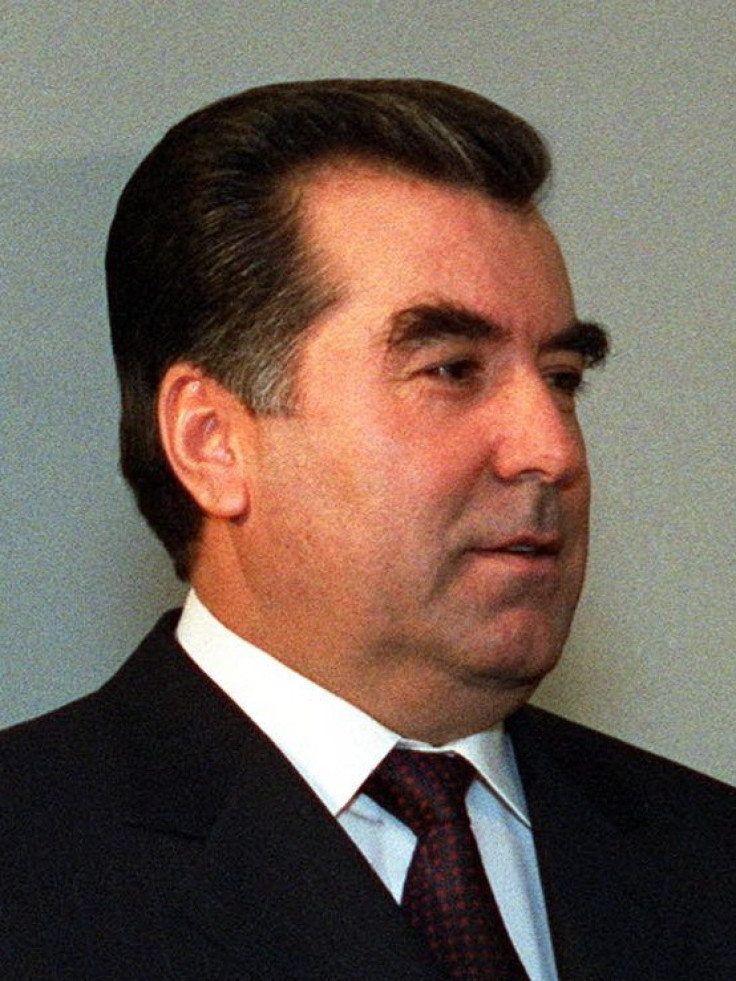 The world seems to have forgotten about Tajikistan.
The Central Asian nation is tiny, mountainous and oddly shaped. It is poor -- the poorest of all former Soviet states by most estimates. And it is landlocked, hemmed in by Uzbekistan, Kyrgyzstan, China and Afghanistan. Northward, about a thousand miles away, is Russia -- a country with which Tajikistan has close but strained relations.
But positioned as it is -- caught in the crosshairs of China, Russia and Afghanistan -- Tajikistan is actually of pivotal importance, and the rumblings of an increasingly bold crowd of dissenters there should not be ignored. The struggling society could be on the brink of a violent realignment.
Rivalries from an old civil war are erupting in violent clashes. Tensions between secularists and Islamists are rife, as they have been for decades. And the man who has led Tajikistan since shortly after the country's independence still rules with an iron fist.
But today, President Emomali Rakhmon is in a dangerous position.
In Times of War
Rakhmon was once a Soviet apparatchik whose ties to Moscow gave helped him gain influence when Tajikistan was part of the USSR -- back then, his official last name was Rakhmonov. (He struck out the last two letters in 2007 as a way to pay homage to his Persian roots.)
When the USSR disintegrated in 1991, Tajikistan dissolved into civil war. On one side was the national government, which was still full of Soviet elites. The opposition was a mix of under-represented ethnic groups, liberal democrats and Islamists.
Shortly after fighting began in 1992, a new coalition government was formed. It was still a Soviet-aligned body, and Rakhmon was chosen to preside over the nation. He dealt harshly with dissidents, and the civil war entered its bloodiest phase under his leadership.
At that time, reported Human Rights Watch, Tajikistan became a human rights disaster area. Anywhere from 20,000 to 100,000 people died in the ongoing conflict, and the economy was devastated.
From the beginning, Rakhmon was ruthless.
Pro-government paramilitary groups entered Dushanbe, the capital of Tajikistan, on December 10, 1992, reported HRW.
Led by the Popular Front of Tajikistan, the main pro-government army in the civil war, they conducted a campaign of summary executions and 'disappearances' of people of Pamiri and Garmi (regions of Tajikistan that had supported the [opposition] coalition) origins.
High levels of violent oppression continued for over a year, but dissidents could find a safe haven in neighboring Afghanistan. This helped to strengthen Islamists' influence on the broad opposition movement.
The worst period of violence ended in 1994, but the civil war did not officially end until 1997, when representatives of both sides signed a peace accord in Moscow. The national government had emerged victorious, and Rakhmon still maintains control over the struggling country.
Falling Apart
To this day, Tajikistan's economy is in shambles. More than half the population lives below the poverty line, according to CIA estimates. This is despite the fact that there are apparent signs of wealth among the elites -- beneficiaries of corruption -- in Dushanbe. Jobs are scarce, though unemployment figures are hard to pin down as the government tends to play down such statistics. Remittances have long been the most reliable source of income for the general population.
Now, with global economies suffering, those remittances are running dry and many migrants are left with no choice but to return to Tajikistan, unmoored and without many prospects for gainful employment.
But there is one opportunity to make some money -- the drug trade with neighboring Afghanistan. The New York Times reports that more than half of the heroin exported from Afghanistan via Central Asia travels first into Tajikistan, through a border zone where security officials are often ill-trained or else amenable to bribery.
Fears of increased lawlessness as NATO troops pull out of Afghanistan -- a full withdrawal is scheduled for 2014 -- could have dire consequences for its closely-linked neighbor.
And as the Arab Spring blooms in countries throughout the Middle East, many of Tajikistan's Muslim residents -- the population is 85 percent Sunni -- are keen to exercise their religious freedoms despite strong governmental resistance.
Pushing Back
In 2011, Rakhmon presided over several controversial secularist laws. One decreed that any Tajik students who were studying religious subjects in Middle Eastern countries must return home. Another outlawed the presence of minors at mosques during religious services.
There are also reports of the frequent detention and harassment of men with beards, or women in hijabs. This month, the government announced new plans to censor the internet and prosecute users who criticize the administration.
According to some analysts, this sort of behavior may actually be motivating dissent -- and strengthening existing dissenters.
The International Crisis Group (ICG) reported last year that a new generation of 20-somethings in Tajikistan were coming into their own. With only the haziest of memories of the country's brutal civil war, they differ from their parents in that they are unafraid to challenge an oppressive regime.
The secular, Soviet-trained leadership that emerged from the civil war now finds itself dealing with a society increasingly drawn to observant Islam. The regime's response to this is as inept, said the ICG report.
Officials allege that the main opposition party, the Islamic Renaissance Party, is becoming increasingly radicalized. Clumsy policies may make this a self-fulfilling prophecy.
Dangerous Roads
On Tuesday, Tajikistan saw the latest in a string of violent clashes that have been erupting sporadically since the civil war. According to some reports, this could be the deadliest incident in recent memory, with one hospital official telling the BBC that the death toll had exceeded 200. But government officials told Agence France-Presse that only dozens have died so far.
Officials also said that many rebels -- including some Afghani nationals -- have been arrested.
Developments are also unfolding in the city of Khorog, which is the capital of the autonomous Gorno-Badakhshan province. Khorog sits on shore of Panj River, and Afghanistan is right across the water.
The violence began on Saturday with the death of Abdullo Nazarov, a general with the State Committee on National Security. That organization is a successor of the Soviet-era KGB, and Nazarov had close ties to the Rakhmon administration.
A group of rebels stopped Nazarov's car and allegedly beat the official to death. Tolib Ayombekov, a former anti-government militant who was given a place in the government under the UN-brokered peace deal in 1997, was accused of involvement in the assassination.
He denied it, according to the Guardian, saying that Nazarov fell and knocked his head against a rock. It was a lethal injury.
Beginning on Tuesday morning, government forces isolated Khorog by blocking roads and disconnecting phone lines. Residents were told to stay indoors.
One opposition party told AFP that the government's approach was, as usual, heavy-handed. They said the retaliation was directed against the population and not criminal elements and the country's political leadership bears direct responsibility.
Out of Context
As the conflict continues in Gorno-Badakhshan, it is becoming increasingly clear that Tajikistan's oppressive government will have a hard time maintaining order as long as insurgencies threaten the security of neighboring Afghanistan.
Rakhmon and his government have pursued militant groups along the border; they also use the threat of terrorism to convince Tajiks of the need for strong national security.
But with more and more Islamist Tajik citizens finding themselves at odds with Rakhmon's oppressive style of governance, the battle lines are increasingly blurred. There is now a growing chance that Tajikistan will be the next majority-Muslim state to see a popular revolt against an unpopular regime.
Rakhmon has a serious and legitimate litany of complaints against him, coming from the international community as well as his own citizenry. His ouster would be a welcome change, but an uprising would lead to new threats if the insurgencies in Afghanistan seized on the opportunity to gain a new foothold in Central Asia.
President Rakhmon denies that the North African scenario of popular unrest and revolt could happen in Tajikistan. Despite the different circumstances, such confidence is questionable. Tajikistan is so vulnerable that a small, localized problem could quickly spiral into a threat to the regime's existence, reports the ICG. Tajikistan is not immune.
And with Afghani insurgents in prime position to fill a potential power vacuum, unrest in Tajikistan is a concern not only for Rakhmon dictatorship, but for global security in general.
© Copyright IBTimes 2023. All rights reserved.
FOLLOW MORE IBT NEWS ON THE BELOW CHANNELS