Tanzanite Is A Bit Of Blue Heaven
Sponsored content from Modern Luxury
You might think that a species as gem-hungry as human beings would have mapped out all the major sources pretty early on, spreading their fame worldwide, like the Muzo emerald mines of Colombia or the Golconda diamond mines of India. However, the tanzanite was virtually unknown until 1967, when Goanese tailor Manuel de Souza arrived in Tanzania, chasing rumors of a gemstone deposit near the foot of Mount Kilimanjaro. He hired a taxi to take him to the rumored riches, but as the terrain became less passable, the driver became less cooperative, eventually kicking de Souza out of the car many miles from his destination… but only four miles from where Masai villagers would lead him to the source of the stones that would make him famous.
At first these gems, the color of the sky as evening descends, were thought to be an exceptionally beautiful form of sapphire, but at only 6.5 on the Mohs scale, they were much too soft for that label to stick. After cycling through a number of possibilities, gemologists eventually settled on "blue zoisite." This led to its own labeling problems, particularly when it came to marketing. As Henry Platt, vice president of Tiffany's at the time, put it, "What woman would want to buy something called blue zoisite?" To American ears, it sounded uncomfortably close to "suicide," so Tiffany's promptly rechristened the stones "tanzanite," in honor of their country of origin, and put a display in its store windows. It was the first new transparent blue gemstone to be unearthed in hundreds of years.
High-end jewelers have pounced upon the deep, velvety blue of the tanzanite, most often pairing it with diamonds to enhance its shade, which verges on purple but pulls back at the last moment. Its allure is such that it is always the star of the show.
Boucheron
Boucheron's Bleu de Jodhpur collection celebrates the rich heritage of India's "Blue City." The royals of Jodhpur used the eagle as part of their insignia, and Boucheron envisions it here as a pair of guards, keeping sharp watch over a beautiful tanzanite cabochon. Smaller sapphires adorn the eyes and wings of these magnificent protectors.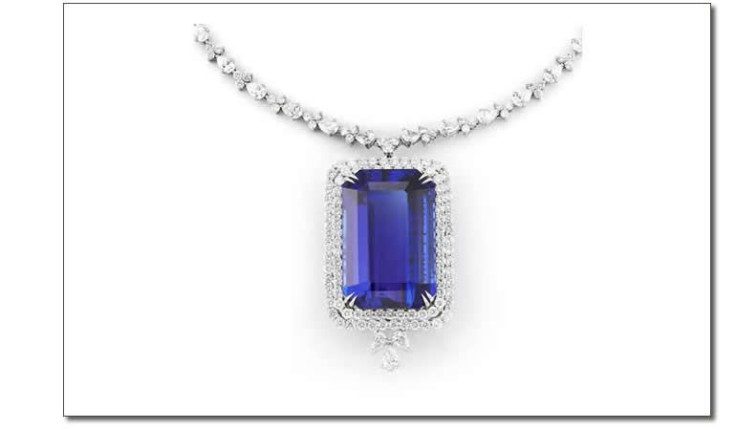 Takat
Takat is known for its exceptional tanzanites, and it always shines a spotlight on what makes the stone so exceptional. The Ambassador Tanzanite necklace centers a 120.84-carat tanzanite, emerald-cut to emphasize its lack of inclusions. A simple diamond halo setting (22.66 carats of diamonds) sets off the tanzanite's color with sparkle and brilliance.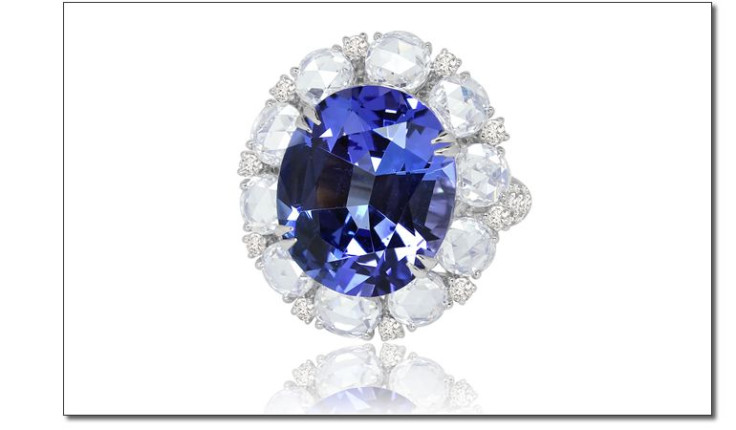 Sutra
Another piece that lines tanzanite's deep blue with glittering white diamonds, Sutra's High Jewelry Collection Tanzanite and Rose-Cut ring brings an old-fashioned charm to a new stone. Even though tanzanites have only been widely used over the last 50 years, using the ancient rose cut in this piece recalls a time when monarchs had all their diamonds faceted this way, when jewels were regarded, quite literally, as protective talismans. The stunning 17.5-carat tanzanite, surrounded by 8.5 carats of diamonds, seem to exude an aura of magic…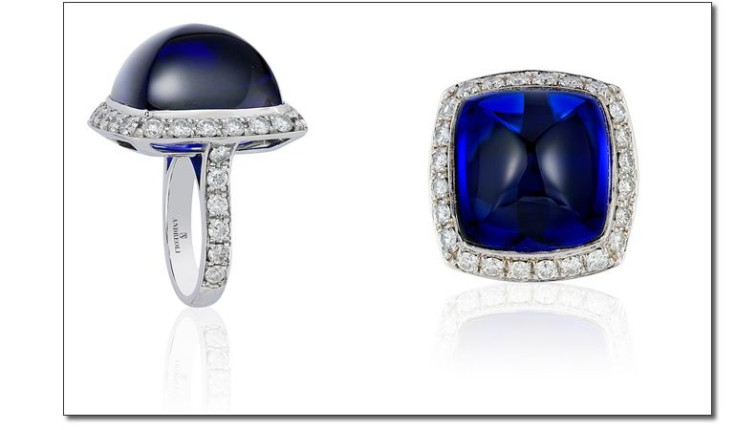 Andreoli
The tanzanite lends itself to all manner of cutting techniques, including the rarely seen sugarloaf cabochon. Smooth and rounded, this cut resembles the domed cabochon, but with a slightly pyramidal shape. Andreoli uses a 58.65-carat tanzanite on this exceptional ring, limning it with 2.68 carats of diamonds on the ring bezel and band, both in platinum.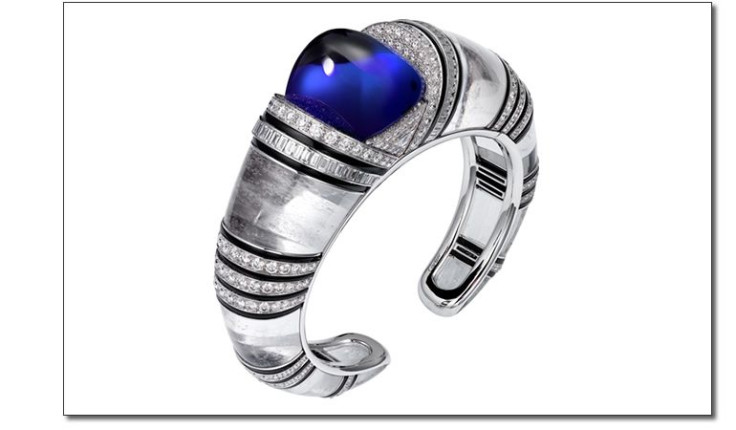 Cartier
Cartier combines tanzanite magic with timeless Art Deco design on this High Jewelry Bracelet. A rectangular sugarloaf cabochon tanzanite weighing 79.52 carats takes center stage, flanked by rows of white diamonds and onyx, as well as broad, curved bands of rock crystal.
FOR FREE to continue reading
✔️ Unlock the full content of International Business Times UK for free
offer available for a limited time only
✔️ Easily manage your Newsletters subscriptions and save your favourite articles
✔️ No payment method required
Already have an account? Log in