Team Robin Roberts: #TeamRobin Twitter Hashtag Supports 'Good Morning America' Anchor's MDS Fight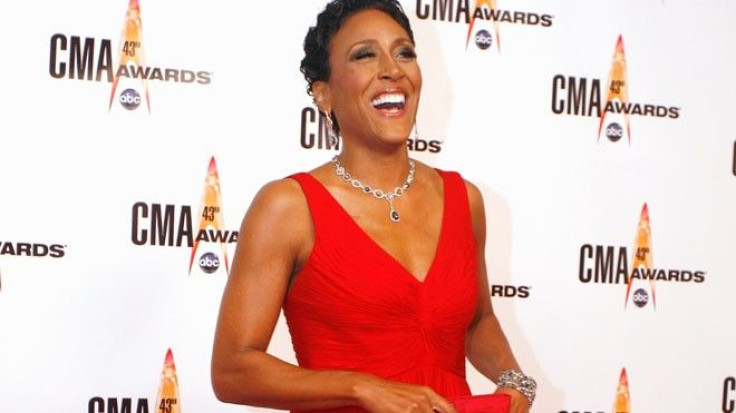 As Robin Roberts of "Good Morning America" begins her medical leave to undergo a bone marrow transplant, the Twitterverse and her "GMA" family are supporting the host of the morning program by using the hashtag #TeamRobin on Twitter.
Roberts, a 51-year-old cancer survivor, announced in June that she is fighting MDS, or myelodysplastic syndrome, a rare disorder that affects the bone marrow.
The newscaster's medical leave comes at a time when Roberts is also grieving the death of her mother, 88-year-old Lucimarian Tolliver Roberts.
Everyone from "Good Morning America" to celebrities to viewers of the morning show were showing their support for Roberts, using the hashtag #TeamRobin on Twitter.
The first appearance of the hashtag came on Thursday, when the Twitter account for "Good Morning America" posted, "What message of support do you have for @RobinRoberts? Tweet us #TeamRobin."
Since then, the hashtag is gaining steam on the micro-blogging site, propelled by a touching post written by talk show host Ellen DeGeneres.
"Robin Roberts is one strong woman. My money is on her.#TeamRobin," DeGeneres wrote late Thursday morning.
The tweet has been retweeted more than 1,600 times by followers of DeGeneres. More than 13 million Twitter users follow the daytime talk show host.
"Good Morning America" followed up its first #TeamRobin tweet with a brief and inspiring post.
"Light - Love - Power - Presence. Flying high over NYC. #TeamRobin," the account wrote.
Fans of Roberts and "Good Morning America" used the hashtag not only to express their support for the newscaster, but also to send out their prayers in wake of her mother's death.
"@RobinRoberts You have my deepest condolences and my prayers are with you and your family.#teamrobin," wrote Chinita Brown.
"Robin Roberts mother died. So sad for her especially with all she is going through. God Bless Robin. #TeamRobin #GMA," said @WhittyfromOhio.
"My heart breaks for @RobinRoberts. Thoughts & prayers are with her after the passing of her mother and as she fights her battle.#TeamRobin," said Megan Frisbie.
"#TeamRobin an inspiration to many leading a life through the example of her mother," wrote Ryan Griffen.
"Prayers for Robin Roberts who lost her mother, and now has to deal with her own health issue. #TeamRobin," said Amanda Brown.
"[T]hinking about our friend @RobinRoberts today. and every day.#teamrobin," wrote Molly Shaker.
"Sending all of my love, thoughts and prayers to @RobinRobertsduring this difficult beyond difficult time. #TeamRobin #BeTheMatch," said Jessica Tow.
Roberts' leave from "Good Morning America" is temporary, although it's unclear exactly when she'll return to the ABC morning show.
© Copyright IBTimes 2023. All rights reserved.