'Teen Mom OG' Season 6 Premiere Recap: Top OMG Moments From First 2016 Episodes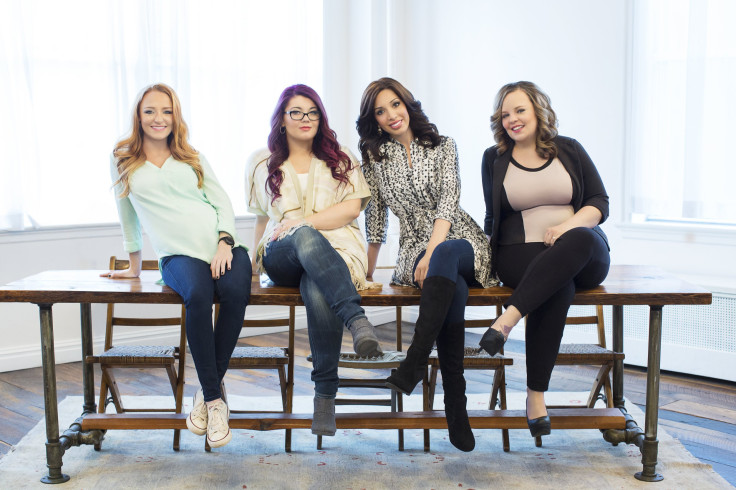 The original moms are back and better than ever... well, sort of. The four stars of MTV's "Teen Mom OG" returned for the Season 6 premiere of the hit docuseries Monday night. For those who missed the two-hour event, or just want to relive the massive drama that unfolded during episodes 1 and 2, here are the top moments:
1. Leah Freaks Out — Amber Portwood reveals she and her ex Gary Shirley still don't share 50/50 custody of their daughter Leah. After Leah comes home from a trip to Disney World with Gary, she refuses to spend time with her mom. Amber tells her daughter she doesn't have to stay over her house if she doesn't want to. While in the car, Leah tells Gary's girlfriend Kristina that she didn't want to be with her mom because she makes her "upset."
"All she wants to do is just let [her fiancé] Matt do everything," Leah says. "She sleeps longer and she stays at the house all the time. She's always home a lot."
2. Bentley's Back — Maci Bookout pulled her son Bentley from "Teen Mom OG" last season due to Farrah Abraham's last-minute involvement with the show. She has a change of heart in Season 6 and reveals to the cameras why she allowed her son, whom she shares with ex Ryan Edwards, to rejoin the program.
"Do you remember last season when you wern't on the show anymore and people still knew who you were?" Maci asks Bentley in episode 1. "We decided if me and [boyfriend] Taylor are gonna do it then were all gonna be on it so we can do it as a family."
3. Farrah's Face Off With Simon — After having a nice time with her ex-boyfriend Simon at a mutual friend's wedding in San Diego, and getting dozens of roses from him, Farrah decides they should go out to dinner to discuss their relationship. Their conversation quickly gets heated.
When Farrah asks him what he wants from their relationship, he says he isn't ready to commit. When Farrah raises her voice over his answer, he accuses her of being hostile. Farrah tells Simon he tends to ignore people's feelings and calls him a "b----." Simon upsets Farrah again when he refers to her daughter Sophia as "the kid." Simon says their conversation is going nowhere and Farrah decides to leave.
4. Amber Anxiety Attacks — In episode 2, Amber and Matt Baier go on a date. Amber reveals that due to the negative criticism she used to receive from starring on "Teen Mom," she's "anxious" everywhere she goes. She reveals that in the last eight months she's been hospitalized three times for anxiety attacks. She says she's still sober and never once took pills during a hospital visit. She says doctors have told her she needs to be on medication for her bipolar disorder and that she will most likely take pills in the future.
"It's not those medications that I'm addicted to," she says. "It's the fact of taking prescription pills that I'm not comfortable yet with."
Matt, a fellow recovering addict, says he's not concerned Amber will relapse.
5. Maci And The Edwards — Maci extends an olive branch to Bentley's dad and asks him to accompany her and Taylor McKinney to a mud run. Ryan accepts their invitation but ultimately fails to show up. While his failure to show isn't shocking, Maci's relationship with Ryan's parents is. She reveals in episode 1 that Larry and Jen Edwards showed up to the hospital the day she gave birth to her and Taylor's daughter Jayde. She also leaves Ryan's parents to babysit Jayde during the mud run.
6. Tyler's Strip Club Plans — Tyler Baltierra and Catelynn Lowell continue their wedding planning. Catelynn tells Tyler she wants to do a shared bachelor/bachelorette party, but Tyler disagrees. His friend talks him into going to a strip club, a plan which Catelynn is not thrilled about. Catelynn says she's "nervous" about Tyler getting blackout drunk. "She can't be pissed about strippers," Tyler tells his pal. "She just can't."
7. Farrah Makes Her Mom Cry — Farrah reveals she will be going out of town for business for 30 days. She asks her mom, Debra, to watch Sophia. Farrah tells her mother they're rules in her house and the two get into a disagreement over the amount of laundry soap Debra uses. Farrah warns Debra to "hold back" her unfavorable comments and says she wishes her mother would not "be a b----." Sophia slaps Farrah's arm repeatedly during the argument, saying she's "having a bad attitude." Debra tells her daughter she loves her and wants her to have a good trip. When Farrah says she's concerned for Sophia while she's away and a nanny could take better care of her, Debra cries.
"Teen Mom OG" airs Mondays at 10 p.m. EST on MTV.
© Copyright IBTimes 2023. All rights reserved.