'That's My Boy' Movie Review Roundup: Critics Pile On Adam Sandler, Andy Samberg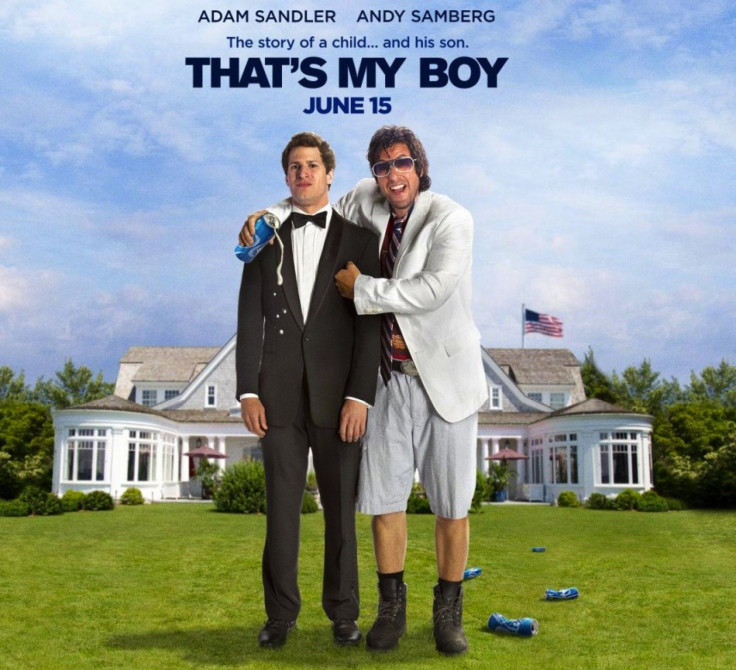 Adam Sandler was once the epicenter of the comedy universe, but about 15 years after his heyday making Billy Madison and Happy Gilmore, arguably his two greatest hits, Sandler's grip on the funny bone in today's youth has loosened considerably. Even though few of his movies ever received critical acclaim, Sandler's comedy has refused to grow up, even though the former SNL star has.
Sandler looked to be passing the torch in That's My Boy, in which the New York-born star shares the spotlight with fellow Jewish comic Andy Samberg, SNL's current an up-and-comer, as the two play father and son. In the movie, Sandler's character, Donny, becomes the victim of an inappropriate teacher-student relationship, and he is forced to father his first child, Todd, while still in his early teens. Sandler's character then raises his son as a single parent until the boy's 18th birthday, at which time Sandler vanishes from the kid's life.
Years later, Todd is a success in his business and he's ready to get married. And that's when his father -- Sandler -- shows up. Hilarity (purportedly) ensues.
Even though That's My Boy stars arguably two of the funniest men in SNL's relatively recent history, the film has received poor reviews across the board. The film has averaged a score of 3.8 out of 10 on IMDB.com, and it received a paltry 24 percent freshness rating from film critic aggregator website Rotten Tomatoes. Believe it or not, this is not Sandler's worst movie outing: Two of the most recent movies he's starred in earn that distinction. Sandler's Grown Ups received a 10 percent freshness rating on Rotten Tomatoes, while his last comedy vehicle, Jack & Jill, received an embarrassing 3 percent freshness rating.
In general, critics lambasted That's My Boy for its low-brow, gross-out humor, but it would probably be be considerably funnier than it is if it weren't for Sandler's annoying voice used in the movie -- similar to the voice of Whitey that he used in 2002's Eight Crazy Nights -- which seems to be a prime complaint. Read what the rest of these critics had to say about the movie, and give us your own impressions in the comments section below.
Owen Gleiberman, Entertainment Weekly:
'That's My Boy' is one of those comedies about a walking irritant, like 'What About Bob?,' in which the joke -- ultimately spun off from 'Green Acres' -- is that the ordinary guy at the center of everything keeps trying to distance himself from the pest who has arrived to ruin his life, but everyone around him ... adores the pest! The more Donny disgraces himself, the more he lowers himself (how low does Sandler go? Just wait for the scene in which Donny pleasures himself to the photograph of an old lady), the more he makes the kind of cringe-worthy sexual jokes that Andrew Dice Clay would have turned up his nose at, the more that everyone in Todd's circle thinks he's the life of the party. I only wish it were a fresher party!
Eric Snider, Film.com:
'That's My Boy' is yet another putrid comedy in which Sandler plays an aggressive idiot with an annoying fake voice who shows up to disrupt someone's life, and in which the message of the film turns out to be that everyone needs to act more like the aggressive idiot. (Adam Sandler characters seldom see the need to learn or grow. I assume this is an example of art imitating life.)
James Verniere, Boston Herald:
An improvement over last year's multiple Razzie award-winner 'Jack & Jill,' a film scoring 3 percent on Rotten Tomatoes, 'That's My Boy' is considerably less appalling. Sandler, to whom no joke is too stupid, has made a fortune and a comedy empire out of playing the dumbest, most juvenile, foul-mouthed and vulgar oafs in modern film history. At the same time he gives his real-life friends jobs they might not otherwise get, and in 'That's My Boy' even works in his wife (as a massage therapist, heh-heh) and kids. Notably, the standouts in the cast of 'That's My Boy' are not SNL vets Sandler, who uses the same funny voice for every character he plays, or Samberg, who's stuck in a straight-man role. They are co-stars Milo Ventimiglia as Jamie's ardent Marine brother Chad, who also likes jazz dancing, and Leighton Meester, who displays some surprising comic chops.
Adam Graham, Detroit News:
Take your typical Adam Sandler movie, add a ton of F-words and bodily fluid gags, and you have 'That's My Boy,' Sandler's latest summertime dog. The usual parade of SNL alums (Will Forte, Ana Gasteyer, Rachel Dratch) and faded stars/curiosities (Vanilla Ice, Tony Orlando, Todd Bridges) round out the cast while the lazy script, penned by David Caspe (TV's 'Happy Endings'), goes through all the familiar trappings you'd expect. The promise of the film lies in the interplay between Sandler and Samberg, but Samberg's character is all tension and nerves, which works against his natural talents. He ends up coming off flat. And Sandler's Berger is the most loutish, annoying character he's come up with since 'Little Nicky.' Nicky came from hell; viewers of 'That's My Boy' will feel like they're in it.
Richard Roeper, RichardRoeper.com:
Vulgar, tasteless, mean-spirited and most offensive of al l-- not funny.
Stephen Whitty, New Jersey Star-Ledger:
When Adam Sandler made 'Funny People' -- one of those surprisingly good comedies he does maybe twice a decade, just to mess with us -- the best, bitterest joke was the idea of him playing an angry actor who made his fortune off low-brow, high-concept comedies. Except the joke was on us. The movie feels a bit like early Farrelly Brothers, from the New England locations to the obsession with bodily fluids and the jokes about sex with old women. It's all politically incorrect -- deliberately so -- but that's not the problem here. The problem is it's not particularly funny.
Kevin Carr, 7M Pictures:
I had a little hope for 'That's My Boy' simply because it was a return to 'Happy-Madison' R-rated comedy, something Adam Sandler hasn't starred in since before 'Happy-Madison' was conceived. While most of the recent 'Happy-Madison' films have been terrible, the R-rated films it produces with other stars can be mildly entertaining. However, the R-rated label does nothing to make the film any better. Sure, they can throw around more f-bombs, and there were those boobs I mentioned before. However, the film simply stoops to gross-out, raunchiness and outrageous situations for its own sake. Like a wet-behind-the-ears comedian, the mere utterance of an f-bomb isn't funny. Anyone can do that. Weaving a joke around it is what takes real talent. And there's no real talent anywhere to be seen in 'That's My Boy.'
Rick Groen, Globe and Mail:
Sometimes he makes films, but mainly Adam Sandler makes Adam Sandler comedies, which, when they clock in at a whopping 114 minutes like this classic, will be construed by the faithful as an embarrassment of riches and by the rest of us as cruel and unusual punishment but, in either case, requires in appraisal no more than one sentence. ... Rest assured that our boy Adam ain't about to mess with his lucrative persona as an infantilized jerk and the king of the good-natured gross-out flick, which, in this incarnation, sees him endowed with an eighties wig and masturbatory habits and a constant can of Bud, the better to shlep through another of those plots whose sole purpose is to find reasons to exhibit bulges in the front of pants and poop in the back, to display arcing streams of pee, to wink at other bodily fluids shot onto tissues or staining a once very white Vera Wang wedding gown, and to apply the venerable art of cinema to the close-up appreciation of the orange spackles in a heaping pile of yellow vomit.
© Copyright IBTimes 2023. All rights reserved.
FOLLOW MORE IBT NEWS ON THE BELOW CHANNELS