Theresa Duncan And Jeremy Blake, The Suicides That 'Launched A Thousand Blogs'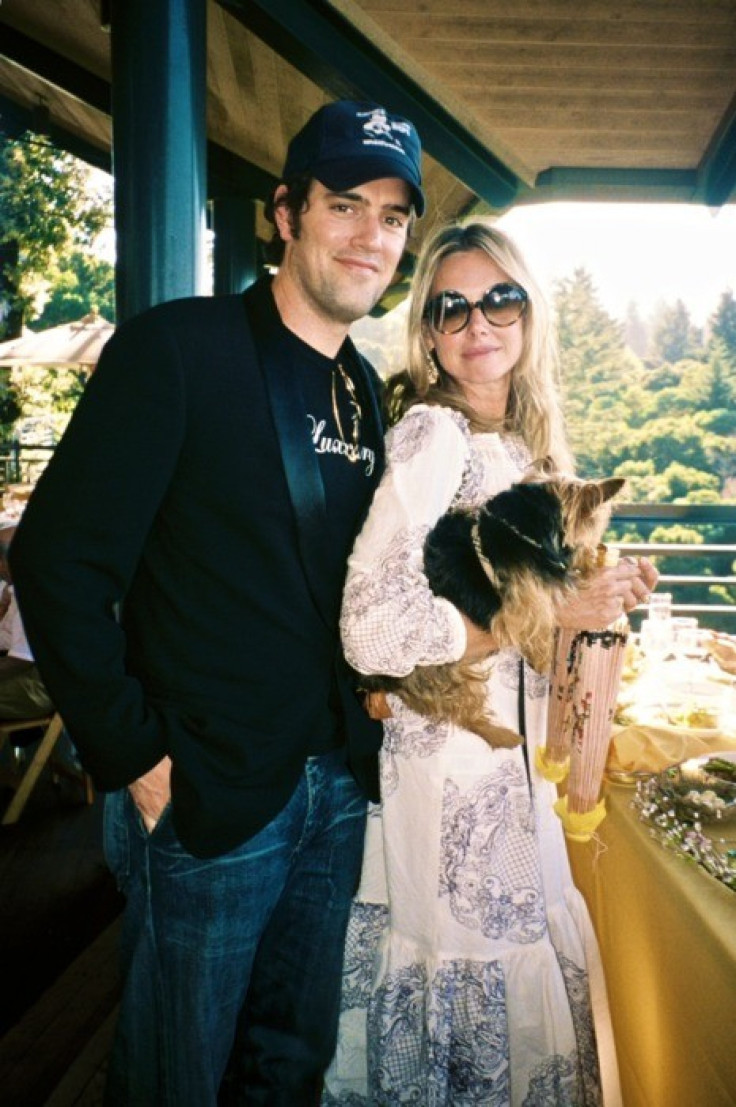 Five years ago this summer, Jeremy Blake came home to the East Village apartment he shared with his longtime girlfriend, Theresa Duncan, to find her dead of an intentional overdose. A week later, despite insisting to friends that "no way am I going to follow Theresa," Blake rode the A train out to Rockaway Beach, stripped off his clothes and walked into the Atlantic Ocean. His body was found on July 22, 2007, in coastal New Jersey waters.
At the time of their deaths, both Duncan, 40, and Blake, 35, were fixtures in the New York City downtown art scene: Duncan, a stunning blonde, had made a name for herself in the '90s with multimedia games for girls and the short animated film "A History of Glamour," a warm and clever send-up of celebrity culture. She later wrote a popular blog called "The Wit of the Staircase." Blake was a rising star among digital artists, having created effects for the Paul Thomas Anderson film "Punch Drunk Love" and the cover art for Beck's 2002 album, "Sea Change."
But the intense interest that the double suicide drew had little to do with the artists' professional accomplishments. Dubbed "the deaths that launched a thousand blogs," the suicides of Duncan and Blake posthumously captured the imaginations of countless people who had never heard of the couple but were haunted by images published in news stories and on the Web -- Duncan looking out with probing eyes beneath her sun-kissed mane and Blake's own intense gaze framed by chiseled features, looking every bit a rock star from head to toe. Intimate snapshots of Duncan and Blake together were seen as evidence of their extraordinary, unfaded love. Though they were often unsmiling, their body language told you they were made for each other; they were right where they wanted to be. How could they have thrown it all away?
Half a decade later, a pall of mystery still surrounds the couple and the circumstances that led Duncan to consume a lethal combination of Tylenol PM and alcohol on the evening of July 10, 2007.
"We will probably never know what really happened," said John Spalding, who wrote about the suicides on his religion blog, SoMA Review. "That's what makes it such a compelling story."
Theories linking the suicides to Scientology (and, in one case, the CIA) continue to circulate, and a sense of disbelief remains among even those more willing to accept the prevailing narrative, however incomplete, at face value.
That narrative was shaped in large part by a handful of journalists who earned and, in some cases, eventually lost the trust of those close to Duncan and Blake, including a reporter who appears to have had an emotionally tangled relationship with a critical source. Almost every major article about the suicides was criticized for one reason or another by those who felt they had a stake in how the story was presented.
Shortly after David Amsden's New York magazine feature appeared in August 2007, an entry in the magazine's "Letters to the Editor" section explained how Amsden's story "fed the army of bloggers who are obsessed with the subject. Most wanted it understood that they know more about the case than Amsden does." (Amsden could not be reached for comment.)
The first, and arguably least flattering, post-suicide profile was published in August 2007 in LA Weekly. The story focused primarily on Duncan: It chronicled her struggle to get Hollywood film projects off the ground, revealed accusations that she had plagiarized some freelance journalism and painted a picture of a woman who, at times, seemed to be disconnected from reality.
"I think a lot of people couldn't understand that somebody so photogenic could be somebody really unhappy," said Kate Coe, who wrote the article and was an acquaintance of Duncan.
Coe confessed that the published version of her story was edited to have a harsher tone than she had intended. Still, she stands by her characterization of Duncan as a talented but deeply troubled artist who had the occasional habit of stretching the truth -- a characterization in sharp contrast to the fawning tributes to Duncan on the Web: Everywhere from personal blogs to the comment sections of news stories to the authors of articles themselves, people confessed to feeling an inexplicable connection to the couple or, more commonly, to Duncan specifically.
"I felt like there was misplaced hero worship," Coe said.
Blake Robin, a longtime friend of the couple who first met Duncan in 1995 when they both worked at Magnet Interactive, is among the critics of Coe's story, for which he provided some material. Robin, who said Duncan and Blake were like "an older brother and sister" to him, described his dismay at seeing his friends being portrayed by the media as "one-dimensional suicide icons" and complained that Coe's article was "a negatively slanted framework on the facts."
Perhaps because Duncan died first, she received more media attention than Blake, who, to some extent, was cast as a victim of his girlfriend's presumed downward spiral: Though the term folie à deux, meaning "madness shared by two," has been frequently evoked, the madness the lovers were believed to have shared was presented more accurately as a folie imposée, with Duncan impressing on Blake her far-fetched beliefs. The most consuming among them was the insistence they were being followed and harassed by members of the Church of Scientology who were intent on stifling Duncan's career.
At the time of their deaths, Blake's career was as promising as it had ever been, while Duncan, previously regarded as an ingenue, suffered one disappointment after another. Though Duncan was enthusiastically supportive of her boyfriend's success, she may have sensed that Blake was surpassing her professionally. Duncan's emotional instability grew along with the increasing space between her dreams and her reality.
Blake's mother, Anne Schwartz Delibert, who is a mental health counselor, acknowledged that she had been concerned for both her son and his girlfriend but was still blindsided by the tragedy. "Jeremy was the last person one would expect to kill himself," she said.
Delibert's mother, who suffered from mental illness for years, took her life when Delibert was only 18. Blake exhibited little of the erratic, sullen or morose traits that are generally seen in people who kill themselves, she observed. Blake was more stable, Delibert noted, "unlike my mother, whose behavior clearly became suicidal."
Raymond Doherty, a close friend of the couple and Duncan's former boyfriend, spoke of his growing concern for both of them as their harassment claims reached a fever pitch. From the time they lived in Los Angeles, the couple made a habit of unceremoniously banishing nonplussed friends and acquaintances, in some cases accusing them of having ties to Scientology. In their final months, they were compiling a lawsuit against the myriad Hollywood players they felt were conspiring against them. Perhaps picking up on Doherty's concerns, Blake wrote him an email, reassuring his friend that everything was going to be OK and that all of the craziness would soon quiet down. It never did.
Duncan and Blake were larger than life when they were alive, but in death, they were huge - especially on the Internet.
Duncan's blog, moderately popular while she was alive, saw a spike in readership after the news of her suicide got out. According to Coe, her LA Weekly story was, at the time, the most read story published by the newspaper since it had begun tracking digital traffic.
Indeed, there may have been practical motivations for the clamorous coverage of Duncan and Blake. Stories about the suicides were "guaranteed search engine bait," Coe said. "You could write any little post about it, and you were guaranteed to get hits."
Despite the massive amount of Internet attention the suicides received, however, the most intense scrutiny has been reserved for an article that appeared in a print magazine, months after the initial media frenzy. Called "The Golden Suicides," this January 2008 article by Nancy Jo Sales in Vanity Fair is widely considered to be the definitive account of the tragedy but also the most potentially troubling.
Extensive portions of Sales' story were written from material provided by Father Frank Morales, a former pastor at St. Mark's Church, where Duncan and Blake lived in a converted rectory. Though they were never legally married, Sales and Morales were joined in a "spiritual" wedding ceremony in 2004, before separating in 2006.
This relationship, critics assert, gave Sales access to extremely personal information about Duncan's final hours that Morales should never have disclosed and led Sales to take Morales' word on otherwise unsupported details. One source, who spoke on the condition of anonymity, believes that Sales' emotionally fraught relationship with Morales may have too closely informed her intentions for writing the story.
"I have never worked on a story that has been so obsessively overanalyzed as the story of Theresa Duncan and Jeremy Blake," Sales wrote in an email exchange mediated by Vanity Fair's public relations director. "In fact, here we are, more than five years later, still talking about it."
According to Sales' article, Morales was in the church garden the night Blake came home to find Duncan's body and entered the the apartment shortly thereafter. Morales performed last rites over her dead body and was among the friends who stayed with Blake late into the night after Duncan's body was removed. "The Golden Suicides" chronicles the night of July 10, 2007, largely through Morales' point of view -- the article characterizes Morales as one of the couple's "closest friends and confidants" -- even though his perspective may have been altered by a falling out with the couple.
Jeremy's mother said that in the weeks leading up to their deaths, her son and Duncan had begun to distrust Morales. "I don't know if something happened."
And Sales writes in the article that "Theresa and Jeremy seemed to be avoiding" Morales toward the very end. According to "The Golden Suicides," the priest seemed to think it might have had something to do with a conversation between he and Duncan about child rearing that left Duncan with "tears in her eyes."
Morales' outsize role in Sales' article may have compromised its accuracy. For example, Duncan's former boyfriend Doherty said that he was surprised to read in "The Golden Suicides" that Morales had planned to drive with him, Blake and another friend to Duncan's funeral in Detroit.
"I never heard anything about Frank coming with us," Doherty said, explaining that he was nearly certain it's something Blake would have mentioned. Doherty shared Blake's email invitation to drive with him and another friend, not Morales, to Michigan; the priest is not mentioned at all. Delibert concurred that she had never heard any mention of Morales possibly joining her son on the drive to Michigan.
Especially disconcerting to one critic of the story is the description in "The Golden Suicides" of Duncan's dead body and last facial expression, details that could only have come from Morales. East Village-based filmmaker Melinda Hunt, who had also been romantically linked to Morales and was briefly at the church the night Duncan was found, holds that Sales should not have published material that Morales obtained as a clergyman. Hunt publicly and angrily expressed these concerns in a written exchange with Sales that was initially published on SoMA review, in which she argues that these details should have remained private.
"I was really offended that Frank was talking about the events surrounding Theresa and Jeremy's death without family consent," Hunt wrote in an email. "He used his role as a minister to gain access that night," she continued, insisting that Morales was not invited up for a drink earlier that evening, as he claimed in the Vanity Fair story.
There is no question that Morales was part of Duncan and Blake's inner circle in the last months of their lives, after he helped them secure the St. Mark's apartment in January 2007. On May 31 of that year, Duncan posted a lengthy interview between herself and Morales on her blog, which is accompanied by a photo of Morales in the couple's apartment, where he often spent time. Further, the Vanity Fair story was not the first or the only story about the suicides that relied heavily on Morales' input. But it was the only instance where the author's relationship with Morales granted her access to a private event she would not have otherwise been permitted to attend.
Blake's memorial service at the Corcoran Gallery of Art in Washington, D.C., in October of 2007 was closed to the press. But Sales, who had unsuccessfully tried to score an invitation via Lance Kinz, Blake's gallerist at Corcoran, eventually found her way on to the guest list as Morales "plus one." According to Blake's mother, Morales did not ask if Sales could join him but, rather, insisted that she would, claiming the two had reconciled their relationship.
However, Morales, who Delibert said "pretty much disappeared" shortly after Blake's death, didn't even show up at the memorial service, and Sales came alone. "When I found [Frank] wasn't there, I had this sinking feeling that I had made a terrible mistake," Delibert said.
Although Sales was never given permission to attend the event as a journalist, she opened "The Golden Suicides" with a scene from the memorial service, later quoting Blake's then-teenage sister speaking at the service, saying she was "frightened" by a meeting with her brother the year before.
Delibert, who had understood that Sales was to solicit the family's approval before publishing their quotes, was upset by the use of her daughter's words and by what she felt was a misrepresentation: "In my opinion, it was shabby to single out a vulnerable young person whose brother had recently died."
Jeremy's mother also felt that Sales was misleading in her description of a slide show at the memorial service that included an image of Jeremy's late father: Sales points out that Delibert "never named" the man in the photo, but Delibert explained that the slide show was presented on a loop at the service and that none of the people in the photos were explicitly identified. Jeremy's mother felt that "The Golden Suicides" made it seem as though Blake's father's name was omitted "for some sinister reason."
Jonathan Binstock, formerly the curator of contemporary art at the Corcoran Gallery, who helped organize the event, had a similar reaction. "[The memorial] was not meant to be sensationalized in any way or to be a press opportunity," he said.
Almost everyone interviewed for this story brought up a minor mystery connected to the authorship of "The Golden Suicides," which the SoMA review first addressed in a post that was picked up by New York magazine's Vulture blog. In it, SoMA's editor Spalding wrote that he was contacted by someone who was familiar with the reporting on the story and who said that she "was stunned to read that Nancy Jo Sales had the byline."
As it turns out, that person was LA Weekly's Kate Coe, who maintains that she always believed Vanity Fair contributing editor John Connolly to be the "author of record" and who shared some of her research with him when he first took on the assignment. Robin, who spoke to both Connolly and Sales, concurred that Connolly was the first to interview him.
Connolly, too, insists that the assignment was initially his and said that he had asked to be taken off the story after Sales became involved, because he felt her relationship with Morales was "too complicated." After Sales completed the story, Connolly had the option of taking an "additional reporting" byline but declined to do so.
Vanity Fair editor Dana Brown confirmed that Connolly asked to be removed from the story altogether but said the assignment never belonged to him alone. "[Connolly] is a contributing editor, and he does lots of reporting for us," Brown said, adding that Connolly is almost always paired with another writer.
As Brown explained it, Connolly was dispatched to begin reporting the story before Vanity Fair had decided who would ultimately author it. Brown, Connolly and Sales all agree that the magazine convinced Sales to take on the assignment, due in large part to her relationship with Morales and the priest's reluctance to speak to anyone else, including Connolly. (Initially, a Vanity Fair PR spokesperson had insisted that Sales was given the assignment from the very start.)
"I think it's by far the best story on this case. And I think what made it was the personal connection," Brown said of Sales' story. "[Vanity Fair] is a monthly magazine," he continued. "It's not a newspaper."
The controversy surrounding Connolly's involvement in the story was heightened in March 2011, with the publication of John Cook's New York Observer story "Was a Vanity Fair Editor Secretly Working for the Church of Scientology?" In the story, Cook builds a case that the well-connected Connolly has long been working as a mole for the church, alerting Scientologists to potentially bad press so they might better prepare a preemptive smear campaign.
Most of the coverage of the suicides, including the Vanity Fair story, addressed in one way or another Duncan and Blake's belief that they were being stalked by Scientologists. And Robin said that Connolly "seemed intent on reporting on the Scientology angle."
Doherty, however, said that Connolly was generally dismissive of the Scientology thread but was "determined to find some kind of scandal" elsewhere.
The mainstream coverage of the suicides generally portrayed the couple's harassment claims as based in paranoia -- a characterization that drew little argument from most people who were close to the couple during those final, troubled years.
Friends of Duncan and Blake traced the pair's preoccupation with Scientology back to their acquaintance with the musician Beck, who in 2005 acknowledged to the New York Times that he was a Scientologist. Beck had hired Blake to create the cover art for his 2002 album, "Sea Change," and Duncan told friends that he was in talks to star in a film she had planned to develop for Fox Searchlight called "Alice Underground." Later, she claimed that Beck had confessed to her a desire to leave Scientology, which she believed made her a target of the church.
In an email to Vanity Fair published in "The Golden Suicides," Beck denied ever telling Duncan he was reconsidering his relationship with Scientology. "Had we been closer and discussed anything as personal as religion, I would have only had positive things to say about Scientology." He also said he never had any formal involvement in Duncan's film.
Beck's denials came under some scrutiny when a French journalist pointed New York magazine to a 2003 interview of Beck for an Italian newspaper, where the musician spoke with some enthusiasm about working on an upcoming film directed "by a friend of his" -- a film that sounded uncannily similar in description to "Alice Underground."
Robin, who has met Beck, does not believe the singer is guilty of abetting a harassment campaign against the couple, which Duncan and Blake claimed included a veiled threat to their dog and the discovery of Duncan's forged signature on a construction site barrier in Venice, Calif.
"I don't think he ordered any blitzkrieg on Jeremy and Theresa," said Robin, who records music under the stage name Baron Von Luxxury and who recently completed a Kickstarter funding campaign for an art project in Duncan and Theresa's honor. "I think what was happening for a period was that he was told to, or chose to, just not be around people who were potentially questioning his connection to the church," as Blake and Duncan surely would have been, given the opportunity.
Chris Lee, who covered Duncan's and Blake's deaths for the Los Angeles Times, remarked in August 2007 that he "had more off-the-record conversations for this story than any I've done" and wrote of a "paranoia" among friends and colleagues of the couple. Five years later, not much has changed. The story remains full of loose ends, denials and counter-denials, possibilities that add up and those that don't, and people reluctant to go on the record, sometimes eagerly offering dramatic details and suggestions while insisting these statements be kept under wraps.
But as puzzling as all of this is, one thing is certain: No matter how well the pieces are put together, the story of Theresa Duncan and Jeremy Blake will never have a happy ending. Indeed, despite their accomplishments and their potential -- and despite the fact that, for a growing cadre of aspiring young artists, they are heroes -- the uncertainties, suspicions, allegations and motivations of the people around the couple at the end have combined to add a sinister tinge to the their memory, which even those involved in this unusual affair regret.
"I wish we could move past all the conspiracy theories," Sales wrote in an email. "This was, and remains, an incredibly sad story."
© Copyright IBTimes 2023. All rights reserved.