These 2 Laws Could Help Ban Trump From Running For Presidency Again
KEY POINTS
Trump may have violated a law requiring the White House to surrender all written communication to the NARA
Some legal experts believe the 14th Amendment could ban Trump from holding office over the Capitol insurrection
It is currently unclear how the 1868 law could be implemented
Former President Donald Trump could be banned from running for the presidency again in 2024, according to two U.S. laws.
Late-night host Jimmy Kimmel said Monday that Trump violated U.S. Code 2071 after he took at least 15 boxes of White House documents with him to his private residence in Mar-a-Lago. The documents included "love letters" from North Korean leader Kim Jong Un and a letter he received from former President Barack Obama when he took over the Oval Office.
Under the U.S. code, the White House is required to transfer all written communication and documents related to a president's official duties to the National Archives and Records Administration (NARA) at the end of the presidential term. Whoever "unlawfully conceals, removes, mutilates, obliterates, falsifies, or destroys" records will be disqualified from holding any office in the U.S.
"This is exactly what he did, right?" Kimmel said. "What are we waiting for? Disqualify away! Bring in the disquali-firing squad, for God's sake."
In addition to violating U.S. code 2071, the third section of the 14th Amendment established in 1868 could also ban Trump from holding state or federal office over his role in the deadly Jan. 6, 2021, insurrection at the Capitol.
Section 3 of the 14th Amendment established prevents people who swore to defend the U.S. Constitution but played a role in an insurrection against the country from holding state or federal office.
Some legal experts believe the clause could be used against Trump, meaning his name would not be included in ballots in the 2024 presidential election.
"I think a court could find a person aided and participated in an attempt to overturn the result of a valid election," Mark Graber, a University of Maryland law professor, told POLITIFACT.
However, some believe there is a lack of mechanism available to implement the 1868 law. It is unclear whether Congress would have to pass a legislation declaring the Capitol riot as an insurrection in order to keep Trump from a 2024 bid. Others say the U.S. courts could find the facts and decide whether Trump violated the 14th Amendment.
Plaintiffs in North Carolina are currently seeking to apply Section 3 of the 14th Amendment on Rep. Madison Cawthorn, R-N.C., as somewhat of a test case. The GOP lawmaker spoke at the rally on Jan. 6 last year just before a mob of Trump supporters stormed the Capitol.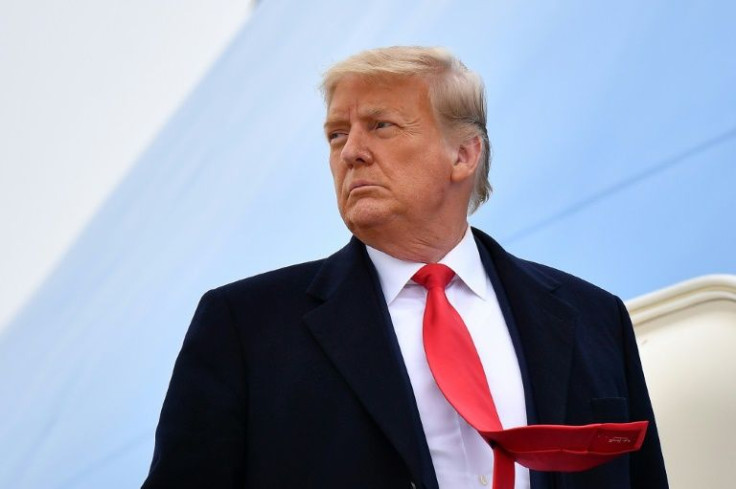 © Copyright IBTimes 2023. All rights reserved.
FOLLOW MORE IBT NEWS ON THE BELOW CHANNELS