Tim Tebow On Patriots: Jersey Number And Order Online Info; What Position Will Tebow Play In New England? [Mini-Camp News]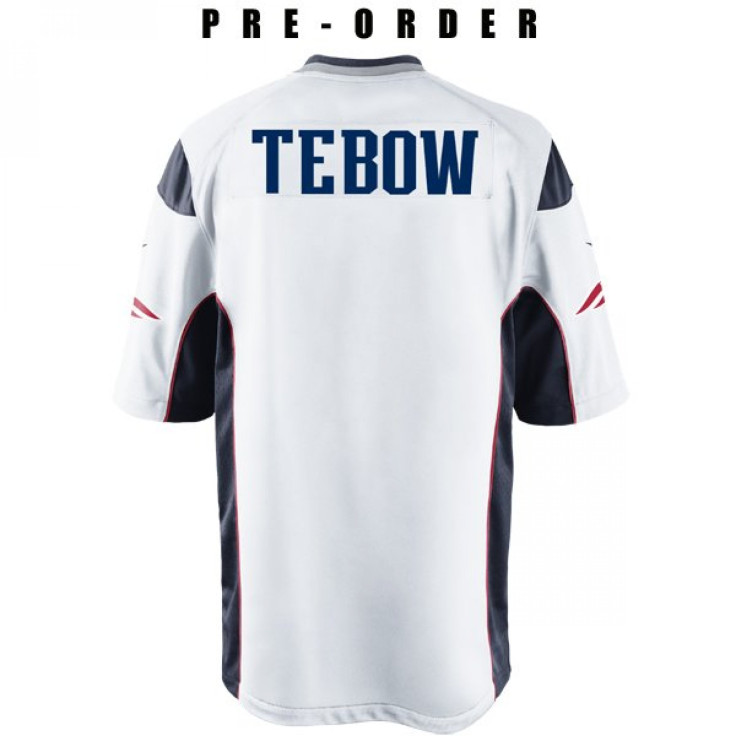 Less than 24 hours after it was announced that Tim Tebow would sign with the New England Patriots, fans can already purchase his jersey. Soon after the news became public, the organization sent out an email to fans, advertising the quarterback's uniform for sale.
With Florida, the Denver Broncos and New York Jets, Tebow sported a No.15 jersey. New England backup quarterback Ryan Mallet, however, currently wears that number. As a result, Tebow was assigned No.5 at mini camp. Fans can pre-order their Tebow Patriots jersey online for $99.95.
The Patriots may be selling Tebow merchandise, but there's no guarantee that he will earn a spot on the roster when the 2013 NFL season begins. The 25-year-old reportedly signed a two-year contract with no guaranteed money. If he doesn't perform well in training camp, New England can release him before Week One without repercussions.
The club doesn't seem to be relying on Tebow to make any kind of impact in the upcoming year. Since he became the starting quarterback in 2001, Tom Brady has only missed a game in one season. Even if something did happen to Brady, Mallet would likely get the call to replace the future Hall of Famer. He's expected to be the backup quarterback, while Tebow will be No.3 on the depth chart.
There has been speculation that Bill Belichick could use Tebow at a position other than quarterback. The head coach has been known to use players at different positions, putting wide receivers Troy Brown and Julian Edelman at defensive back, and using Doug Flutie to kick an extra point. Despite rumors that Tebow could play at tight end, he isn't likely to see the field when Tom Brady is under center.
Tebow's unique talents at quarterback might become virtually useless with the Patriots. The Jets signed Tebow with plans of using him in the Wildcat offense and on either third or fourth down and short situations. New England isn't likely to ever use the Wildcat because they want Brady on the field as much as possible. When it comes to third or fourth downs, no quarterback is better at converting short yardage situations than Brady. He's perfected the one-yard quarterback sneak and is almost unstoppable when using it to get a first down.
The signing by the Patriots may get more attention than anything else in the 2013 NFL offseason. Fans and media will pay a lot of attention to Tebow's time in New England, but the quarterback will have little to no impact when the team takes the field.
© Copyright IBTimes 2023. All rights reserved.