Is Tom Brady Lying? NFL Experts Weigh In On Deflategate After QB's Press Conference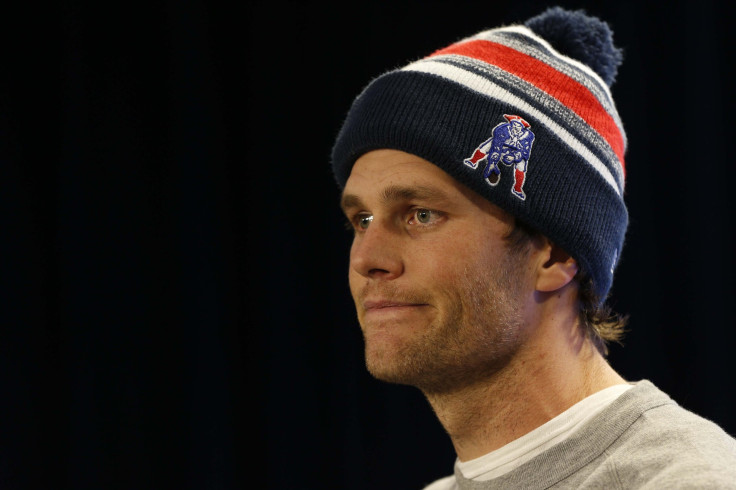 Tom Brady told reporters on Thursday that he had nothing to do with deflating footballs that were used in the AFC Championship. The New England Patriots quarterback laughed off accusations of cheating when he was first asked about them on Monday, and though he continues to maintain his innocence, many people are not buying his story.
All but one of the 12 footballs supplied by New England in their game against the Indianapolis Colts reportedly weighed less than the NFL requirement. Considering Brady handles the balls on every snap and even before the game starts, a few former quarterbacks have said they believe the two-time MVP is lying.
"I don't believe there's an equipment manager in the NFL that would on his own initiative deflate a ball without the starting quarterback's approval," an emotional Mark Brunell said on ESPN. "I just didn't believe what Tom Brady had to say."
Brunell, who started 151 games in his NFL career, said he inspected every game ball before he took the field. Brady told the media that he checks the footballs before the referees approve them, and those are the footballs he expects to be on the field.
Fran Tarkenton, who played quarterback for the Minnesota Vikings and New York Giants for 18 seasons, also questioned the truthfulness of Brady's statements.
"Tom Brady knows exactly what was done to the ball or what wasn't done with the ball as every other quarterback in the National Football League is," Tarkenton said on on Fox News Channel's "Your World with Neil Cavuto."
"I thought in the press conference he was very uncomfortable because he knows that he knows. And is it a stupid rule? I don't know if it's a stupid rule. It's a rule and he should follow the rules, but they broke the rules. Nobody is going to touch the ball in that locker room but Tom Brady."
Former running back Jerome Bettis was skeptical of Brady's comments, saying he was "disappointed" in the quarterback. The ESPN broadcaster was, however, inclined to believe New England's head coach.
Bill Belichick denied playing a role in "Deflategate," during his press conference earlier in the day. He claimed that Brady could provide more information about the size of the footballs that the team uses than he could.
"Tom's [Brady] personal preferences on his footballs are something he can talk about in much better detail and information than I could possibly provide," Belichick said. "I could tell you that in my entire coaching career I have never talked to any player, staff member about football air pressure. That is not a subject that I have ever brought up."
Even if some don't believe Brady, a lot of former players don't seem to think it's a major issue. Tarkenton raised the question of the NFL's rules on the weight of a football being "stupid," while former Heisman Trophy winner Matt Leinart called the issue "ridiculous."
Brady said he's always played within the rules and was as surprised as anyone when he found out the news. As the 37-year-old prepares to play the Seattle Seahawks in the 2015 Super Bowl, Brady and the Patriots await a possible punishment from commissioner Roger Goodell.
© Copyright IBTimes 2023. All rights reserved.