Tom Brady vs. Joe Montana Stat Comparison: Who's The Better Quarterback?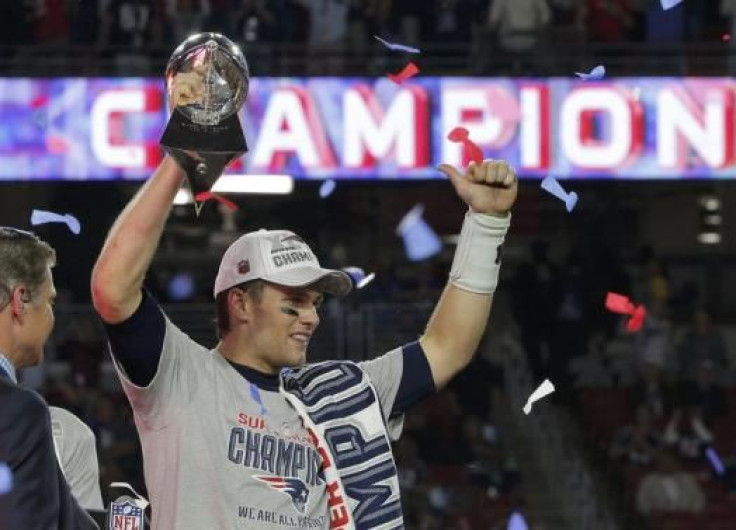 Soon after Tom Brady led the New England Patriots to a victory over the Seattle Seahawks in the 2015 Super Bowl, discussions began about his place in NFL history. Brady has solidified himself as an all-time great, and some believe he is the best quarterback to ever play the game.
Having had more than a week to digest Brady's place in history, a few things seem to be clear. Peyton Manning has been Brady's biggest rival throughout his career, but the 2014 season might have ended the Manning vs. Brady debate for good. While Brady has been blessed to play on some great teams, he deserves to be in the conversation with the top quarterbacks to ever put on an NFL uniform.
Joe Montana is considered, by many, to be the greatest quarterback to ever play in the NFL, and he might be the perfect comparison for Brady. The two quarterbacks have had very similar careers, and Brady, who grew up in northern California idolizing Montana, now has a resume that might even be better than that of the Hall of Famer.
It's not easy to compare players from different eras, especially quarterbacks, but a few factors might give one signal caller the edge over the other.
Regular Season Statistics
Because the game has changed so much, Brady's numbers are far superior to Montana's. The Patriots quarterback has thrown for over 4,000 yards in seven seasons, totaling at least 25 touchdown passes in 10 different years. Montana never surpassed the 4,000-yard mark, only throwing 25 touchdowns or more six times. Brady also has made fewer mistakes, averaging an interception on two percent of his passes, while Montana was picked off on 2.6 percent of his throws.
Even when factoring in the eras in which they played, Brady's numbers are just as good as Montana's. He led the league in passing yards twice, something Montana never did. He threw the most touchdown passes three times, and Montana led the NFL in that category twice. Montana has the edge when it comes to accuracy, leading the league in completion percentage five times. Brady only accomplished that feat once.
Edge: Brady
Playoff Success
Both quarterbacks experienced a lot of playoff success, and many of the arguments made about them being the best of all time are based on the way they've played in the postseason. Brady has a better record in the playoffs, but Montana raised his game to a level that has never been matched.
Brady will end his career with more playoff wins than any quarterback, going 21-8 after the 2014 season. While he's had some big postseason games, his numbers aren't any better than those he put up in the regular season. His playoff passer rating of 89.0 is less than the 95.9 rating that he's amassed in the regular season. His touchdown percentage (5.5 to 4.9) and interception rate (2.0 to 2.4) are also slightly worse in the playoffs.
Montana's terrific playoff numbers are the biggest reason for his four Super Bowl rings. His career playoff passer rating (95.6) is better than what he achieved in the regular season (92.3), highlighted by the 1989 playoff run, which saw him throw 11 scores and no picks, while posting a 146.4 passer rating in three games.
Brady's four touchdowns against the Seahawks gave him 13 career Super Bowl touchdowns, surpassing Montana's record of 11 scores. However, Montana needed two fewer games to do so, and his 127.83 Super Bowl passer rating makes him the best big-game quarterback in NFL history. In six Super Bowls, Brady doesn't rank in the top 10 in that category.
Edge: Montana
Teammates
The current New England dynasty is made up of much more than just Brady. Bill Belichick might be the best coach the sport has ever seen, Rob Gronkowski is one of the best weapons in the NFL, and the Patriots' first few championship teams were led by top defenses. Still, Brady had no more help than Montana did when he was winning Super Bowls.
Montana's 49ers were led by head coach Bill Walsh, an all-time great. San Francisco's teams also had elite defenses. In the four years that Montana won the Super Bowl, the 49ers ranked second, first, eighth and third in points allowed.
Most importantly, Montana had Jerry Rice, widely considered the best wide receiver to ever play the game, in Montana's last two Super Bowl appearances. Brady has, largely, been saddled with average receiving corps, getting the most out of the talent that is around him. When Brady finally was given an elite receiver in Randy Moss, he led the team to an undefeated regular season and set the touchdown record for a single year. Brady has also been to six Super Bowls, despite a revolving door of running backs, while all-purpose running back Roger Craig played alongside Montana for eight seasons.
Edge: Brady
Longevity
It might be hard to argue who was better during their peak, but it's not arguable whose peak lasted longer. Montana played at a Hall of Fame level throughout the 1980's, but injuries kept him off the field in 1991 and 1992. He spent the last two years of his career with the Kansas City Chiefs, playing at a different level. Brady won a title in his first year as a starter (2001), and he hasn't let up since.
At 37 years old, Brady is showing no signs of slowing down. In 2014, he led New England to a championship and the best record in the league, and the Patriots should be the favorites in the AFC next year. Montana retired when he was 37 years old, having entered a different stage of his career.
Edge: Brady
Winning
Having Brady or Montana at the helm essentially assured their teams of being a Super Bowl contender. In 13 full seasons as a starter, Brady has led New England to the playoffs 12 times, failing to reach the divisional round in just one of those postseason appearances. With Montana starting for San Francisco from 1981-1990, San Francisco missed the postseason once, reaching four Super Bowls and six conference championships.
Montana is sometimes given the edge for never having lost a Super Bowl, but Brady's 4-2 record in the big game is more impressive. He's led the Patriots to nine AFC Championship appearances, compared to Montana's six trips to the NFC Championship. Montana was a perennial winner, but he led his team to 12 or more wins in just five seasons, something Brady's done on nine occasions.
Ultimately, quarterbacks are judged on how often they win, and how many big games they win. No quarterback, even Montana, has won as consistently as Brady, over such a long period of time.
With New England winning their fourth Super Bowl in 2015, Brady's resume will only continue to strengthen his case to be considered the best to ever do it.
Edge: Brady
© Copyright IBTimes 2023. All rights reserved.