Tony Romo Chokes Again, Cam Newton Ties NFL Record: NFL Week 1 Results
Analysis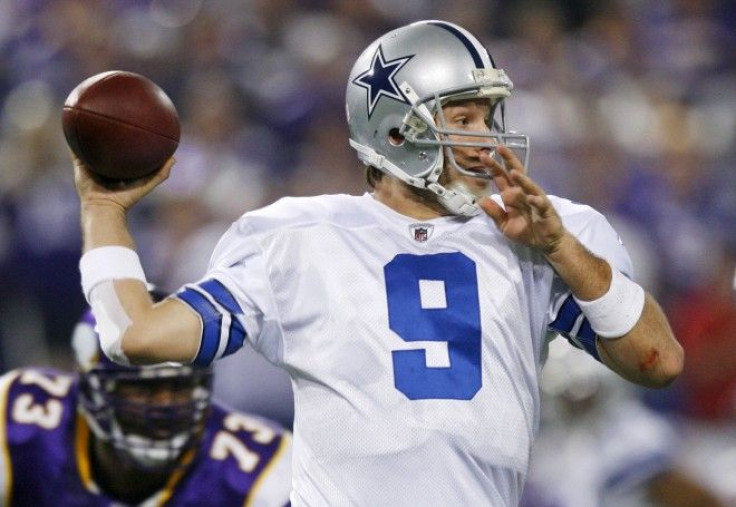 Tony Romo chokes away another close game, Cam Newton ties a NFL record, the Colts miss Peyton Manning more than they ever could have known, the Ravens wallop on rival Steelers, and so much more in a wild Week 1.
The NFL opened to a roaring start on Sunday in a day mixed with Sept. 11 remembrances and football storylines galore. Fans may complain about how blowouts plagued the early 1 p.m. slate of games, but the early games offered some fascinating results.
Did the Texans finally assume the AFC South throne when they destroyed a Peyton Manning-less Indianapolis Colts, 34-7?
Did Joe Flacco finally begin to prove his critics wrong and show he's capable of winning a Super Bowl when he led his Ravens to a beat down of hated rival Pittsburgh Steelers, 35-7?
And how long is it until we start questioning whether the Falcons should have invested in more defense than offense in last year's NFL draft when they took Julio Jones? The Bears easily moved the ball to a 30-6 victory.
Romo Chokes Away Another Game
Tony Romo played three fantastic quarters for the Dallas Cowboys, but when it came down to the fourth quarter he struggled yet again and the team lost because of it.
Romo was 20 for 28 with 309 passing yards and two touchdowns through the third quarter and looked to have Rex Ryan's Jets on the ropes. The Cowboys were up a touchdown and close to going up a second when Tony Romo scrambled and fumbled away the ball on the Jets three yard line.
The Jets didn't score on that Romo mistake, but did eventually tie the game up after blocking a punt and returning it for a touchdown. Romo had a chance to lead the Cowboys to victory in the fourth quarter, but threw an awful interception to Darrelle Revis with less than a minute to go that led to a 50-yard Nick Folk field goal to give the Jets the win.
It's just disappointing and frustrating right now because we win that football game if I don't do what I did, Romo told reporters at his locker after the game. It's hard to swallow just knowing that we lost this game because of me [Sunday night].
Romo is still a very good quarterback, but the pressure is going to continue to mount for him if he continues to lose his cool in tight, big game situations. Jerry Jones maintained his confidence in Romo after the game, but it might not be long before Cowboy fans start to turn on the quarterback if he keeps struggling in big moments.
Folk's Redemption
Nick Folk at one point was a star kicker for the Dallas Cowboys. Folk, drafted in the 6th round in 2007, made the Pro Bowl as a rookie for the Cowboys when he connected on 26 of 31 field goals and made all 53 extra points. But after returning too quickly from a torn labrum in 2009, Folk's play was erratic and the team unceremoniously cut him.
Folk finally got his chance for redemption against the Cowboys -- on one of the biggest stages of the year -- and connected on a 50-yard field goal to give the Jets the win on the emotional 10-year anniversary of 9/11.
The game will be known more for the anniversary of 9/11 or even for Tony Romo's collapse, but Folk's clutch kick with less than a minute remaining in the fourth quarter is putting a smile on Rex Ryan's face on Monday morning.
Cam Newton Ties a NFL Record
Carolina Panther Cam Newton didn't get the victory in his first NFL start, but he played better than even his biggest supporters could have dreamed. It's almost like he's played professionally before - kidding.
Newton's 422 passing yards tied a NFL record for most passing yards in a player's first start. Newton seemed to have a great repertoire with wide receiver Steve Smith -- the hardest working 5-foot-9 player in the NFL -- and played terrifically in his first start.
Coach Ron Rivera admitted that Newton is still working with a limited offensive playbook and the Cardinals certainly aren't known for their defensive prowess, but there's a lot of positive to take away from this loss if you are a Panthers fan.
Time for Colts to sign David Garrard?
The beginning of the Kerry Collins era didn't get off to quite the start that Colts management or fans expected. Collins lost fumbles on two of the Colts first three drives, as the Texans unleashed some angst against its former big brother bully and destroyed the Colts, 34-7.
The lack of four-time MVP Peyton Manning and subsequent use of Collins showed how reliant the Colts have been on Manning all of these years. Even the most casual sports fan could tell you that Manning made the Colts' clock tick, but did anyone think that the Colts would look that bad?
It was against one of the premier offenses in the league, but that has nothing to do with how poorly the Colts offense performed. With Peyton Manning out for at least two to three months and Collins not likely to get much better, the Colts have a decision on their hands.
Either they enter into the Andrew Luck sweepstakes and leave their roster unchanged or they can make a play at salvaging this season and sign a better quarterback than Collins. The smarter move is probably to just go with what they have, but if the Colts decide on the latter I hear David Garrard is still looking for a new home. And there's always that guy down in Mississippi who plays for the love of the game.
Quick Hitters:
Atlanta Falcons -- The Falcons were one of the biggest success stories of 2010, but after a demolishing at the hands of the Bears, are now staring at 0-2 with the Eagles set to come to town next week. Falcons took a gamble investing in the offense taking Julio Jones in April's draft instead of reinforcing the defense -- next week will go a long way in showing whether it paid off.
Buffalo Bills -- Sunday's stunning performance might elicit the most happiness Buffalo fans have experienced in years. Ryan Fitzpatrick was a stellar 17 for 25, 208 yards and four touchdowns, leading the Bills to a big 41-7 win. It's a little early to crown the Bills as AFC East contenders -- the division is still dominated by the Jets and Patriots -- but the Bills certainly created a lot of hope and reason for excitement for the rest of the season.
Jacksonville Jaguars/Tennessee Titans -- Both have really good running backs -- Maurice Jones Drew and Chris Johnson -- and both have really bad quarterbacks. Jacksonville's Luke McCown got the edge over Titans' Matt Hasselbeck in this atrocious game, but neither team looks destined for greatness in the AFC South.
Kansas City Chiefs -- What is going on in Kansas City? The Chiefs looked dreadful against the Buffalo Bills and managed just 213 yards of total offense and 13 first downs. Perhaps Matt Cassel is still banged up, but when you have dynamic offensive threats like Jamaal Charles and Dwayne Bowe that is not the type of output you are looking for.
Minnesota Vikings -- Vikings fans likely found out firsthand on Sunday what made Donovan McNabb quite so frustrating to the Eagles and Redskins over the years. McNabb executed some very poor throws -- including one interception deep in the Vikings' territory -- and was unable to hold on to a 17-7 second half lead over the Chargers. McNabb is still the quarterback going forward, though ironically there were rumors that McNabb was inactive going into the game, but it won't be long before pressure starts to heat up if he continues to disappoint.
New York Giants -- This team has all the makings of a 6-10 season. The defense is ravaged by injuries, the offense is missing some critical pieces, and the Eli Manning face has already made way more appearances than Giants fans prefer. You know your secondary is in bad shape when Rex Grossman slices through it like an expert surgeon.
St. Louis Rams -- Not only did the Rams lose badly to the Eagles, but also suffered injuries to three of their top offensive playmakers. Quarterback Sam Bradford injured his finger and may have nerve damage, workhorse running back Steven Jackson pulled his right quad and is going in for a MRI on Monday, and wide receiver Danny Amendola dislocated his elbow and is likely out for the season. Not a good way to start things off for the NFC West favorite.
Washington Redskins -- The Internet was bound with jokes about Rex Grossman's connection to Jabar Gaffney on Sunday. Sure it might have been close to half a decade since either of those two players was relevant, but that didn't matter in a big home win over division rival Giants. The Redskins aren't a playoff team just yet, but they might not be the cellar dwellers of the NFC East either.
Talty's Top 10:
1) Green Bay Packers (1-0) Can't go wrong with the defending Super Bowl champs and they looked great in a victory against the Saints.
2) New England Patriots (0-0) Open up the season on Monday night against the Miami Dolphins
3) Baltimore Ravens (1-0) Absolutely destroyed a good Steelers team; Super Bowl hype is beginning to percolate for the team.
4) Philadelphia Eagles (1-0) Struggled initially, but Mike Vick utilized his full arsenal of weapons in a big win against the Rams.
5) New York Jets (1-0) Didn't look pretty against the Cowboys, but showed why they are one of the most resilient teams in the NFL. Eventually it might come back to bite them, but thus far Rex Ryan's team has proven to be great in high pressure games.
6) Houston Texans (1-0) It was against a Peyton Manning-less Colts, but boy did the Texans look good on Sunday.
7) Chicago Bears (1-0) The popular pick to drop to miss this year's playoffs, the Bears absolutely manhandled the Falcons.
8) Detroit Lions (1-0) His name is Matthew Stafford and he's the reason Detroit fans finally have something to be excited about besides the latest Eminem CD.
9) San Diego Chargers (1-0) Phillip Rivers hasn't completely worked out all the bad decision kinks, but the talent is certainly there.
10) New Orleans Saints (0-1) Some rough calls to end the game -- how do you not keep the ball in Brees hands? -- but the Saints are still a playoff team.
© Copyright IBTimes 2023. All rights reserved.