Top 50 Footballers In The World For The 2015-2016 Season: Is Lionel Messi Or Cristiano Ronaldo The Best Player?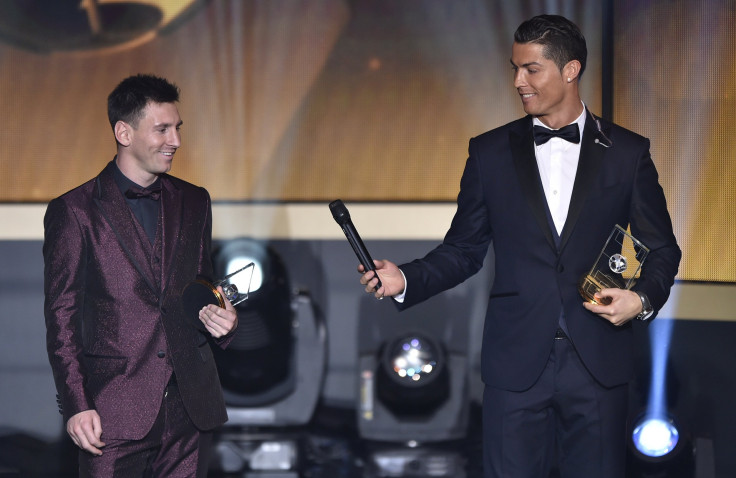 The new season across Europe's major leagues is nearly here, with both the Premier League and Ligue 1 getting underway this weekend. Off the back of a historic, record-breaking season for Barcelona and their trio of attacking stars, and with the European Championships upcoming next summer, it promises to be a campaign to remember in which a number of players will be staking their claim to be among the world's best.
Here's a look at the top 50 individuals heading into the start of the new season.
1. Lionel Messi (Barcelona, Argentina)
After a couple of years of looking just a little short of his previous brilliance, there were fears that the best of Messi may already have been behind him. Instead, the Argentinean has bounced back spectacularly in 2015, producing some magical performances while adapting to a new role and finishing the season with 58 goals and 31 assists as Barcelona lifted a treble.

2. Cristiano Ronaldo (Real Madrid, Portugal)
It was still another phenomenal season for the Ballon d'Or winner of the past two years, plundering 48 goals in La Liga to claim the European Golden Show and a further 10 to finish joint top scorer in the Champions League. The goals came as the Portuguese star increasingly moved from the wing to a clinical one-touch finishing striker.

3. Luis Suárez (Barcelona, Uruguay)
The Uruguayan faced plenty of challenges at the start of the season, moving to a huge club, attempting to fit into a team featuring the world's brightest star in Messi, and all while having to miss the first two months due to a suspension. But after an initial adaption period, Suarez has been brilliant, his movement and unselfishness helping both himself and Messi.

4. Arjen Robben (Bayern Munich, Netherlands)
Robben's antics on the pitch mean he isn't exactly everyone's favorite, but his ability is undeniable and continues to improve even at the age of 31. The Dutch winger scored 17 goals in just 21 Bundesliga appearances, while adding seven assists last season. And his more direct complement to Bayern's possession game was sorely missed by the German champions as he sat out the climax of the season through injury.

5. Neymar (Barcelona, Brazil)
The third member of Barcelona's incredible forward trio that fired 122 goals in all competitions. Neymar's achievements were often overlooked alongside those of Messi and Suarez, but his individual tally of 39 goals was deserving of plenty of acclaim and his more individualist style provided a fine balance to Barcelona's attack.
6. Manuel Neuer (Bayern Munich, Germany)
The World Cup winner continues to stands apart as the standard-bearer for modern-day goalkeepers. Not only phenomenal with his hands, the 29-year-old's ability with his feet and anticipation coming from his goal almost gives Bayern Munich and Germany an extra outfield player.
7. Eden Hazard (Chelsea, Belgium)
The undoubted top player of the season in the Premier League, Hazard was the only attacker who consistently delivered for Chelsea throughout the campaign. The Belgian continues to become a more efficient player, delivering 14 goals and nine assists in the Premier League this season.
8. Paul Pogba (Juventus, France)
Given how good he is already, it's a scary thought for midfielders around the world that the 22-year-old still has so much scope for improvement. Pogba has everything the modern midfielder, and indeed the modern player, could want -- technique, power and speed -- in abundance. Manchester United must curse every day the fact that they allowed him to leave.
9. James Rodríguez (Real Madrid, Colombia)
After becoming a breakout star at last year's World Cup, the Colombian faced a big challenge going into Real Madrid with a massive price tag over his head and having to adapt to a position with much more defensive responsibility. But the 23-year-old thrived, firing 17 goals and 18 assists.
10. Sergio Agüero (Manchester City, Argentina)
Niggling injuries continue to prevent Aguero from fully realizing his full abilities, but he showed how good he can be with a run of games toward the end of the campaign to finish as the Premier League's top scorer on 26 goals. His fitness is likely to be crucial to City's hopes of regaining the Premier League title.
11. Alexis Sánchez (Arsenal, Chile)
The Chilean struggled to impose himself at Barcelona, but has shown just how good a player he is since making the move to Arsenal. It is not just his ability on the ball that stood out as he carried Arsenal through the early months of last season, but his tireless work without the ball. And Sanchez capped a fine year by helping Chile to their first international title at the Copa America this summer.
12. Gareth Bale (Real Madrid, Wales)
In comparison to his first season at Real Madrid, which ended with vital goals in the finals of the Champions League and Copa del Rey, it was a far less satisfying campaign for the world's most expensive player last time out. There is no doubt that his effectiveness is diminished playing on the same team as Ronaldo, but his game-changing ability could be given more license to shine under Rafa Benitez.
13. Sergio Busquets (Barcelona, Spain)
He rarely gets the headlines, but Busquets' contribution to Barcelona's success continues to be sizable. It is perhaps when he is absent that it becomes most apparent just how vital his presence in front of the defense, swiftly moving the ball around and constantly alert to danger, truly is.
14. Thomas Müller (Bayern Munich, Germany)
One of the most hard-to-define star players in recent memory continues to be unerringly effective for both club and country. The ungainly forward with a brilliant understanding of the game and his own limitations scored 21 goals in all competitions for Bayern Munich while adding 18 assists.
15. Andres Iniesta (Barcelona, Spain)
He may have amazingly failed to get a single goal in either La Liga or the Champions League last season, but the 31-year-old showed how influential he still is by providing the assist for the opening goal in the Champions League final, and putting in a man-of-the-match performance. Heading into the season as Barcelona's new captain, he will still have a major part to play in Barcelona's attempt to become the first club to retain the Champions League.
16. Luka Modric (Real Madrid, Croatia)
Injury restricted the Croatian midfielder to starts in less than half of Real Madrid's matches in La Liga and the Champions League last season. Had he played more, there is every reason to believe Madrid would have gotten at least closer to delivering both titles. Modric's tenacity, passing and running meant he was the player most responsible for helping an unbalanced team function.
17. Gerard Pique (Barcelona, Spain)
Pique's slump in recent seasons had been a big part of Barcelona's defensive issues, and his return to form last campaign contributed hugely to their improvement. While the Catalans' forwards grabbed the headlines, Pique put in some commanding performances at the back when the team needed it most, and will be key again if that success is to be repeated.
18. Philipp Lahm (Bayern Munich, Germany)
After winning the World Cup and retiring from international duty with Germany, Lahm endured a season hampered by injury. But, whether at right-back, in the center of midfield or out wide, he continued to be a hugely dependable presence for Pep Guardiola and Bayern Munich.
19. Javier Mascherano (Barcelona, Argentina)
Whether as a center-back or a holding midfielder, Mascherano has adjusted outstandingly. Often going largely unnoticed among the stars around him for club and country, he has become a crucially influential figure for both.
20. Diego Godín (Atletico Madrid, Uruguay)
If you were building a team from the ground up, you might very well be wise to start with the uncompromising Uruguayan. Ridiculously left off the FIFA team of the year, Godin is a rock at the heart of defense for Atletico and Uruguay.
21. Toni Kroos (Real Madrid, Germany)
It was a tough first season for Kroos and at times he certainly struggled with the demands on him to play almost every minute this season in a far more defensive role than he has previously been accustomed to. But the Germany international still acquitted himself admirably, continuing to shine as one of Europe's best midfielders.
22. Arturo Vidal (Bayern Munich, Chile)
It was a tough start to the season for Vidal as he continued to recover from a knee injury and dealt with incessant speculation over a move to Manchester United. But the Chilean began to get back to his best toward the end of the campaign, again showing himself to be one of the world's very best all-round midfielders. Could be a key figure for Bayern following his transfer from Juventus.
23. Karim Benzema (Real Madrid, France)
Perhaps it will be only if and when he leaves Real Madrid that Benzema is fully appreciated. Alongside Ronaldo, the France striker's supreme technique and wonderful link-up play too often goes unnoticed. Should Real Madrid decide to cash in before the close of the transfer window, there will be plenty of suitors.
24. Zlatan Ibrahimovic (Paris Saint-Germain, Sweden)
At the age of 33, Ibrahimovic's physical abilities may now be on the wane, but his unique set of talents mean he remains a joy to watch and a sizable influence on any team he represents. And 28 goals in 35 appearances for PSG last season showed there is plenty of life left in the charismatic Swede yet.
25. Gianluigi Buffon (Juventus, Italy)
Not long ago it appeared that Buffon might be losing some of his legendary goalkeeping prowess, but, at the age of 37, he is coming off a season in which he has been a vital last line of defense for a team that came within one game of winning a treble. His outrageous save in the Champions League final showed his reflexes are as good as ever.
26. Marco Reus (Borussia Dortmund, Germany)
In what was a hugely difficult season for Borussia Dortmund, Reus was one of the few squad members to maintain his previous high level. The attacking midfielder with an ability to create and score remains the target of many of Europe's top clubs, but he disappointed them when signing a new contract to tie him to the Westfalenstadion until 2019.
27. Kevin de Bruyne (Wolfsburg, Belgium)
Discarded by Jose Mourinho at Chelsea 18 months ago, De Bruyne was voted the Bundesliga's outfield Player of the Year last season and is now one of the most coveted players in Europe. A phenomenal 28 assists, in addition to his 16 goals, has given him a reputation as one of the best creative midfielders around and helped Wolfsburg to second place in the Bundesliga.
28. David de Gea (Manchester United, Spain)
It seems a long time ago now that De Gea struggled on his arrival at Manchester United. For the second season running, he was voted the club's player of the year, having made some unfathomable saves, not least in one of the great goalkeeping displays against Liverpool. If, as expected he joins Real Madrid, he will leave a huge void to fill.
29. Robert Lewandowski (Bayern Munich, Poland)
There was plenty of adapting to do for Lewandowski going from the fast-paced counters of Borussia Dortmund to the more methodical approach of Bayern Munich. While it hasn't all been plain sailing, the Poland international showed his class both with his back and front to goal, and found the net 25 times.
30. Diego Costa (Chelsea, Spain)
The rugged, one-man strike force always looked to be the perfect fit for a Jose Mourinho team and so it proved as the Brazil-born Spain international hit 20 goals in his first Premier League season. The record is made all the more impressive by the fact that Costa's appearances limited by a hamstring injury, which Chelsea will be desperate to solve as they seek to retain their title.
31. Thibaut Courtois (Chelsea, Belgium)
After three hugely impressive seasons on loan at Atletico Madrid, Courtois adapted seamlessly to life in the Premier League at Chelsea. Still aged only 23, the former Genk youth product already commands huge authority over his penalty area and is superb in one-on-one situations.
32. Thiago Silva (Paris Saint-Germain, Brazil)
Long regarded as the world's standout central defender, the 30-year-old was unusually flappable in committing mindless handball's in the penalty areas in both PSG's mammoth Champions League tie and Brazil's Copa America exit to Paraguay. But his all-round quality still means he is a major asset to any team.
33. Sergio Ramos (Real Madrid, Spain)
A phenomenally athletic defender, Ramos' absence was keenly felt by Real Madrid earlier in 2015, with the team conceding four goals each to Atletico Madrid and Schalke. The 29-year-old has also cut down on the impetuousness in his game to become a more reliable presence at the heart of the backline.
34. Ivan Rakitic (Barcelona, Croatia)
A star in the Europa-League winning Sevilla team the year before, Rakitic stepped up to play a key part in Barcelona lifting the Champions League last season. The Croatian had an unenviable task stepping into Xavi's boots, but the Croatian brought extra dynamism that was instrumental in Barcelona's switch to a slightly more direct style.
35. Mesut Özil (Arsenal, Germany)
After an injury in the first half of the season, Ozil returned strongly and showed that, despite some of the often unfair criticism he has faced at Arsenal, he remains one of the world's very best creative players.
36. Ángel di María (Paris Saint-Germain, Argentina)
A hugely influential campaign with Real Madrid saw Di Maria take his place among the world's very best players a year ago. But it was a trying first season at Manchester United on the back of his British-record £57.7 million transfer. Still, there is evert chance that the dynamic attacker will star once again following his move to Paris Saint-Germain.
37. David Silva (Manchester City, Spain)
Despite a disappointing season for Manchester City, Silva still shone, scoring a personal-best 12 league goals. It's his graceful movement with the ball at his feet and his sublime passing, though, which continues to make Silva one of the world's best players to watch in full flow.
38. Cesc Fabregas (Chelsea, Spain)
Having never truly fit in back at Barcelona, Fabregas played a key role in Chelsea's scintillating play in the first half of last season. Although he faded, along with many of his teammates, he still finished Chelsea's Premier League title-winning campaign with a hugely impressive 19 assists.
39. Dani Alves (Barcelona, Brazil)
Perhaps the most underrated part of a team that has now won three Champions League titles in seven seasons, Alves returned to form this season to pose a consistent attacking threat from right-back while performing solidly in his defensive duties. A new contract at Barcelona was just reward.
40. Carlos Tevez (Boca Juniors, Argentina)
With crucial goals against Real Madrid and Borussia Dortmund, the bustling Argentinean forward played a huge role in Juventus making it all the way through to the Champions League final. While he has often been a problem off the field in his career, on it he is a ferocious and skilled competitor. And he has now fulfilled his promise to return to boyhood club Boca Juniors while still in his prime.
41. Isco (Real Madrid, Spain)
Having appeared as though he may be surplus to requirements at the start of the season, the former Malaga midfielder grabbed his chance in the side through injuries and became one of the club's standout performers. If he doesn't get the recognition he warrants at the Bernabeu this season, he will surely get it elsewhere.
42. Antoine Griezmann (Atletico Madrid, France)
Following his success at Real Sociedad, Griezmann struck 22 goals in La Liga for Atletico to confirm his status as one of Europe's finest young attackers. Giants like Chelsea were thought to be interested in the 24-year-old, but, to the relief of Diego Simeone, he looks set to again light up the Vicente Calderon in the coming season.
43. Jerome Boateng (Bayern Munich, Germany)
It is extremely harsh on Boateng that unquestionably his most memorable moment last season was being left on his backside by the brilliance of Messi at the Camp Nou. For the most part, the center-back built on his excellent World Cup, continuing to add poise to his fine athleticism.
44. Wayne Rooney (Manchester United, England)
In a season of transition for Manchester United, Rooney responded to being handed the captaincy by becoming, along with De Gea, the club's most consistent performer. The forward has also excelled for his country, and now sits just one goal shy of equaling England's all-time scoring record.
45. Mario Götze (Bayern Munich, Germany)
After scoring the winning goal in the 2014 World Cup final, last season was a disappointment for the diminutive former Borussia Dortmund attacking midfielder. But the exceptional talent remains and Pep Guardiola may yet be able to unlock it at Bayern.
46. Mats Hummels (Borussia Dortmund, Germany)
Despite being linked with transfers to some of Europe's giants. Hummels looks set to go into another season with Dortmund. And that represents a major coup for the rebuilding club, with the defender's leadership and calmness at the back a huge asset.
47. David Alaba (Bayern Munich, Austria)
Last season started brightly for Alaba, as he showed his all-round technical proficiency when being entrusted with a similar midfield role for his club that the long-time left-back has occupied with Austria. The 23-year-old was another Bayern player to have the end of his season slowed by injury, but he remains a supreme talent.
48. Nemanja Matic (Chelsea, Serbia)
After returning from Benfica 18 months ago, Matic has been an absolutely essential part of Chelsea's improvement toward becoming English champions last summer. Sitting in front of the back four, Matic so often breaks up danger before it even becomes apparent.
49. Ricardo Rodríguez (Wolfsburg. Switzerland)
After coming to wider attention for Switzerland at the 2014 World Cup, Rodriguez, born to a Spanish father and Chilean mother, enjoyed another superb season for Wolfsburg. While the 22-year-old may not yet have quite the same profile as some of his contemporaries, he is undoubtedly in the discussion of the best left-backs in the world.
50. Koke (Atletico Madrid, Spain)
Having now finally been promoted to the position of a regular in the Spain midfield, the 23-year-old is beginning to get his due as one of the best in Europe in his position. Tenacious in the tackle, Koke also provided 18 assists for Atletico in all competitions last season. That they continue to hold onto him in the face of admiring eyes from giants like Barcelona is a huge encouragement for the club going forward.
© Copyright IBTimes 2023. All rights reserved.